Anyone who was involved in the market at all during the 2008-09 crisis remembers American International Group (NYSE:AIG) very clearly. AIG had tremendous exposure to both the mortgage industry and the credit default swap market, and had to be bailed out by the Federal Reserve in 2008, also needing further cash infusions in 2009. As a matter of fact, $10,000 invested in AIG just five years ago is worth only $366 today. Although AIG finished repaying all of the $182.3 billion in aid it received from the government, the company is still viewed as a very high-risk investment, so let's examine where AIG may be headed in the future, and whether or not it is fairly valued currently.
AIG is a very different company than it was pre-2008. To repay the Federal Reserve loan, AIG began selling assets shortly after. Most notably, the company sold Hartford Steam Boiler (in 2008 for $742 million), AIG Life Insurance Co. (2009 for $308 million), most of Transatlantic Holdings (2009, for $1.1 billion), American Life Insurance Co. (2010 for $16.2 billion), Star Life and AIG Edison Life (2011, for $4.8 billion), among others.
The main reason for the tremendous drop in shareholder equity was the massive ownership stake (92%) given to the U.S. Treasury as a condition of the bailout. As a result, even though the Treasury no longer has any ownership, the stock is massively diluted from its once-upon-a-time levels, and the company underwent a 1:20 reverse split in 2009. To put this amount of dilution and loss of shareholder equity in perspective, the stock was trading at a split-adjusted $1,459.20 per share in 2007, compared with just $34.87 today.
(click image to enlarge)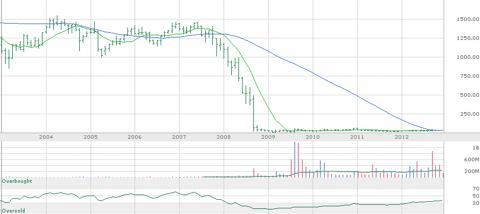 Currently, the company's property-casualty insurance operations are conducted through Chartis, and SunAmerica Financial Group conducts AIG's life insurance and retirement services operations. AIG also continues to participate in the U.S. mortgage market, although at nowhere near the risk level of five years ago. United Guaranty provides mortgage insurance, and AIG Financial Products Group provides credit protection through credit default swaps. However, the Financial Products Group is currently being dismantled and is slowly unwinding its positions. In 2008, the group had $1.6 trillion (that's trillion!) in exposure to these derivatives, and this has been tremendously reduced to $176.4 billion in exposure today.
Now, let's talk valuation for a second. AIG is expected to report FY 2012 earnings of $3.74 in late February, meaning that AIG trades at only 9.3 times 2012's earnings. However, earnings are expected to be relatively flat for the next few years, with consensus estimates calling for $3.49 in FY 2013 and $3.97 in FY 2014. Still, the company trades at a significant discount to peers and historical average, mainly due to the level of perceived risk. When the company last reported earnings, it stated shareholders' equity at $65 per share, however, the actual tangible equity is likely to be slightly less, when accounting for goodwill and deferred acquisition costs.
While AIG has made considerable progress in its turnaround strategies, significant risks still remain. However, investors with an acceptable level of risk tolerance may be handsomely rewarded, with shares currently trading at a discounted price of only 52.3% of shareholder equity. Especially now that it is free from its government obligations, AIG may once again be worth a look. Having said that, I would still play AIG somewhat conservatively, perhaps by selling covered calls to create a further discount on my position. There are tons of covered call strategies that would work well here, so I won't recommend just one. For instance, if I were to sell January 2014 $45 calls for $1.63 after opening my position; this makes my net cost only $33.12 per share, providing me with some downside protection on the stock. Each investor's risk tolerance and desired reward is different, so this strategy should be adjusted accordingly.
Disclosure: I have no positions in any stocks mentioned, but may initiate a long position in AIG over the next 72 hours. I wrote this article myself, and it expresses my own opinions. I am not receiving compensation for it (other than from Seeking Alpha). I have no business relationship with any company whose stock is mentioned in this article.