A few weeks ago, we covered an agricultural chemicals stock with an 8% yield, which also had high options yields. This week we've found another stock from this group, CVR Partners LP, (NYSE:UAN), which looks undervalued and oversold.
UAN has strong distributable cash flow growth, a sustainable high dividend yield, strong earnings growth, and is getting institutional support. Thanks to a US drought, and historically low corn stocks to usage ratios, this Corn Belt fertilizer manufacturer sales should rise substantially in 2013.
UAN topped out at $30.92 in early February 2012, and is now riding along the bottom of its Bollinger Bands, and also looks oversold on its stochastic chart:

Up & Down Dividends: With its current 7%-plus forward dividend yield, UAN is in the Basic Materials section of our High Dividend Stocks By Sector Tables. On a trailing 12 month's basis, UAN's yield is even higher, but the story gets a bit more tricky moving forward.
In UAN's 3rd quarter 2012 earnings release, CEO Kelley stated,
While we are still developing our budget for 2013, we currently estimate the combined impact of no turnaround, and increased production from our UAN plant expansion scheduled to come on-line by January 1 could be 50 cents per common unit higher than our expected 2012 full year distribution, all else being equal. This supports our outlook for double-digit percentage growth in distributable cash flow in 2013.
Sounds good, right? It is, but with a caveat. UAN also narrowed its 2012 dividend distribution range to $1.70 - $1.80. UAN pays distributions based upon the preceding quarter's distributable cash flow, and has paid $1.62 for 2012's first 3 quarters so far. This means that the dividend payout for the 4th quarter will decline from the current $.50, to somewhere between $.08 to $.18, payable in February 2012.
Why the decline? Every two years, UAN does a "turnaround" at its fertilizer plant, which shuts down production for 2-3 weeks. This year's turnaround was done in October, and CEO Kelley estimates that it will cost UAN about $.25 in EPS. Indeed, analysts are predicting a dip in 4th quarter earnings to $.19 vs. the previous year's 4th quarter earnings of $.56.
Here's the good news: There will be no plant shutdown in 2013, plus UAN has expanded its production capability by 50%, and will be able to convert all of its product into higher value UAN, starting in January 2013.
If its projections are correct, starting in May 2013, UAN expects to pay about $.55/unit quarterly, which means $2.20 annually, a nearly 9% dividend yield at UAN's price as of 12/27/12. Here's the dividend schedule and associated metrics:

Earnings Growth: With its low 13.07 P/E, UAN's 2013 projected 22.52% EPS growth gives it a very low .58 2013 PEG, indicating that it's undervalued on a PEG basis:

Options: Given how finicky the market has become lately, (thanks DC!), another way to play UAN would be to sell cash secured puts. Here's an aggressive trade, from our Cash Secured Puts Table, which offers a quick payout now, and a lower break-even cost.
This 5-month trade has a $25 strike price that's $.46 above UAN's current $24.54 share price, so if you get assigned, there will be a lower yield. However, it does pay over 3 times what UAN's next 2 projected dividends pay, and has a break-even that's nearly 8% below UAN's current share price.
Each put contract corresponds to 100 shares of the underlying stock, and your broker will "secure", (hold in reserve), $2500 for each put contract that you sell at the $25 strike price. Your $2500 cash reserve is released after expiration, if you don't get assigned/sold the shares
If UAN is above $25 at expiration, your final profit would be $2.35, or $235.00 per put contract sold, over 24% annualized. If it's below $25, and you get assigned the shares, your put profit would be $1.89, or $189.00 per put contract sold, ($2.35 put premium less $.46). Note: put sellers don't collect dividends. We just list them on our tables for comparison to the put premiums:

Financials: UAN's management, debt, and margin metrics look better than industry averages: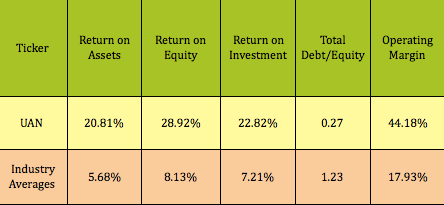 The Big Boys are Buying UAN: It appears that institutional buyers have begun to buy UAN over the past quarter. It's interesting to note, however, that they may have only just begun, since the average institutional ownership for this industry is 49.65%, vs. only 5.22% for UAN, so there's plenty of room for more support: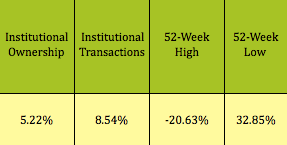 Disclaimer: This article was written for informational purposes only and isn't intended as investment advice.
Disclosure: I have no positions in any stocks mentioned, but may initiate a long position in UAN over the next 72 hours. I wrote this article myself, and it expresses my own opinions. I am not receiving compensation for it (other than from Seeking Alpha). I have no business relationship with any company whose stock is mentioned in this article.