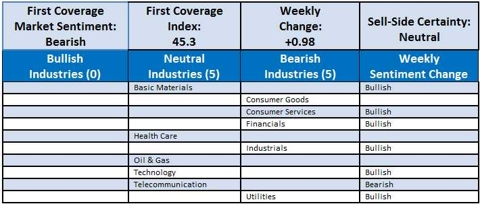 There remain no industries regarded as Bullish by the sell-side; however, many are showing better sentiment than last week. There is an overarching sense of been there, bounced that! The noticeable lack of overall move in market sentiment during the historic rally last week implies that the sell-side is feeling that we've been here before… this isn't the first time during this bear market we've seen a 10% week. Perhaps, because of that 'déjà vu,' the sell-side remains unconvinced that this is anything other than another bear-trap. So for those thinking long term, First Coverage sentiment is still bearish…but for those thinking short term, well, that's another story altogether.
The sell-side showed meaningful incremental short-term bullishness two weeks ago…ahead of the rally. However, during the rally, they got more bearish and, over the last week, remained fairly blasé even as the best week of performance by the market in over a quarter-century convinced others that a bottom had set in.
There were pockets of bullishness last week, but perhaps not for the right reasons. Consumer Services, while the second most bearish industry by overall sentiment (see graph below), saw the greatest gain in sentiment by the sell-side over the last week.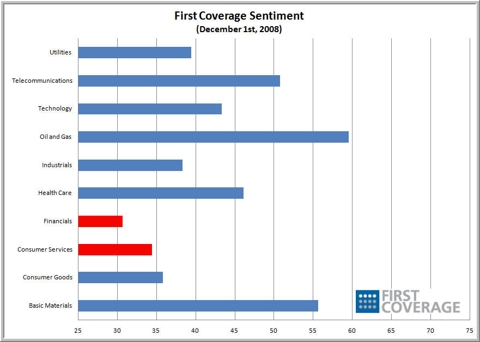 Before you think that the sell-side is suggesting a consumer renaissance, it's important to note that most of the gain in Consumer Services was attributable to lower-end companies, including Wal-Mart (NYSE:WMT), McDonald's (NYSE:MCD), Big Lots (NYSE:BIG), and other specialty retailers like Hot Topic (NASDAQ:HOTT) and The Limited. Clearly, the sell-side is telling their buy-side clients that holiday presents will be more in line with 'it's the thought that counts' than the luxury of X-Mas pasts. Based on this, the sell-side continues to suggest that buy-side clients take advantage of the current stock prices of some retailers that are positioned to take advantage of the 'frugal' holiday season to come.
Finally, Financials remain the most bearish industry by sentiment but also saw a marked increase in bullishness last week. For those looking to understand the reason, perhaps the sell-side picked up on the fact that David Smick, author of The World Is Curved, pointed out recently:
Banks' excess cash reserves, which normally total less than $7 billion, have recently approached $400 billion. A lot of that is taxpayer money that the banks aren't putting to use.
Holding on to cash is good for the banks, bad for the economy. But that being said, the longer the government refuses to make these banks actually put their bail-out capital at risk, by loaning it to others, the more comfortable the sell-side gets with their healthier balance sheets.