Palladium futures reached to a nine-month high on Thursday as investors took the position that a limited supply and steady demand from the global auto sector would mean higher prices in 2013. If the steady demand from the precious metal increases and supply becomes more and more limited, prices could see a very nice pop in the coming months. Since its October lows of $590.55/contract Palladium has risen 20.19% or $119.25/contract.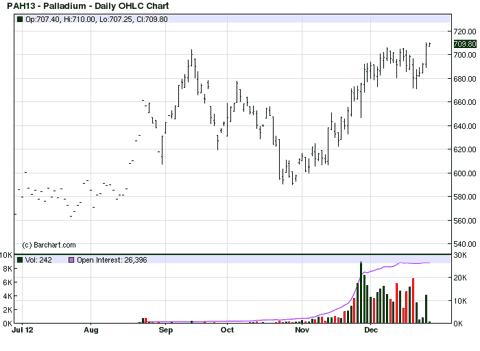 Contracts for March delivery had closed up $16.10/contract, or 2.3%, to settle at $708.50 a troy ounce, and were trading as high as $709.80 a troy ounce at 23:30 EST on the New York Mercantile Exchange.
According to the Wall Street Journal, "South Africa's precious-metals industry is expected to struggle to increase production next year amid escalating labor and other costs that make some mines unprofitable, according to precious-metals refiner and specialty-chemicals company Johnson Matthey PLC (OTCPK:JMPLY). Supplies from Russia, the top producer, are expected to fall because of lower production and slowing shipments from state stockpiles." Given the fact two of the world's largest suppliers will continue to face an uphill battle during 2013, prices for the metal should see a considerable increase over the course of at least the next 12 months.
Disclosure: I have no positions in any stocks mentioned, and no plans to initiate any positions within the next 72 hours. I wrote this article myself, and it expresses my own opinions. I am not receiving compensation for it (other than from Seeking Alpha). I have no business relationship with any company whose stock is mentioned in this article.