Ford's (NYSE:F) stock has had miraculous strength since bottoming in early August. For most of 2012, Ford spent its time in the dog house, even with many investors remaining patient. I don't think it was necessarily bearish sentiment, but just a lack of bullish sentiment that hindered Ford. I never really heard a ton of people saying they would be shorting Ford or are short Ford. But, I would commonly hear traders and investors saying they were waiting to see something before going long or waiting to see how the European picture would turn out.
I want to highlight a few things -- both technically and fundamentally -- that have Ford moving nicely and will continue to in 2013. I'd also like to talk about some options positions to go along with Ford and discuss some of the strategies that I have used over the past few months using options that will hopefully go on to benefit others considering a long position on Ford.
Technically Speaking
I began getting bullish around mid-September, though I held no position in the company, as I'm not really a buy-at-the-bottom type of investor. Catching a falling knife is both hard and risky, and I prefer to see some strength before allocating money. After a few months of strong support by the 50-day simple moving average and some encouraging news -- such as the recent conference call announcement of CEO Alan Mulally remaining until at least 2014, and the European containment plan -- I decided it was time to establish a position. Let's take a look at the six month chart to get a better idea of what was going on over this time frame: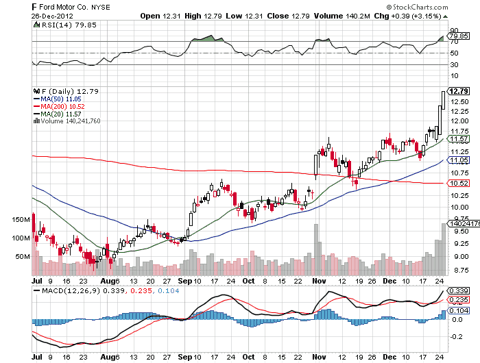 Source: Stockcharts.com
As we can see on the chart above, the 50-day simple moving average has been able to break through the 200-day simple moving average. This setup, known as a Golden Cross, is very exciting for many technical traders. It signifies that the intermediate trend is up and this is considered quite bullish. You'll also note that the 20-day SMA is above the 50-day and has provided decent support for Ford over the last month. Though according to the RSI measurement -- which tracks the overbought and oversold condition of a security -- the stock is overbought, the charts still looks good moving forward.
There is one last thing about Ford's price action I'd like to talk about before moving on to the fundamentals and options strategy: volume. Last Friday, Ford was down about 2% all day, as it muddled along on a relatively good trading day -- at least when you consider how bad the open was. Down 2% was pretty unexpected, as Ford had been doing well all last week, up over 5% when the stock closed for trading on Thursday.
Rather suddenly, however, Ford found itself closing in the green Friday, rallying from down 2% at 2:30, to up nearly 1% by the 4 pm close. Talk about a rebound. But the amazing part is the amount of volume this happened on. The average 10-day volume and 3-month volume for Ford is 47 million shares and 42 million shares, respectively. On Friday, Ford traded 94.5 million shares, more than double its average. I could see this if we had a big day in the markets or some great news was released in regards to Ford, but there was nothing.
On Monday -- the short session in the markets -- Ford traded 91 million times, or more than double its average even though the markets closed at 1:00 pm, rather than the typical 4:00 pm. Ford closed up nearly 5% on Monday. After a closed Tuesday, Ford had another strong trading day on Wednesday, closing up over 3%. Oh, the volume? 140 million shares, over three times the average. There has been some serious buying in Ford recently. To see the immense volume surge Ford has been experiencing, look at the chart above again.
Fundamental Analysis
Seeing large moves on heavy volume is a good sign for both traders and investors. While charting isn't everything, it definitely plays a vital role in the direction of the stock. Fundamentally however, there are a few positives for Ford. Despite how negatively things have appeared throughout 2012 for the automaker, Ford has done pretty well in my opinion. It has managed to beat each of its last three earnings reports, something analysts did not expect because of the European economy. Below is a table of the recent earnings reports in 2012:
| | | | | |
| --- | --- | --- | --- | --- |
| Earnings Period | Earnings (Estimates) | Revenue (Actual) | Earnings (Actual) | Earnings Beat (%) |
| 2012 Q1 | $.35 | $30.5 Billion | $.39 | +11.4% |
| 2012 Q2 | $.28 | $31.3 Billion | $.30 | +.7.1% |
| 2012 Q3 | $.30 | $30.2 Billion | $.40 | +33.33% |
As you can see on the table above, Ford has fared pretty well considering the pessimism that has surrounded it. European losses have been the biggest thorn in Ford's side. While earlier this year it was announced that Ford expected annual losses for 2012 to be around $1 billion due to its European operations, the figure increased by 50%, up to $1.5 billion. That's a rather significant amount of money to lose annually, and likely not easy to patch back up.
But a few things have calmed investors' nerves. I think it was important for Mulally to come back to Ford. While many gathered for the press conference expecting to hear the successor to the current CEO, it was actually revealed that he would remain on board through 2014. Mulally, who led Ford out of the depths of 2008 -- when Ford traded for as low as $1 -- steered the auto giant clear of a government bailout, and eventually reinstated the long lost dividend.
With Mulally doing all of this previously, who better to run the ship now? He's a proven, battle-hardened leader. I think Mulally is the best fit right now as Ford needs to be very careful from an operational standpoint. Mulally has already begun working on damage control by shutting down three plants throughout Europe. Although it's unfortunate for the workers, it doesn't make sense to continue funding a bleeding business, especially with the high lack of demand Ford currently has.
The three plants -- two in the United Kingdom, one in Belgium -- is estimated to lower production by approximately 18% or roughly 355,000 units. With lower demand, there's not much a company can do besides lower supply. The closings are suggested to save Ford close to $500 million, or approximately 1/3 of what it expects to lose this year alone. A move like this will save Ford money and improve both its efficiency and its balance sheet.
Aside from all the negativity, things have been going well for Ford, otherwise those earnings beats would just be from lazy analysts with poor estimates. Ford has been doing extremely well in domestic sales, with 5 models in the Top-20, two more than any other automaker. Aside from that, Ford can lay claims to the number one overall top selling model with its Ford F-Series truck. The F-series has sold 576,529 units year-to-date (as off 12/4/2012). This is 203,050 or 35% more than the number two top selling vehicle, the Toyota Camry. What an impressive figure. Below is a table with 2012's 10 best selling vehicles:
| | |
| --- | --- |
| Model | Units Sold |
| Ford F-Series | 576,529 |
| Toyota Camry | 373,479 |
| Chevrolet Silverado | 367,613 |
| Honda Accord | 302,444 |
| Honda Civic | 284,791 |
| Nissan Altima | 278,968 |
| Toyota Corolla | 266,268 |
| Dodge Ram | 263,152 |
| Honda CR-V | 255,919 |
| Ford Escape | 240,877 |
Source: Wall Street Journal
If it's not enough that Ford is doing well domestically, perhaps we should shed some light on foreign sales. More specifically, let's forget about sales across the Atlantic for a moment, and focus on sales across the Pacific. Looking at China, Ford is having its third record sales month in a row. Considering the small presence Ford has in China compared to that of the U.S., it doesn't directly translate to huge, windfall profits. However, it is encouraging to see such success in a high growth market with a ton of potential.
Ford's passenger car sales have increased over 74% in China. It's being helped along by the Ford Edge, whose sales are up 111% Y/Y, with the top seller remaining the Ford Focus, with over 38,000 vehicles sold last month. Overall, Ford sales are up over 18% Y/Y and that figure is expected to increase. The CEO of Ford China, John Lawler, had this to say on the rapid growth,
We're grateful that so many Chinese consumers appreciate the value, performance and technology of the Focus. Our plan to introduce 15 new vehicles by 2015 is on track... We're going to make more inroads into China's fastest-growing segment as we work to double our production and retail capacity by 2015.
Another weapon in Ford's arsenal has to do with hybrid vehicles. Predominately, this space has been controlled by Toyota (NYSE:TM) and other foreign automakers. Instead of the Prius or the Camry getting the top rank this year for best mid-priced hybrid, the Ford Fusion Hybrid took home the hardware, with an impressive score of 8.9/10, in a recent survey. The new Ford C-Max took second and tied with several other hybrids -- including the Toyota Camry -- with a score of 8.5/10. Here's the list of the top rankings:
| | |
| --- | --- |
| Model | Score (Out Of 10) |
| Ford Fusion Hybrid | 8.9 |
| Ford C-Max | 8.5 |
| Hyundai Sonata Hybrid | 8.5 |
| Toyota Camry Hybrid | 8.5 |
| Chevrolet Volt | 8.4 |
| Toyota Prius | 8.4 |
| Toyota Prius V | 8.4 |
| Toyota Prius c | 8.3 |
| Honda CR-Z | 8 |
| Nissan Leaf | 8 |
Source: US News
What's the Ford C-Max? I'm glad you asked. The C-Max is Ford's new hybrid vehicle that is squared directly at taking market share from its competitors. Getting 47 miles per gallon (MPG) both in the city and on the highway, while being competitively priced, starting at $25,200, the C-Max will likely get the attention of many new car buyers. Especially since a recent study conducted by Maritz concluded that fuel efficiency was the number one consideration when selecting a new vehicle. With the C-Max getting 47 MPG and the Ford Fusion Hybrid getting the same, I think Ford will be able to lure new auto buyers to the car lots.
Not only does the C-Max sound impressive, but it's selling impressively too. Consider this: The C-Max has been available for two full months now, and has outsold all other hybrid vehicles when they were in their first two months. With 8,000 units sold, this is more than the 7,300 that the Camry did in its first two months. Furthermore, the C-Max is selling three times faster than the Toyota Prius and Honda (NYSE:HMC) Insight in their first two months, combined.
Taking it one step further, the C-Max and C-Max Energi (a different version of the C-Max) have outsold the Prius and Prius V by over 10% in the month of November. Who cares, right? Well, considering the Prius is the number one selling hybrid in America, I think investors -- and many others -- will start to.
Due to all the latest demand, Ford is actually increasing production. By honoring its commitment to invest $6.2 billion in U.S. plants by 2015, Ford is spending $773 million to increase plant capacities and purchasing new equipment. The move is set to upgrade six plants throughout southeast Michigan and create over 2,300 new jobs. Not only are new jobs being created, but over 3,200 jobs will be retained in the move.
Part II will explain how I have and will invest in Ford over the next several months. For Part II, please click here.
Disclosure: I am long F. I wrote this article myself, and it expresses my own opinions. I am not receiving compensation for it (other than from Seeking Alpha). I have no business relationship with any company whose stock is mentioned in this article.