Introduction
Sallie Mae (NYSE:SLM) is a lending institution that specializes in privatized student loans. Sallie Mae's primary mission statement is to help students save, plan, and pay for college. This is a praiseworthy endeavor.
I anticipate the company to generate generous yields for investors in the foreseeable future.
Qualitative Analysis
Source: Information pertaining to SLM came from the shareholder annual report
Sallie Mae is well positioned to grow. College enrollment is predicted to increase through the decade. Another growth catalyst is rising tuition rates. These two factors are likely to contribute to Sallie Mae's growth and role as a privatized student lender.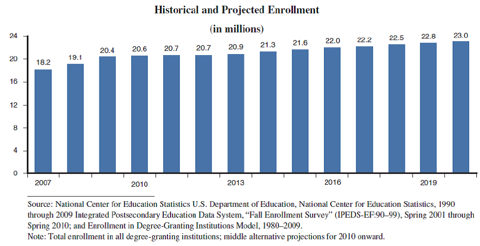 It is likely that college enrollments will increase by 11% from 2011 to 2020.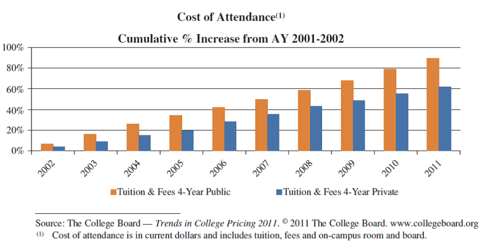 Tuition grew at a compounded rate of 8.1% throughout the 2002-2011 period.
Sallie Mae operates in three business segments: consumer lending, business services, and Federal Family Education Loans.
The consumer lending segment originates and lends private education loans. The private education loans are aimed at bridging the cost of higher education after students have already received government loans and grants. Private education loans are based on the credit ratings of the borrower. Sallie manages credit risk by lending based on credit scoring criteria, and the addition of cosigners (parents cosigning the student loan). During 2011 Sallie Mae was able to increase the consumer loan portfolio by 19% over previous fiscal year.
The business services segment is the largest contributor of revenue to Sallie Mae. Sallie Mae services the Federal Family Education Loans. The Federal Family Education loans were the typical lending options available for students by the department of education; the loans were made by private lending institutions, the loans were guaranteed insurance loans. Now these loans are no-longer being offered by privatized lending institutions because of a law enacted in 2010 that prevents the participation of private institutions in this loan market. Rather the government directly loans tuition loans through its Stafford, Unsubsidized Stafford, PLUS, loans. That being the case, Sallie Mae still has a portfolio of these loans that were made prior to 2010 that continue to generate interest, but the interest bearing ability of these loans will continue to diminish as the loans amortize (balance of interest will continue to decline throughout the life of the loan). Sallie Mae owns a portfolio of FFELP loans, and also offers default aversion and contingency collections work on behalf of the U.S. Department of Education.
Because direct-student loan revenues are likely to decline, Sallie Mae will focus growth initiatives on consumer lending (student bridge loans), and student health insurance. These loans will be marketed directly through the college institution. Other initiatives include collection service on behalf of the U.S. Department of Education for collections on loans that go delinquent, or the management of college savings plans (currently Sallie Mae has $37.5 billion in assets under management). Sallie Mae also generates revenue by generating card fees through its partnership agreement with MasterCard.
Sallie Mae's management doesn't feel that it has been severely affected by the Dodd Frank Bill as Sallie Mae is not systematically important to the financial system. For fiscal year 2010-2011 Sallie Mae provided one percent of the $235 billion used to finance post-secondary expenses. An institution that is designated as a threat to the financial stability of the United States are designated as systematically important financial institutions, these institutions will be met with further regulatory oversight by the Board of Governors of The Federal Reserve System. Since Sallie Mae is not systematically important, I don't anticipate even further regulatory oversight by the Federal Board of Governors of the Federal Reserve System.
Sallie Mae aggressively competes with other companies such as: Bank of America (NYSE:BAC), JP Morgan and Chase (NYSE:JPM), Citigroup (NYSE:C), Wells Fargo and Company (NYSE:WFC), Nelnet (NYSE:NNI), Tree.com (NASDAQ:TREE), Altisource Portfolio Solutions (NASDAQ:ASPS), among many others.
Technical Analysis
The stock has been on a continuous up-trend since the March bottom of 2009. I anticipate the stock to continue trending higher on long-term appreciation.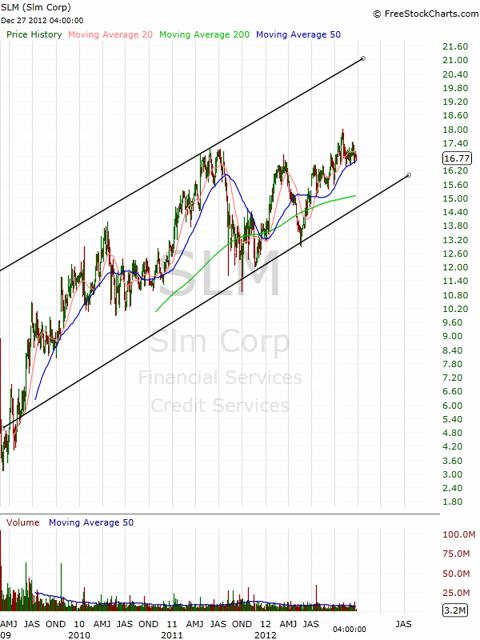 Source: Chart from freestockcharts.com
The stock is trading below the 20-, 50- Day Moving Averages. But it is still trading above the 200-Day Moving Average. The stock will experience further upside through 2013, as investors have under-bought the growth prospects of the company.
Notable support is $13.25, $15.00, and $16.25 per share.
Notable resistance is $18.00, $21.00, and $25.00 per share.
Street Assessment
Analysts on a consensus basis have reasonable expectations for the company going forward.
| | | | | |
| --- | --- | --- | --- | --- |
| Growth Est | SLM | Industry | Sector | S&P 500 |
| Current Qtr. | 3.90% | 3964.70% | -93.80% | 9.30% |
| Next Qtr. | 3.60% | -7.50% | -92.70% | 15.00% |
| This Year | 17.50% | 90.70% | 23.30% | 6.90% |
| Next Year | 8.40% | 18.90% | 6.70% | 13.10% |
| Past 5 Years (per annum) | 18.08% | N/A | N/A | N/A |
| Next 5 Years (per annum) | 11.50% | 13.69% | 10.60% | 8.71% |
| Price/Earnings (avg. for comparison categories) | 7.82 | 14.68 | 11.84 | 10.11 |
| PEG Ratio (avg. for comparison categories) | 0.68 | -5.16 | 0.79 | 1.17 |
Source: Table and data from Yahoo Finance
Analysts have reasonable expectations, as analysts on a consensus basis have a 5-year average growth rate forecast of 11.5% (based on the above table). This growth rate is below the industry average for the next 5-years (13.69%).
| | | | | |
| --- | --- | --- | --- | --- |
| Earnings History | 11-Dec | 12-Mar | 12-Jun | 12-Sep |
| EPS Est | 0.49 | 0.52 | 0.54 | 0.54 |
| EPS Actual | 0.51 | 0.55 | 0.49 | 0.58 |
| Difference | 0.02 | 0.03 | -0.05 | 0.04 |
| Surprise % | 4.10% | 5.80% | -9.30% | 7.40% |
Source: Table and data from Yahoo Finance
The average surprise percentage is 2% above analyst forecast earnings over the past four quarters (based on the above table). This implies that analysts have been accurate at forecasting future earnings
Forecast and History
| | | |
| --- | --- | --- |
| Year | Basic EPS | P/E Multiple |
| 2003 | $ 3.37 | 11.18 |
| 2004 | $ 4.36 | 12.25 |
| 2005 | $ 3.25 | 16.95 |
| 2006 | $ 2.73 | 17.86 |
| 2007 | $ (2.26) | - |
| 2008 | $ (0.69) | - |
| 2009 | $ 0.38 | 29.66 |
| 2010 | $ 0.94 | 13.39 |
| 2011 | $ 1.18 | 11.36 |
| 2012 | $ 2.15 | 7.77 |
Source: Table created by Alex Cho, data from shareholder annual report
The EPS figure shows that throughout the 2003-2006 period, earnings were growing due to favorable economic conditions. Then the company was adversely affected by the great recession throughout 2007-2009, net income started to decline. Post-recession Sallie Mae was able to recover as economic conditions started to improve.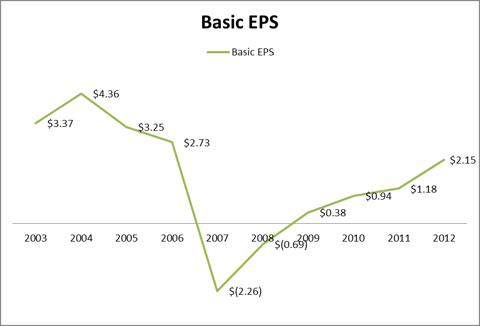 Source: Table created by Alex Cho, data from shareholder annual report
By observing the chart we can conclude that the business is somewhat cyclical and is affected by macroeconomics. Therefore one of the largest risk factors to SLM is the slowing of gross domestic product growth. So as long as the United States economy continues to grow, the company will generate reasonable returns over a 5-year time span based on the forecast below.

Source: Forecast and table by Alex Cho
By 2018 I anticipate the company to generate $4.06 in earnings per share. This is because of earnings growth, improving domestic outlook, earnings management and product development.
The forecast is proprietary, and below is a non-linear chart indicating the price of the stock over the next 5-years.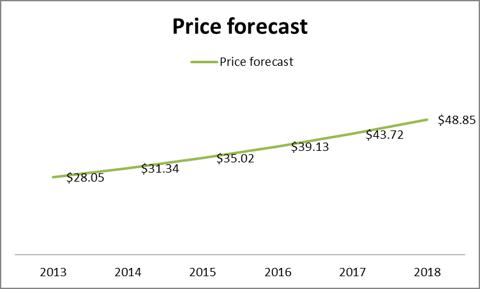 Source: Forecast and chart by Alex Cho
Below is a price chart incorporating the past 10 years and the next 6 years. Detailing 16 years in pricing based on my forecast and price history on December 31st of each year.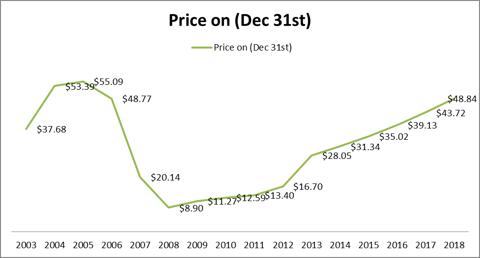 Source: Forecast and chart created by Alex Cho, data from shareholder annual report, and price history is from Yahoo Finance.
Investment Strategy
SLM currently trades at $16.77. I have a price forecast of $28.05 for 2013. SLM is in a long-term up-trend. I anticipate momentum in the price of the stock, as the growth rate offers compelling stock appreciation for the foreseeable future.
Short Term
Over the next twelve months, the stock is likely to appreciate from $16.77 to $28.05 per share. This implies 67% upside from current levels. The technical analysis indicates an up-trend. While the previously mentioned price forecast using fundamental analysis further supports the trade set-up.
Investors should buy SLM at $16.77 and sell at $28.05 to pocket short-term gains of 67% in 2013.
Long Term
The company is a great investment for the long-term. I anticipate SLM to deliver upon the price and earnings forecast despite the risk factors (macroeconomic, competition, etc.). SLM's primary upside catalyst is product development, demand, and earnings management. I anticipate the company to deliver upon my forecasted price target of $48.85 by 2018. This implies a return of 191% by 2018. SLM also offers an annual dividend yield of 3%. The appreciation plus yield equates into a 209% yield by 2018. This rate of return is exceptional.
Considering SLM has a market capitalization of $7.8B, the lack of liquidity would make this an investment opportunity more appropriate for small growth oriented investors.
Conclusion
Buy SLM on short and long-term growth. Sallie Mae has recovered amicably post financial crisis, outlook remains bright. Students will continue borrowing money, and the invisible hand continues to unfold.
The conclusion remains simple: buy SLM.
Disclosure: I have no positions in any stocks mentioned, and no plans to initiate any positions within the next 72 hours. I wrote this article myself, and it expresses my own opinions. I am not receiving compensation for it (other than from Seeking Alpha). I have no business relationship with any company whose stock is mentioned in this article.