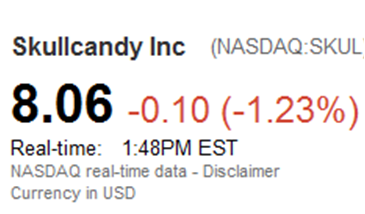 Skullcandy (NASDAQ:SKUL) has taken one enormous beating the past year. As a result, the stock is sitting near its all-time low despite the fact that the company continually turns a profit and that analysts are stubbornly insisting that the stock is undervalued. Yes, there is significant short interest in this stock, but that means that any positive news has the potential to drive the price up in a hurry. So instead of taking up a traditional long position, here is a simple method to use options to build a position using less cash while potentially reaping a higher reward.
The entire theory behind this trade is built upon the assumption that the stock will not decline significantly from its current level. Before making a trade like this, determine if you are comfortable with such an assumption.
At this point, we know that Skullcandy is scheduled to report earnings around the first week of February. This next report will include the Christmas sales season, which although some reports look as if the season was disappointing overall, it remains to be seen how Skullcandy did. If the past is any indication, the company has shown an ability to meet earnings estimates, sometimes beating estimates by a few cents. So what we are looking for is a position we can build that will expire sometime after earnings while also providing a profit if the stock remains flat or climbs.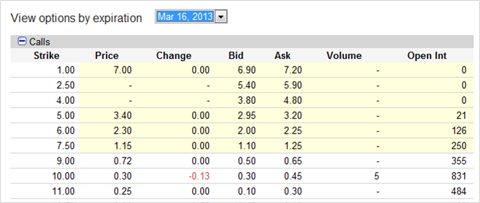 The first thing you may notice is that there is no straight long call position you can build which profits at the current price. Any long call requires the stock price to climb in order to provide a profit. This is where an accompanying short call at a higher strike price comes in -- it lowers the net cost of the trade and allows a profit even if the stock declines in value slightly. I'll work the numbers without accounting for brokerage fees, so double check them and make sure you account for whatever fees your brokerage will charge.
For example, if we purchase the $6 call at the current ask of $2.25, the stock would have to climb to $8.25 in order for our trade to break even on the expiration date. However, if we sell a $9 call at the same time, we also receive a premium of $0.50, resulting in a net cost of $1.75. Now our trade has a breakeven point of $7.75, so even if the stock declines to that point, we still stand a chance of breaking even. If the stock does get the expected boost from the quarterly report, then a 12% climb to $9 results in a nice 71% profit. On the other hand, if the stock does drop below $7.75, we will see our investment quickly drop and it becomes worthless at $6.
Naturally, other spreads can be built based on varying strike prices or on other expiration dates. Before making any such trade, you should be certain that you are comfortable working with leveraged procedures like this. Remember that when dealing with options, a small movement in the stock price can result in a significant move in the price of the option contract. So while this type of trade can work to your benefit when it goes well, it can also result in a rapid loss. Take your time, work the numbers to be sure, and be careful out there.
Disclosure: I am long SKUL. I wrote this article myself, and it expresses my own opinions. I am not receiving compensation for it (other than from Seeking Alpha). I have no business relationship with any company whose stock is mentioned in this article.