The music industry has changed completely over the past several years. The music industry is driven more by listeners and fans than ever before.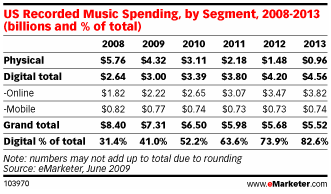 Spending on physical music (CD's, DVD's, BluRay) is decreasing, while spending on digital music (Spotify, Pandora, downloads, streaming) is increasing.
Hewlett-Packard's (NYSE:HPQ) latest innovation, dubbed Connected Music, is a form of digital music. It is attracting music fans and listeners, which is in turn pushing them to purchase HP products like desktop computers, laptops and even the brand new Envy X2 mini notebook. HP Connected Music makes listening to and purchasing new music much easier. Fans can listen to live streaming of various musicians who are signed under Universal Music. By launching Connected Music, HP is engaging in a campaign to lure consumers into buying its products. Hardware specifications are no longer enough to lure purchasers into buying computers, tablets and notebooks. Consumers are now looking for other attractive offers, such as exclusive access to streaming content, free downloads, games and features.
Connected Music is helping HP carve a new niche in the entertainment industry. Connected Music will help HP to increase its sales and revenue, and gain newer customers who were earlier using devices sold by other manufacturers. In this article, I will explain how Connected Music will help HP boost consumer sentiment and confidence in its products.
HP's Deal With Universal Strengthens Music Offerings
Hewlett-Packard, announced a partnership with Universal Music, in which music recorded under the Universal Music label will be available for HP customers at varying accessibility. The partnership will entail live streaming, radio stations and 30 second previews of songs recorded by musicians who are signed under Universal Music. HP has decided to use Connected Music as a way to reach a new target audience consisting of music fans and increase margins in the long run. As this is a diverse demographic, HP will be able to sell more of its new devices to music lovers and thereby will increase its revenues. HP Connected Music will be available to buyers of new HP Windows 8 desktop and notebook computers and will provide them with streaming access to content from Universal's catalogue of more than 3,500 artists, including superstars like Justin Bieber.
Connected Music Will Boost Consumer Sentiment, Confidence
Music has a visceral effect on fans and most listeners are very devoted to musicians they are fond of. When HP provides them with an opportunity to meet their favorite musicians if they have purchased an HP product, it becomes reason enough for people to purchase those products in the first place. Connected Music allows users to listen to whatever they like for 90 days and for those with new Windows 8 HP Spectre and HP Envy PCs, you get 10 free mp3 downloads per month for 90 days too.
Connected Music covers Europe, the Middle East and Africa. The U.K., Germany and France are huge music markets after the United States and Japan. HP has wisely chosen to attract new customers with the help of music branding. If someone has purchased HP's Windows 8 laptops, Windows 8 tablets, PCs and Ultrabooks recently, they will be able to access HP Connected Music's special shows, luncheons, dinners and access free streaming and downloads. Music fans constitute a huge and varied demographic. HP will now be able to attract many customers from this demographic to sell their devices, ultimately increasing revenue.
Hewlett-Packard's fundamentals are weak, but analysts believe they will improve in the coming weeks and months. With an operating cash flow of $11 billion and return on assets (ROA) of almost 5%, Hewlett-Packard needs to do much better than its competitors. Apple (NASDAQ:AAPL) has an operating cash flow of $51 billion and ROA of 24%. Microsoft (NASDAQ:MSFT) has an operating cash flow of $32 billion and ROA of 14%. This clearly shows that HP needs to catch up with Apple and Microsoft in management effectiveness. I believe, using the music industry is a great way to improve its fundamentals as this has worked for both Apple and Microsoft, as I explain later. Investor sentiment will be positive, thanks to increased margin and revenue in the coming months. As the holiday season is in full swing, people will purchase more Hewlett-Packard products in hopes of connecting with their favorite musician in the beginning of New Year. Increased sales will boost investor confidence, and will thereby push Hewlett-Packard's share value.
Apple iTunes and HP Connected Music: What Is the Difference?
Apple's iTunes is synonymous with purchasing music and the company has steadfastly used music as a soft power (just like HP has begun to do now) to increase its sales. Apple revolutionized the music industry by kick starting online retail and distribution models and had sold 10 billion songs by 2010, for $0.99 each. Apple is also the first online distributor that has deals with major corporate labels including EMI, Warner Music Group, Universal and Sony sell music on iTunes. Apple released its latest version of the software, iTunes 11, recently.
iTunes has been around for a very long time, but Hewlett-Packard is using its Connected Music as a service to get more people to buy its devices in hopes of meeting an artist or for the free streaming. Apple, on the other hand, uses iTunes as a way to sell music, which is one of its businesses as well. However, we can see that HP is following Apple's proven method of using music to increase revenue.
Lenovo (LNVGY.PK), the largest PC maker in the world, still does not understand that music can be a great way to get users to talk about a company. As HP has monetized this space by encouraging people to buy its computers to listen to free music and gain access to artists themselves, HP has an edge over Lenovo, which at the moment is only concentrating on its devices without caring to acknowledge the importance of media and art. Dell (DELL) has no role in the music industry, thereby giving HP an edge over the others. Dell Music Store, its defunct online music service has a non functioning website to add to its embarrassment. While the PC market is declining, it will not vanish and HP has taken the right step to diversify a bit and use music as a soft power to attract new customers, which Dell has failed to do.
IBM (NYSE:IBM) is another computer manufacturer that has not recognized the potential of music industry in increasing computer sales. One could argue that IBM is a business machine provider and it doesn't need to wade into the music industry territory, but all this just gives HP an edge over IBM.
Back in October, Microsoft launched Xbox Music, which allows music fans to easily purchase, manage and listen to their favorite tracks across a number of devices. Xbox Music replaced Zune, Microsoft's defunct service. Those who purchase a Windows 8 PC or a tablet will have free access to streaming music service. On the other hand, Xbox owners can purchase Xbox Music Pass to listen to music ad free, for just $9.99 per month. Microsoft and Apple are two companies that have taken the music industry seriously enough to incorporate them right within their hardware and software. HP certainly has taken the right decision by following in their footsteps.
At the moment, HP trades at $14 and has a market cap of $28 billion. Its profit margin is -10.51%, but has a huge revenue of $120 billion. HP's price to book ratio is 1.27 and its price to sales ratio is 0.23. HP is not doing very well when compared to its peers or its own sales a few years ago. However, by following the footsteps of its competitors like Apple and Microsoft by entering the music industry, HP is taking bold steps that will help it sell more products. In the next few months, HP will be able to sell many computers because of its HP Connected Music service alone. HP will be able to reach out to a new demographic (music fans) and significantly increase sales and revenue in the coming months. For investors, this is very good news.
Disclosure: I have no positions in any stocks mentioned, and no plans to initiate any positions within the next 72 hours. I wrote this article myself, and it expresses my own opinions. I am not receiving compensation for it (other than from Seeking Alpha). I have no business relationship with any company whose stock is mentioned in this article.