Japanese shares are trading near two year highs as the Yen has fallen to fresh two year lows as the new government appears intent on battling deflation and ratcheting up growth. This excites us as another of the world's top 5 economies is easing in order to try and restart growth. Investors must not forget that Japan is a developed country and their economy has a consumer with a healthy appetite so an uptick in growth could have a decent impact upon those importing and selling goods within the country which rely on disposable income. Couple the easing with the possibility that the country will spend to build its military back up to counter the growing threat that is China and the groundwork could be in place for an extended rally not just in Japan, or Asia for that matter, but worldwide. These are the type of reasons we remain bullish on our outlook for 2013.
As a side note, we found this map from Trulia interesting as it leads us to believe that tech (Seattle and San Francisco markets) and oil (see Texas markets) shall continue to play a role in the economic recovery based on housing price increases.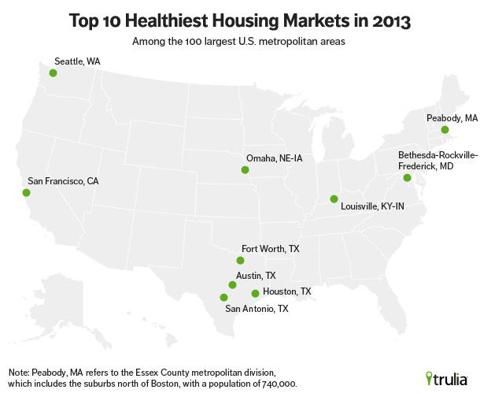 We have economic news due out today which will be the last batch until after the New Year, and it is as follows (these are the consensus estimates):
Chicago PMI (9:45 AM EST): 51.0
Pending Home Sales (10:00 AM EST): 1.0%
Natural Gas Inventories (10:30 AM EST): N/A
Crude Inventories (11:00 AM EST): N/A
Asian markets finished higher today:
All Ordinaries - up 0.51%
Shanghai Composite - up 1.24%
Nikkei 225 - up 0.70%
NZSE 50 - CLOSED
Seoul Composite - up 0.49%
In Europe markets are lower this morning:
CAC 40 - down 0.82%
DAX - down 0.59%
FTSE 100 - down 0.38%
OSE - down 0.51%
Technology
We discussed Marvell Technology Group (NASDAQ:MRVL) yesterday with their judgment of $1 billion plus causing a sell-off which failed to set a new 52-week low. Well in yesterday's session the shares did hit a new 52-week low and volume remained at elevated levels. There was one analyst downgrade which we saw yesterday and that was from JMP Securities which downgraded the shares to a 'Market Perform' from an 'Outperform' rating. Although the company will have to appeal the ruling, and the odds are good that they are able to either get the verdict thrown out or dramatically reduced, that will be some time down the road and further analyst downgrades should be expected. If for no other reasons the analysts need to adjust liabilities to indicate some probability that the company does have a liability here because the auditors will most certainly push for this to be included in the financials (previously it was not, now it should be).
Restaurants
On Christmas day we discovered that Starbucks (NASDAQ:SBUX) was open on Christmas Day, which we found surprising and disturbing at the same time. Our neighborhood store was empty on that day and although we have been a big cheerleader of the company and management we think they are off base on this matter. Currently they have employees writing on cups political messages but it would be quite refreshing if the company could rise above (and yes that pun was intended) their capitalistic desires and keep stores closed on the holiday in order to allow employees to spend the day with their families. Starbucks is one of the top places to work and we hear great stories about their programs and environment, but this really took us aback. Regarding the stock, we remain bullish on the shares and would continue to recommend holding for the $60/share price target.
YUM! Brands (NYSE:YUM) has had a difficult time lately with what appears to be slowing growth in China and now new issues resulting from a crackdown by Chinese authorities on restaurants and the food they serve. In short, China is becoming a headache for investors with the new food regulations but in reality it is a double edged sword. In the long run it would seem that the actions would benefit western companies who already have higher standards which they use as their selling point to create the premium pricing based off of their brand allure. At the end of the day it is China though so at this point we are moving into the neutral camp on the shares and recommending that anyone still holding shares from previous recommendations book profits at this point.
Retail
Regarding retail in general, we think that the housing strength is going to translate into retail strength and to an extent one can see that in the home improvement retailers with that sub-sector having traded near all-time highs just a few months ago.
We saw the rally in JC Penney's (NYSE:JCP) shares end yesterday as shares rejoined the rest of the retail sector which has been under pressure in recent sessions due to the consumer not coming through in the closing days of the holiday shopping season. In our opinion the shares definitely got ahead of themselves and although after having been in a remodeled JC Penney's we think that the turnaround is still a ways down the road. We think that there will be a better opportunity to enter this one in 2013 and that there is no rush to do so at this moment, thus we recommend remaining on the sideline at this point.
Chemicals
One stock we have been watching over the past few weeks but refrained by recommending or buying personally is Eastman Chemical (NYSE:EMN), which is by all accounts a great company with an excellent management team. We will get more in depth with what we have uncovered, but we wanted to throw that name out this morning as it is a blue chip name which could be a long-term hold for conservative readers. Our view is that the dividend will continue to increase along with the company's free cash flow. We also like the idea the company has discussed about bolt-on acquisitions and believe that this will allow the company to effectively reinvest in the business while avoiding the big transactions which tend to stunt growth and momentum. Keep an eye on this one as it seems to set new 52-week and all-time highs on a daily basis.
Disclosure: I have no positions in any stocks mentioned, and no plans to initiate any positions within the next 72 hours. I wrote this article myself, and it expresses my own opinions. I am not receiving compensation for it (other than from Seeking Alpha). I have no business relationship with any company whose stock is mentioned in this article.