The market had a wild swing day Thursday. The market opened nearly flat and started to decline sharply by 10:30 AM due to Senate Majority Leader Harry Reid's statement. The market then started to surge at 2:30 PM into closing as House set a session for Dec. 30 to work on the budget deal. All three major indices ended the day with a minor loss. Dow Jones and Nasdaq each lost 0.14% while S&P 500 declined 0.12%. Both DIA and SPY tested the 50-day MA support and closed above it with late-day surge. However, QQQ was not able to test its 50-day MA resistance and still closed below 50-day and 200-day MAs. DIA, SPY, and QQQ all have MACD (12, 26, 9) showing bearish trend now. Consumer cyclical sector led the gain with 1.07% while transportation sector dropped the most with 0.26% decline.
The market sentiment is driven with greed now with the Fear & Greed Index at 58, decreased from the previous close of 60. As reported by CBOE, the total put/call ratio for today was 1.06, and the index put/call ratio was 1.19. The equity put/call ratio was 0.68, and the CBOE volatility index (VIX) put/call ratio was 0.79. In the following, top stock had been identified through our daily options scanning process, with the scanning criteria where the daily call volume ratio was above 3.00 (3x of the average call volume) with a call volume above 10,000.
| | | | |
| --- | --- | --- | --- |
| Name (Ticker) | Call Volume | Average Call Volume | Daily Volume Ratio |
| Marvell Technology Group Ltd. (NASDAQ:MRVL) | 10,333 | 2,879 | 3.59 |
Source: Schaeffer's Research
Marvell Technology Group Ltd.
MRVL is a fabless semiconductor provider of application-specific standard products. MRVL develops complex System-on-a-Chip, SoC, devices and designs integrated circuits primarily for data storage, networking, and communications. Marvell's products serve diverse applications used in carrier, metropolitan, enterprise and PC-client data communications and storage systems.
Latest Infringement Case
As reported by Reuters on Dec. 26, a federal jury found that Marvell Technology Group Ltd infringed two patents held by Carnegie Mellon University and ordered the chipmaker to pay $1.17 billion in damage. Jurors also found that Marvell's patent infringement was willful. This could enable the trial judge, Nora Barry Fischer, to award triple damages, a sum close to the $3.96 billion market value of Marvell.
On Thursday, Marvell said it will try to avoid a $1.17 billion damages award imposed by a federal jury. As reported by Reuters, "the company said it will seek to overturn Wednesday's verdict in post-trial proceedings in the U.S. District Court in Pittsburgh. It also said that if necessary, it will take its case to the U.S. Federal Circuit Court of Appeals in Washington."
An updated Bloomberg interview with David Martin, chairman and founder of M*CAM Inc., will provide more details about this case. As further reported by Reuters, Brian Love, a professor at Santa Clara University School of Law who specializes in patent law, said damage awards are reversed about 20 percent of the time on appeal. Further, he said, "the larger a damages award is, the more susceptible it is to attack." The award is one of the largest by a U.S. jury in a patent infringement case. Legal experts said Marvell's lawyers could attack the jury's damages calculation. Love of Santa Clara Law noted that the award exceeds Marvell's annual profits and is more than one quarter of the company's market capitalization.
Analysts' Calls
On Thursday, Daniel Amir, an analyst at Lazard Capital Markets said, "If the ruling stands, given Marvell's total cash position of $2 billion, we think this could represent a significant blow to the company." Daniel Amir currently has a neutral rating on MRVL and also stated that the verdict will create an "overhang" on MRVL's shares until the case is resolved, which could take years.
On the same day, JMP Securities downgraded MRVL to "market perform" from "market outperform" after a jury ruled in favor of Carnegie Mellon University.
Key Stats and Valuation
MRVL currently has an enterprise value of $1.94B with a market cap of $3.82B. MRVL has a total cash of $2.02B, mrq, and generates an operating cash flow of $593.54M with a levered free cash flow of $373.02M. MRVL has a book value of $8.74.
By using the data obtained from Morningstar, MRVL's key stats will be compared to its peers in the semiconductors industry, including Qualcomm, Inc (NASDAQ:QCOM) and Broadcom Corporation (BRCM). MRVL has a lower revenue growth (3-year average) of 4.8, comparing to the industry average of 10.8, and a much higher EPS growth (3-year average) of 62.7, as compared to the average of 28.1. MRVL generates lower operating margin of 10.2%, ttm, and lower net margin of 10.8%, ttm, comparing to the industry averages of 19.3% and 12.1%, ttm, respectively. MRVL has ROE of 6.9, which is below the industry average of 13.9. MRVL has a zero debt-to-equity as compared to the average of 0.5.
MRVL has a P/E of 12.8, P/B of 0.8, P/S of 1.4, which are all lower than the industry average of 19.9, 2.5, and 2.2, as well as MRVL's 5-year averages of 34.4, 2.1, and 3.2. MRVL has a forward P/E of 10.5, which is lower than S&P 500's average of 14.2. The PEG ratio for MRVL is 1.5.
Technical Analysis
MRVL closed at $7.14 with 3.51% loss on Thursday. MRVL had dropped 13.45% in past 2 trading days after Dec. 24's closing of $8.25. MRVL had been trading in the range of $6.98-$16.86 in past 52 weeks. The MACD (12, 26, 9) had been showing a bearish sign since Dec. 20 and the MACD difference continued to diverge today. The momentum indicator, RSI (14), is in the oversold territory at 27.96. MRVL broke and closed below its 50-day MA of $8.14 on Dec. 26, as seen from the chart below.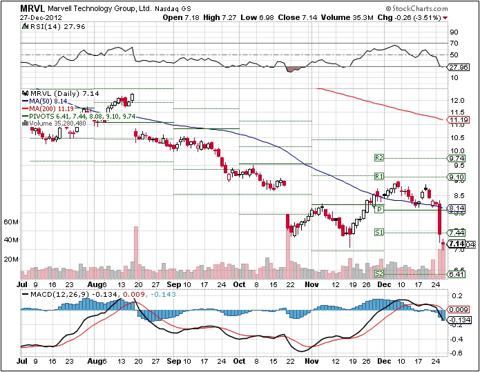 Source: StockCharts.com
Unusual Call Activities
The most active call on Thursday was Jan. 18, 2013 call at the strike price of $7.50 with a volume of 3,327 and an open interest of 2,813. The implied volatility is 53.8, and the chance of breakeven is 25.31. The historical volatility for MRVL is 46.03 for 1 month, 46.12 for 3 months, and 37.87 for 1 year. More volatility is expected as the legal case drags on. For bullish options traders, a credit bull spread capped at the major resistance of 50-day MA ($8.14) could reduce the cost and partially offset the time decay and increasing implied volatility as compared to simple call option.
Note: All numbers/prices are quoted from the closing of December 27, 2012 with the data provided from Barron's, Morningstar, Schaeffer's Investment Research, Inc., Google Finance, and Yahoo! Finance. Investors and traders are recommended to do their own due diligence and research before making any trading/investing decisions.
Disclosure: I have no positions in any stocks mentioned, and no plans to initiate any positions within the next 72 hours. I wrote this article myself, and it expresses my own opinions. I am not receiving compensation for it (other than from Seeking Alpha). I have no business relationship with any company whose stock is mentioned in this article.