In the midst of this quarter's Apple (NASDAQ:AAPL) hysteria, many investors seem to be worried about cannibalization of certain Apple products by other Apple products. In particular, many people are worried that full-size iPad demand has dropped off because of the iPad mini, and that more people are opting to buy older-model iPhones (the iPhone 4 and 4S) rather than upgrading to the iPhone 5. Since the cheaper models carry lower gross margins, investors appear to be worried that Apple is undermining its own profitability. Indeed, for the current quarter and next quarter, analysts expect Apple's profit to decline year over year, despite a nearly 20% increase in revenue.
Yet the margins for these "cannibal products" are still very high, which is one reason why I think concerns about Apple's margins are overblown. The 16GB iPhone 4S carried a bill of materials of $188 in October, 2011, and component costs have decreased since then. Assuming an average selling price between $450 and $500 (wholesale), this still puts iPhone 4S margins well above 50%. IHS iSuppli has also estimated the BOM for the 16 GB iPad mini at $188 ($198 including the manufacturing cost). However, some people will opt for either memory upgrades or LTE capabilities. Assuming a wholesale ASP of $350 (i.e. most people opt for the 16GB Wi-Fi only version), the iPad mini would still have a gross margin of nearly 40%. Moreover, since many of these units are sold at the Apple Store, Apple will capture additional revenue through its retail segment.
However, analysts and investors who have become wrapped up in this "cannibalization" narrative cannot see the forest for the trees. A "true" negative sign for Apple would be that competitors' products are drawing more interest than Apple products. For example, Amazon.com (NASDAQ:AMZN) has tried to market the Kindle Fire 8.9 inch-HD as an alternative to the full-sized iPad (with the 7-inch Kindle Fire HD going up against the iPad mini). Amazon's argument to consumers is that the Kindle Fire 8.9-inch HD is a top-notch tablet that costs $200 less than an iPad. Yet Chad Bartley of Pacific Crest recently slashed his Kindle Fire sales estimates, noting particularly weak demand for the 8.9-inch model. This is supported by the Fire 8.9-inch HD's #7 rank in the Amazon.com electronics department, behind various other Kindle devices, Apple TV, and the Roku 2 XS. (The LTE version is buried at #86 in electronics!) It appears that consumers are actually comparing the $299 Kindle Fire 8.9-inch HD to the $329 iPad mini and opting for the slightly more expensive, smaller (standard-definition) iPad mini in droves.
It's a similar story in the smartphone arena. Samsung (OTC:SSNLF) has done a great job of designing top-notch phones to compete with Apple (leaving aside whether it has "copied" Apple's designs). However, Samsung cannot offer the iOS experience, and this is a significant weakness. As a result, Apple continues to solidify its dominance of the highly profitable U.S. market. For the 12 weeks ending on November 25 (which includes the first 9+ weeks of the U.S. iPhone 5 release), Apple's U.S. smartphone market share was a whopping 53.3%. Even in Europe, where the iPhone is much less popular, Apple had better than 25% market share. While Samsung will maintain the global lead in terms of device sales for the foreseeable future, Apple's dominance in the U.S. has allowed it to maintain a very high share of smartphone profits.
Unsurprisingly, Apple bears have turned to the cannibalization question, since it would be difficult to build a bear case for Apple based on low iPhone demand. An October survey by Consumer Intelligence Research Partners suggested that more iPhone buyers are opting for the lower priced older models than in previous years.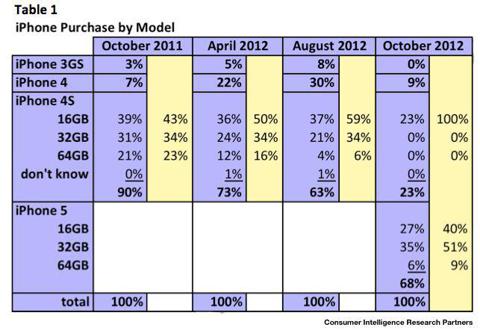 Whereas only 10% of customers opted for the iPhone 3GS or iPhone 4 at the time of the iPhone 4S launch, the survey found that 32% of customers this October bought an iPhone 4 or 4S (rather than an iPhone 5). Pundits have interpreted this as a negative: iPhone sales are being pushed toward lower-priced/lower-margin models.
However, on the flip side, the high demand for older models probably allowed Apple to sell significantly more iPhones than it otherwise could have in Q4 (since the iPhone 5 has been supply constrained). This interpretation is further supported by the recent reports of iPhone 5 production cuts, following a steep ramp from October to December. While these reported cuts may imply that iPhone 5 demand is weaker than the more bullish forecasts, the "missing" demand is more than explained by higher demand for the iPhone 4 and iPhone 4S. With some analysts having cut their overall iPhone sales estimates, I see a strong likelihood of a positive surprise when Apple releases Q1 earnings next month.
In short, Apple followers who are worried about cannibalization are paying attention to the wrong story. When the biggest threat a company faces is that high demand for some of its products will hurt demand for its other products, said company is in very good shape. Apple investors should only really worry when it is competitors' products cannibalizing Apple's sales. With Apple nevertheless trading at a discount to the market (<10X my estimate of FY13 EPS; ~7X excluding cash), I doubled down on my Apple position on Wednesday.
Disclosure: I am long AAPL. I wrote this article myself, and it expresses my own opinions. I am not receiving compensation for it (other than from Seeking Alpha). I have no business relationship with any company whose stock is mentioned in this article.
Additional disclosure: I am also short AMZN.