US retail spending appears to have been surprisingly resilient over the Black Friday weekend. According to the National Retail Federation's 2008 Black Friday Weekend survey, conducted by BIGresearch, more than 172 million shoppers visited stores and websites over Black Friday weekend, up from 147 million shoppers last year.
Shoppers spent an average of $372.57 this weekend, up 7.2 percent over last year's $347.55.
"Pent-up demand on electronics and clothing, plus unparalleled bargains on this season's hottest items helped drive shopping all weekend," according to NRF President and CEO Tracy Mullin.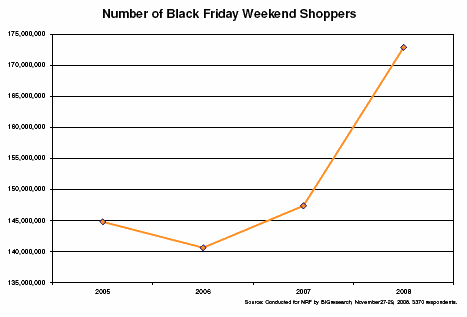 Though retailers in all categories were featuring big bargains, a majority of shoppers visited discount stores for holiday deals. According to the survey, more than half (54.7%) of this weekend's shoppers visited discount stores. Nearly half (43.0%) shopped at a traditional department store, up 11.1 percent from 38.7 percent last year. About one-third of shoppers visited specialty stores like clothing or electronics stores (36.0%) and shopped online (34.0%).
As expected, many shoppers (50.9%) purchased clothing and accessories over the weekend while 39.0 percent bought books, DVDs, CDs and video games and 35.9 percent purchased consumer electronics. Toys were also big sellers, as 28.5 percent of shoppers bought a toy. Gift card purchasing dropped ten percent with 18.7 percent of shoppers purchasing a gift card over the weekend, down from 21.0 percent last year.
NRF projects that holiday sales will rise 2.2 percent this year to $470.4 billion.
ComScore reports that online sales on Thanksgiving Day and Black Friday combined increased 2 percent versus year ago.
It's probable that on Black Friday consumers responded positively to the very aggressive promotions and discounts being offered in retail stores, so it will be important to see how they respond to similarly attractive deals being offered online on Cyber Monday, the traditional kick-off to the online holiday shopping season.