Background
As many of my readers know, gold and silver have pulled back significantly from their recent highs hit on October 4th this year. Gold and silver rose significantly following global central bank actions in August and September. Traders in the precious metals have taken a lot of profits in the metals in the last 10 weeks in part due to the fear of a capital gains tax hike from the stalled fiscal cliff negotiations in Washington. Today Senate majority leader Harry Reid has affirmed the we are likely going over the cliff. Gold and silver spiked about 1.5% on the news, but the most popular gold and silver ETFs, the SPDR Gold Trust (NYSEARCA:GLD) and the iShares Silver Trust (SLV), are still down 6.6% and 12.5% in the last three months, respectively. The ETFs that track the miners of these metals such as the Market Vectors Gold Miners ETF (NYSEARCA:GDX) and the Market Vectors Junior Gold Miners ETF (GDXJ) are down even further in the last three months compared to the metals they produce, losing 15.8% and 22.5%, respectively. The Direxion daily bull 3x ETF (NYSEARCA:NUGT), one of my favorite plays when gold and gold stocks are being bought up, is down an incredible 42% in three months.
Given recent selloffs and the long term-tailwinds that gold and silver prices have due to central bank stimulus, I am reiterating right here that the gold and silver ETFs mentioned above are now strong buys after their massive selloffs. For investors seeking greater returns, a buying opportunity has arisen for the long-term investor in silver and silver companies, as well as the best of breed gold stocks. The greatest returns can be had however in small cap stocks, especially those that are potential takeover targets but also have strong fundamentals in their own right. In the present article, I highlight a junior gold miner that has received little analysis on investing websites. This company may see some strong appreciation in 2013 among junior gold miners and I will outline reasons why this company offers multiple reasons to own its stock. The company in question is Vista Gold (NYSEMKT:VGZ).
Company Introduction
VGZ is engaged in the evaluation, acquisition, exploration and advancement of gold exploration and potential development projects. Since 2001, VGZ has acquired a number of gold projects with the expectation that higher gold prices would increase their value. VGZ is focused on the development of the Mt. Todd gold project in Northern Territory, Australia, to achieve its goal of becoming a mid-tier gold producer. Vista is advancing exploration on its Guadalupe de los Reyes gold/silver project in Mexico and has granted Invecture Group, S.A. de C.V. a right to earn a 62.5% interest in the Las Cardones (formerly named Concordia) gold project in Mexico. In addition, VGZ holds a 28% interest in Midas Gold Corporation's (OTCQX:MDRPF) Golden Meadows Project in the Stibnite-Yellow Pine District in Idaho. Vista's other holdings include the Awak Mas gold project in Indonesia and the Long Valley gold project in California. The company has little debt and sits on large quantities of proven and probable resources.
Mount Todd Mining Site - Reason Enough To Own The Stock
VGZ's premier mining site which it hopes to further develop with proceeds from the aforementioned offering is a gem of a site, which I think once production ramps up, will drive revenues significantly higher and reward shareholders with subsequent share price appreciation in coming quarters. Mount Todd is located in the Northern Territory of Australia in a very mining friendly jurisdiction with excellent existing infrastructure. As of a January 2011 preliminary feasibility study, there were approximately 4.1 million ounces of proven and probable gold reserves. And as of the September 2012 survey, approximately 7.0 million ounces of measure and indicated resources. A second feasibility study to further assess the reserves is scheduled to be conducted in early 2013. Figure 1 displays the growth of resource finds at the Mount Todd site, an impressive figure that displays the true potential of this mining site. As shown in the figure, proven and probable reserves have grown exponentially while total resource growth has grown linearly year over year, demonstrating the potential of this site.
Figure 1. Resource Growth at Vista Gold's Mt. Todd Mining Site, 2006-2012.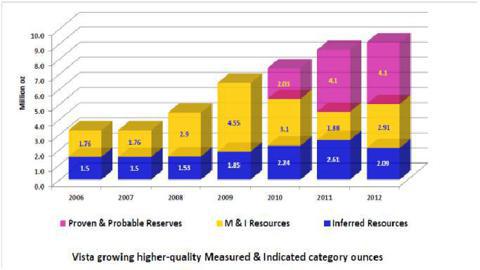 Figure 2 displays a concentration map of locations of gold reserve deposits relative to cross sections made across the pit. As shown in the figure, reserves are concentrated quite heavily 200-400 meters deep near the sections of the measured and indicated lines. This figure also shows the planned location of new mines to capture additional gold ounces.
Figure 2. Vista Gold's Mount Todd Mining Site Concentration of Measured, Indicated and Inferred Gold From Latest Feasibility Study.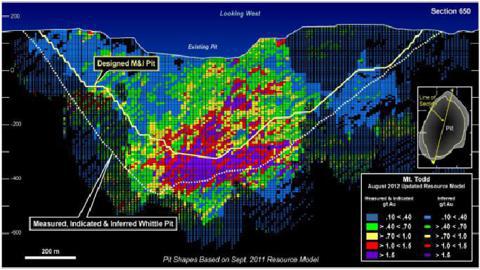 In total over 46,300 meters of drilling has significantly improved VGZ's understanding of the mineralogy at Mount Todd. The full assay results indicated there are over 31 elements within the deposits located at the site. Among the top minerals are gold, silver, copper, lead and zinc. After years of metallurgical testing, the company believes that it can recover about 82% of the gold at the deposit through a two stage mine development process that will minimize capital investment, accelerate capital payback to shareholders and maximize mine and reserve life.
From my analysis and the company reports, I believe Mount Todd is a world class asset that is flying under the radar of Wall Street. The large resource base of 7 million ounces with another 2.1 million inferred is in and of itself an attractive deposit that a larger competitor such as a Goldcorp (NYSE:GG) or Barrick Gold (NYSE:ABX) may be interested in acquiring. Many smaller gold miners operate in politically risky areas of the world, and the Northern Territory of Australia is quite stable, another positive for the company. Finally, there is also an existing heap-leach pad at the site which creates an opportunity for the company to generate some cash-flow from the "low-hanging" fruit of mineral reserves close to the surface while the deeper mine construction is underway - another major positive for the company.
Guadalupe de los Reyes, Mexico
VGZ also has a promising exploratory mining site in Guadalupe de los Reyes, Mexico, that it is currently investing in. In mid-2011, VGZ started exploration at the Guadalupe de los Reyes gold-silver project. After completing a surface sampling and mapping program, Vista obtained the environmental permits for exploration drilling and started drilling in November 2011. The focus of the drilling program was to confirm the previously estimated resources, obtain core for metallurgical testing and to test the hypothesis that the underlying consolidated vein system hosts mineralization with high gold grades and bonanza silver grades. A 7,215 meter drilling project at the site indicates the potential for high grade silver and gold deposits. There are strong estimated resources here, with about 380,000 ounces of gold and 8.3 million ounces of silver indicated. Surveys also suggest there are another 155,000 ounces of gold and 9.4 million ounces of silver inferred at the site.
Third quarter results
In the most recent quarterly report, VGZ reported a net income of $12.3 million or $0.16 per share for the three months ended September 30, 2012. This includes an unrealized $29.1 million mark-to-market gain from its investment in Midas Gold and partly offset by a $9.9 million increase in deferred tax liability substantially related to this gain. During the three month period ended September 30, 2011, the company reported net income of $10.7 million, or $0.15 per share. Cash and cash equivalents at the end of September 30, 2012, totaled approximately $14.9 million, compared to $7.5 million at June 30, 2012. During the quarter, the company closed a private placement equity offering which provided $14.2 million net proceeds to the company. During the quarter, $5.8 million was used for drilling, permitting, water treatment, technical evaluations and engineering studies at its Mt. Todd gold project and for advancing the preliminary economic assessment at its Guadalupe de los Reyes gold/silver project; and $1.1 million was used for general and administrative expenses. The biggest fact that caught my eye is that the company also has no debt.
Offering 3.6 million units at 6.5% discount to December 13th, 2012 close
The company originally caught my eye today after making headlines that it was offering about 3.6 million units priced at a 6.5% discount to Thursday's close of $2.94 a share, as the company looks to use the proceeds garnered from the sale to advance its projects in Australia and Mexico, and for general corporate purposes. Each unit offered is comprised of one common share and half a common share purchase warrant. Each whole warrant is exercisable to purchase a common share at an exercise price of $3.30 for 24 months. VGZ expects proceeds (before related expenses) of $10 million and intends to use the proceeds to advance its Mt. Todd gold project in Australia, to complete a preliminary economic assessment on its Guadalupe de los Reyes gold/silver project in Mexico, and for working capital requirements. The stock got crushed on the news and shares slipped 10% at the open. Trading had been halted twice on the exchanges that day due to extreme volatility on high volume. Overall, the stock hasn't recovered and is giving investors a golden opportunity to get behind it.
Closing of the New Offering, December 21, 2012.
On December 21, 2012 VGZ announced the closing of its aforementioned public offering which totaled 4,182,550 units, of which 545,550 units were issued pursuant to the full exercise of the underwriters' over-allotment option. The units were purchased at a price of $2.75 each as planned. The gross proceeds of the offering, before expenses, were $11,502,013. The company still plans to allot most of the revenue raised to advance its Mt. Todd gold project in Australia, and to devote resources to its sites in Mexico. One of the largest owners of VGZ stock added significantly to their position. As part of the offering, Sun Valley Gold purchased over 1.2 million shares and 636,000 warrants. This purchase raised their total holdings to 12 million shares and 3.6 million warrants. Sun Valley now has an approximate 15% stake in VGZ.
Additional Properties Reaffirm That the Stock is Far Undervalued
Along with other joint venture partners, VGZ is taking exciting steps toward growth and future profitability.
VGZ acquired the Awak Mas gold deposit on the Indonesian island of Sulawesi for $1.5 million in 2005. The project has undergone significant exploration and drilling by major companies from the period 1991 - 1998 with over $40 million spent on the property during that period. In late 2006, VGZ completed a drilling program and a new resource estimate for the project and completed a preliminary assessment in January of 2008. Awak Mas currently has a measured and indicated gold resource of 1.7 million ounces and an inferred resource of 539,000 ounces.
VGZ's 100% owned Las Cardones (formerly named Concordia) gold project is located approximately 55 kilometers southeast of the city of La Paz in Baja California Sur, Mexico. VGZ acquired Las Cardones in August 2002 for $2.3 million. Current gold reserves at Las Cardones are 1.3 million ounces. In 2009, VGZ completed a bankable feasibility study for the project which demonstrates strong economics from a 10-year mine life that will produce over the first five years of the mine an average of 142,900 ounces of gold at an average cash cost per ounce of US$372 from an open pit mine.
VGZ's Long Valley project is an epithermal gold deposit located 30 miles northwest of Bishop, California. The project has a current measured and indicated resource of 1.2 million ounces and 600,000 ounces of inferred resources. Approximately 880,000 ounces of gold are located in near-surface oxide material that, based on a 2008 preliminary economic assessment, could be produced in a simple heap leach operation at gold prices above $550 per ounce. Long Valley also has numerous exploration targets with strong potential to increase the resource base. VGZ is not currently actively advancing Long Valley, but will continue to hold the project in its portfolio for future development, joint venture or opportunistic divestiture.
Analysts Expect Significant Appreciation From Current Levels
The analyst sentiment on this stock should catch the eye of any serious investor. While analysts are not a perfect gauge and far from it, there is something to be said for the analyst expectations regarding VGZ. Currently, the company is minimally covered as only three analysts have initiated coverage on the stock. Two of the analysts rate the company as a "buy" while one rates the company as a "strong buy." The price targets that these analysts have suggest the stock is heading in a favorable direction in 2013. The mean one year analyst price target for VGZ is $11.79. The low target is $9.00 and the high target is $14.58. This translates to analysts looking for an average 356% share price appreciation in one year, with at least a 248% appreciation or according to the most bullish analyst, a whopping 467% share price appreciation. Shares of VGZ currently trade at $2.55 a share, with a 52 week range of $2.21-$4.09.
Conclusion
With the long-term tailwinds in place for the price of gold and silver going forward stemming from all of the monetary easing policies from central banks, I believe the gold and silver companies are great buys going forward. I believe that VGZ is a golden opportunity among junior gold miners. With just its proven and probable reserves alone, combined with the beating the shares have taken in the last few weeks, I am inclined to be very bullish on this stock and believe it is necessary to document the potential of this little known company for my readers. For those looking for potentially exponential gains in the precious metals and mining sector, consider buying VGZ at its current undervalued share price as it has large reserves, zero debt and is a likely takeover target from a larger competitor.
Disclosure: I have no positions in any stocks mentioned, but may initiate a long position in VGZ over the next 72 hours. I wrote this article myself, and it expresses my own opinions. I am not receiving compensation for it (other than from Seeking Alpha). I have no business relationship with any company whose stock is mentioned in this article.