According to SpendingPulse -- Mastercard's (NYSE:MA) research arm -- December retail spending inched up only 0.7% from 2011. If SpendingPulse is right, this season is the weakest since 2008. This is hardly an encouraging sign for retail investors, who will need to be more selective.
To narrow your watch list, I screened the Seasonal Investor database and found seven retailers with a history of shrugging off economic pitfalls and natural disasters in Q1. Each has posted gains in nine of the past 10 years.
The catalysts for our seven seasonally strong retailers:
Buckle Inc. (NYSE:BKE), the denim-oriented operator of casual apparel stores across the grain belt, has seen same store sales improve 2.8% year-to-date through November. This summer's drought impacted farm income in key markets, yet net sales still increased 4.8% from 2011 through the first 11 months. The companies' new stores and stronger e-commerce presence provide upside heading into Q1. According to SpendingPulse, online sales were the bright spot again this holiday season, increasing 8.4% from last year. At Buckle, e-commerce sales finished Q3 up 10% year-to-date from 2011. Importantly, with crop insurance paid and tight ending grain stocks heading into next year, it's likely we'll see Midwest spending improve, adding upside for the company. If so, investors should pay attention, given shares have increased a median 22.52% in Q1.
Bon Ton Stores (NASDAQ:BONT) is another retailer with operations likely to benefit from improving spending across the grain belt next year. Its 272 department stores stretch from the Northeast across the Midwest and include manufacturing heavy markets such as Ohio and Michigan, where it operates a combined 45 stores. These markets suffered during the recession, but are rebounding as auto production rates have climbed. With manufacturing providing job and income growth again, sales at Bon Ton could move up from its 0.2% year-to-date pace. In the company's November sales update, it cited strengthening sales in the back half of November and record online sales. If these trends held up through December, investors may benefit, given shares have gained a median 37.58% in Q1 over the past decade.
Dick's Sporting Goods (NYSE:DKS) was widely expected to outpace retail sales this season, with analysts projecting sporting goods stores to see comparable sales growth north of 4% this quarter. The company is the largest operator in the category and has been focused on boosting margin friendly apparel and footwear. Dick's has also embraced in-store merchandising for key brands like Nike (NYSE:NKE) and Under Armour (NYSE:UA), both of which are not heavily discounted. With 511 stores, a return of snow and colder weather in the Northeast is likely to reduce markdowns on winter gear, helping margins. Historically, DKS investors have been rewarded with a median return of 12.76% in Q1.
Strong footwear margins are also helping Footlocker (NYSE:FL), which entered Q4 with earnings tailwinds. In Q3, profit increased 61% as gross margin improved to 33.1% from 32.5%. The marked the 11th straight quarter of year-over-year sales growth for the company. Additionally, Q3 same store sales were up 10% post-Olympics, with direct-to-consumer sales up 18.3%. The strength helped Footlocker boost its cash in the past year by $158 million to $853 million, while still buying back 3 million shares of stock this year. Additionally, the company launched its new Six:02 high-end women's athletic retail store concept in November. If successful, the targeted approach could add additional margin upside by focusing on higher-end products and consumers. Over the past 10 years, shares have produced a median 8.55% return in Q1, suggesting now may be a good time to buy.
In December, Jos. A Banks (NASDAQ:JOSB) announced it had opened its 600th store and targeted eventually reaching 800 stores. The company has been investing heavily in building out its footprint, having added 190 new stores over the past five years. At the same time, the company's earnings per share have moved from $1.81 in 2008 to $3.49 in 2012. In Q3, total sales were up 11.1%, thanks in part to comparable sales growth of 4.8%. Importantly, direct marketing sales were up 25.8% as the company connected better with male consumers online. Despite sales growth, shares have spent Q4 filling the gap created back in August. Currently, shares are trading at 10.3x forward earnings estimates, which suggests a move to its current 12x multiple would notch investors a 16% gain. Short sellers also appear overly exposed, holding 15.5 days to cover short. This suggests any good news could help drive the stock higher on covering. Historically, shares have traded a median 17.56% higher in the first quarter.
Despite its off-price merchandise remaining attractive to fiscally conservative shoppers, investors have knocked Ross Stores (NASDAQ:ROST) 25% off its 52 week high. While the stock is flirting with a 52 week low, analysts still expect earnings growth of 11% next year. In November, the company saw sales climb 6% as comparable sales increased 2%. Year-to-date, the company's total sales and comparable store sales are 11% and 7% higher, respectively. The company faces tough comparisons, so it's guiding for low single digit comp growth into Q1. 379 of the company's 1097 stores are in California and Florida, markets hard hit during the recession. This has allowed Ross to capture market share, which can be leveraged as housing and job markets in those states move further off their lows. Historically, shares have returned a median 16.74% in Q1.
The last of our seven stocks is Sears Holdings (NASDAQ:SHLD), which has gained in all nine of the nine years since Kmart emerged from bankruptcy. While shares have been an overall poor performer since 2005, Q1 is notably strong. The company's 4,000 stores compete in the bare-knuckle battle for market share against titans Wal-Mart (NYSE:WMT) and Target (NYSE:TGT). Sears appliance sales are set to improve as housing sales increase. Its tools sales also benefit from higher construction spending trends. Last quarter, higher appliance and apparel sales helped margins expand 70 basis points -- a trend likely to continue, given new home sales increased 15.3% year-over-year in November. With shares flirting with their lowest since last January, investors may want to use weakness to take a position given SHLD's median 17.6% Q1 return.
Source: Seasonal Investor
(click image to enlarge)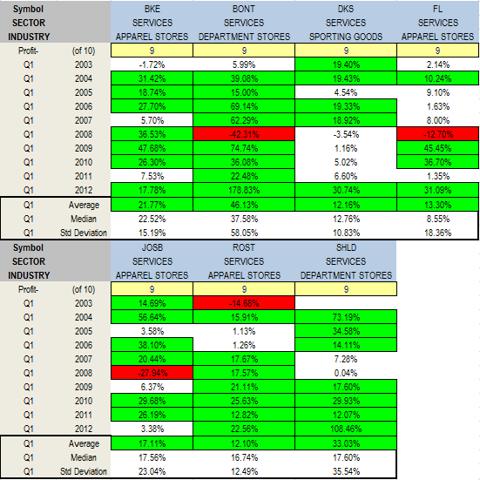 Disclosure: I am long UA. I wrote this article myself, and it expresses my own opinions. I am not receiving compensation for it (other than from Seeking Alpha). I have no business relationship with any company whose stock is mentioned in this article.