I am one who recommends a fair amount of stocks that are short candidates, but that doesn't mean that every one of my candidates is an immediate short. Short selling can be a very dangerous practice, where your losses can be infinite if you have a ton of margin. Some investors don't like short sellers, while others believe they are a necessary part of our market. Today, I'm going to look at 10 stocks, most of which I analyze in greater detail on this site. Many of these names are short seller favorites, and all have seen a rise in the number of shares short during some point in 2012. The goal today will be to see if these names, some of which have seen positive news lately, are forcing short sellers to cover their positions. Each part of my two-part series will focus on five names. Here is part one.
Facebook (NASDAQ:FB):
Facebook shares went public in May, and the number of shares short rose, as many were non-believers. The big pop in the chart below occurred in early August, after Facebook's second quarter earnings report was a bit disappointing. But with the share price dropping under $20, a fair amount of shorts bailed because the short proposition wasn't as good as it was when the price was much higher.
Even after the company reported a great third quarter in late October, the short count continued to rise as Facebook was facing its biggest test, a lockup expiration of almost 800 million shares. However, Facebook seemed to pass the test, and analysts have been warming up to the company ever since. That has sent the short count from more than 95 million to just over 55 million. It doesn't seem like much for a name with over 1.3 billion shares on the float and over 2 billion outstanding. However, the shares short total did more than double from May to November, which is why I included this name on my list. With Facebook towards the upper end of its recent trading range, you may see some non-believers short this name again. The short count has definitely come down a bit with Facebook. The next big test will be Facebook's Q4 results, due out in about a month. Should Facebook impress again, look for the shorts to run for the hills.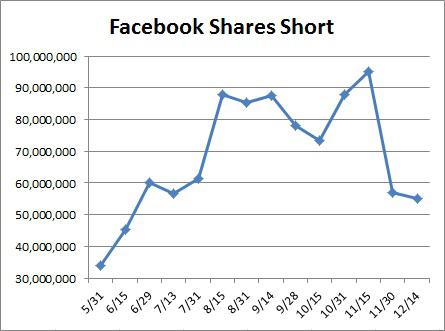 Netflix (NASDAQ:NFLX):
The streaming video giant has been one of the most heavily debated names over the past few years, and has been a short seller favorite on its decline from over $300 to just over $50. The shorts started returning after the company's results disappointed in Q1, as the company has not been profitable, subscriber growth has continued to disappoint, and competition seems to increase by the week.
The short peak was at the end of October, after the company's disappointing Q3 results. But since then, shorts have covered, and the stock has gone from the mid $50s to over $90, and recently, it almost hit $100 again. A lot of shorts covered on the news that Carl Icahn had taken a large position in Netflix, a name he believed was significantly undervalued, and potentially a takeover target. Shorts continued to cover in early December after Netflix agreed to a big content deal with Disney (NYSE:DIS). The number of shares short in mid-December was at a four-month low, and that still represents about a quarter of the outstanding share count, but Netflix shares are now trading at levels not seen since April. With Netflix shares up about 60% since the post-earnings low, I would expect the shorts to return until Netflix reports its Q4 results. Competition in this space is increasing, and Netflix has given terrible guidance lately, including the fact that it expects to start burning through cash.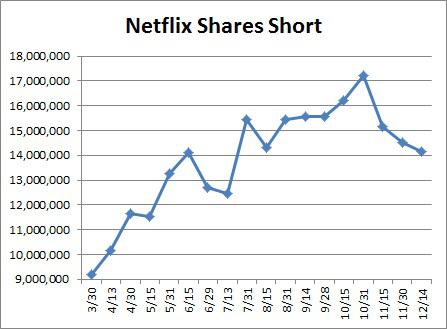 Research in Motion (RIMM):
If you looked at the chart below, you might think it is a chart showing the stock price of Research in Motion over the last three months. There are certainly some similarities. The struggling BlackBerry maker has seen huge year over year declines in revenues, and has gone from decent profits to losing money. Two years ago, shares traded for almost $70, but were barely over $6 just a few months ago.
The company has now posted back to back revenue/earnings beats, including one just a week ago. RIM shares had rocketed higher on the promise that the BlackBerry 10 launch, scheduled for the end of January, will get this company back on track. Over the last couple of months, analysts have continually raised their expectations for RIM's current fiscal year (ending in February) and the next. Current expectations are at their highest point in quite some time. But as the stock and expectations have risen, so has the number of shares short. A lot of investors just don't believe the BB10 launch will be successful. Shares hit an extended hours high of $15.50 after the earnings report, but plunged as the conference call left investors feeling that BB10 wasn't all it was cracked up to be. Shares fell nearly $5 to a low of $10.59 on Christmas Eve, before rocketing higher the day after Christmas on what appeared to be short covering. The mid-December numbers are at a high point, with nearly 25% of the outstanding shares short. I'm really curious to see the end of month short interest data on Research in Motion. Will the latest quarterly report have the shorts running away, or will we see more shorts pile in as we get closer to the BB10 launch?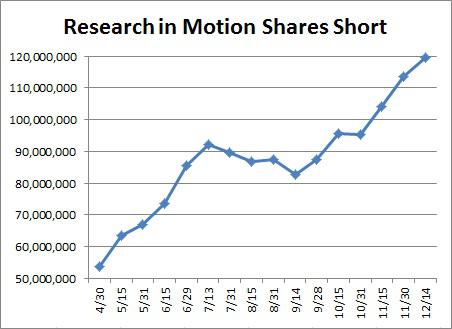 Deckers Outdoor (NASDAQ:DECK):
For those that don't know Deckers, it is the company behind those UGG boots. Deckers was hit hard by a warm winter last year, and sheepskin prices for UGGs had skyrocketed over the past two years. Deckers' sales and profits were greatly impacted, and I've detailed why it was one of 2012's best short candidates. Deckers was above $90 in December 2011, but after its Q3 earnings report, it traded under $29.
However, throughout November Deckers had risen, partially through a bit of short covering, which you can see in the chart below. Deckers shares rallied as temperatures got cooler, which made several analysts raise their price targets on the hope of a Deckers' rebound. There also were a number of scattered takeover rumors, but none of them have panned out to date. Deckers got above $44 in early December, but since then the shorts have returned, sending shares back to $34 recently. Deckers rose more than $3 on Thursday with no news, and it appears that there was some short covering after the latest plunge in the name. The number of shares short for Deckers was at its highest point of the year in mid-December with over 16.25 million short, which is more than 40% of the outstanding share count. Expectations for Deckers are low for Q4 and next year, since Deckers has basically warned at the last four quarterly reports. Deckers will probably report in early February, and if the company forecasts a good 2013, expect the shorts to flee, and fast, which will cause a massive short squeeze. But if Deckers disappoints again, the stock will continued to be attacked by short sellers who claim UGGs are a fad.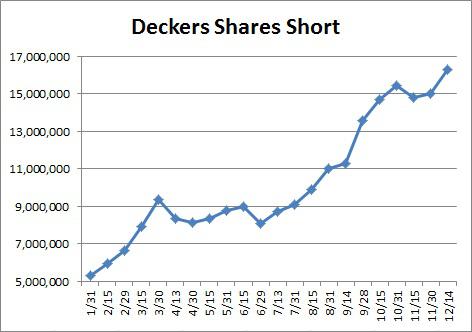 Green Mountain Coffee Roasters (NASDAQ:GMCR):
Green Mountain is another name that has been a favorite of short sellers for several reasons. The company's growth is slowing very fast, it's issued a number of warnings over the past year, inventory levels are high, and the accounting has always been questioned. Despite Green Mountain initiating a huge buyback plan when it reported Q3 results on August 1st, the short count actually increased as shares rose into the high $20s.
The short count peaked in November, with about a third of outstanding shares short, and after Green Mountain's great report at the end of that month, the shorts have started to run away. Green Mountain beat estimates, did not lower guidance, and has bought back a ton of shares. The company still has a ton of growth ahead of it because it only operates currently in the U.S. and Canada. Investors are starting to believe in this name, and the number of shares short has declined significantly from its recent high. However, shares at $41 are now well off the roughly $15 low we saw in early August, so expect the shorts to remain interested in this name. Green Mountain will need to prove itself again with its Q1 results to scare off more short sellers.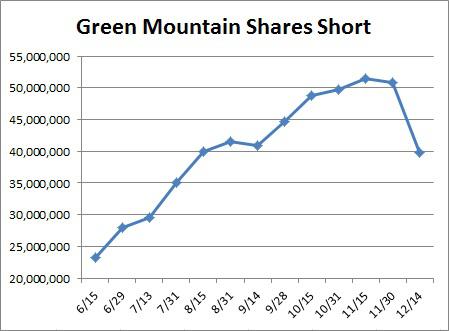 All of the short interest data was retrieved from the NASDAQ short interest page, which can be found here. All dates in charts above are from calendar year 2012.
Disclosure: I have no positions in any stocks mentioned, and no plans to initiate any positions within the next 72 hours. I wrote this article myself, and it expresses my own opinions. I am not receiving compensation for it (other than from Seeking Alpha). I have no business relationship with any company whose stock is mentioned in this article.
Additional disclosure: Investors are always reminded that before making any investment, you should do your own proper due diligence on any name directly or indirectly mentioned in this article. Investors should also consider seeking advice from a broker or financial adviser before making any investment decisions. Any material in this article should be considered general information, and not relied on as a formal investment recommendation.