When it comes to assessing mining equities, some analysts often cite low P/E valuations as positive, without explaining why they are low. While standard metrics can be useful, the jurisdictions of miners' operations is increasingly important to a comprehensive analysis. Resource nationalism, the tendency of states to assert control over their domestic natural resources, is seen as a growing trend for 2013.
A recent study by Maplecroft, a risk management consultancy, ranks nations in their potential for resource nationalism. Speaking to the Financial Times, Associate Director James Smither explained that this trend does not necessarily have to come in the form of outright expropriation. Increasingly, governments have employed more "subtle measures," he said, those which are easier for politicians to defend and harder for companies to oppose. The imposition of increased royalties and taxes and stringent requirements for local procurement of labor and services all qualify as manifestations of resource nationalism. Smither was careful to note that the trend was not simply a developing world phenomenon, citing increased taxes on North Sea oil drilling and Australian mining and the potential for such in Canada and the U.S.
Presented in a colored map, Maplecroft projects the "extreme risks" to come from Venezuela, Bolivia, Guinea, Zimbabwe and the Democratic Republic of Congo. Areas heavy with "high risk" include the former Soviet Republics, Central and South America, Africa and the Middle East. Lacking rule of law and recent history of resource nationalism are criteria for the highest risks.
Applying the Maplecroft findings to various publicly-traded mining companies throughout the world, relative exposure to resource nationalism can be determined. The following chart is based on working mines, not exploration or development properties, of selected companies. The "Resource Nationalism Factor" is determined by assigning a value from 1 to 4, from low to extreme (per Maplecroft's map), to each company's mines. The sum is then divided by its number of mines. Though this factor is neither weighted in terms of yields or proven resources at each facility nor adjusted to reflect minority stakeholders, it offers a measure of potential resource nationalism for each equity based on the jurisdictions of their respective operations.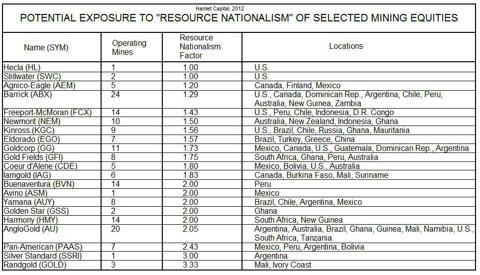 Of companies with 10 or more mines, Barrick (NYSE:ABX) has done well to contain its risk, with Freeport (NYSE:FCX), Newmont (NYSE:NEM) and Goldcorp (NYSE:GG) also below medium risk. Buenaventura (NYSE:BVN), Harmony (NYSE:HMY) and AngloGold (NYSE:AU) float near medium risk.
Of those with 5 to 9 mines, Agnico (NYSE:AEM) would have the least concern over resource nationalism. Others in this group with lower-than-average risk are Kinross (NYSE:KGC), Eldorado (NYSE:EGO), Gold Fields (NYSE:GFI), Coeur d'Alene (NYSE:CDE) and Iamgold (NYSE:IAG). While Yamana (NYSE:AUY) is average, Pan-American (NASDAQ:PAAS) has a greater than average risk on account of its Bolivian mine.
Of smaller miners, with less than 5 operations, American-based Hecla (NYSE:HL) and Stillwater (NYSE:SWC) present the least risk. Avino (NYSEMKT:ASM) and Golden Star (NYSEMKT:GSS) are medium risk. Silver Standard (NASDAQ:SSRI) and Randgold (NASDAQ:GOLD) are both categorized high risk.
It is important to take into account the negative divergence of copper prices with those of precious metals over the past two years. Lower copper demand would imply an equal softening of resource nationalism felt by its mining companies. Despite the soft industrial demand indicated by copper, precious metals have found strong support on account of fiscal realities and monetary policies of the developed world.
Future economic historians might argue that resource nationalism is a reaction to the consequences of the inextricable debt of the major developed powers and the open-ended "easing" of their central banks. It is for these reasons that resource nationalism could be a trend whose time has come.
Disclosure: I have no positions in any stocks mentioned, and no plans to initiate any positions within the next 72 hours. I wrote this article myself, and it expresses my own opinions. I am not receiving compensation for it (other than from Seeking Alpha). I have no business relationship with any company whose stock is mentioned in this article.