Novo Nordisk (NVO) had a great 2012. The world's largest insulin producer raised its 2012 sales growth forecast to 10-12% (Previously 9-12%). The key driver for 2012 growth is the daily injectable Victoza, which is gaining market share all over the world.
Quick Intro
The Denmark headquartered Novo Nordisk was created in 1989 through a merger between two Danish companies Novo Indusri and Nordisk Gentofte. Novo employs 33,900 full time employees and sells its products in 190 countries. Novo Nordisk has the broadest diabetic product portfolio in the industry with market leading drugs such as Levemir, Novo Log, Novo Rapid and Human insulins.
Novo Nordisk is led by Lars Rebien Sørensen since 2000. He joined the company in 1982 and slowly rose through the ranks to reach the top spot and is one of the long serving CE's in the pharma industry. Under his leadership Novo Nordisk has increased its revenue threefold in the past ten years.
Business Breakdown
Novo Nordisk has two business segments, diabetes care accounting for 76% of revenues and bio pharma accounting for the rest. Novo Rapid, Novo Seven, Novo Mix, Levemir and Human Insulins are key revenue drivers and together they accounted for 72% of Novo Nordisk's 2011 revenue.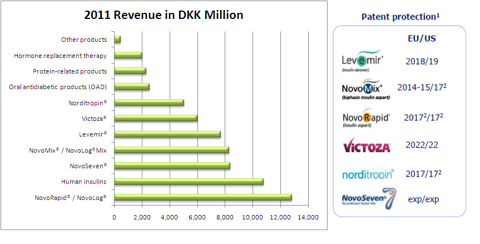 Source: Annual Report 2011
The good news for Novo Nordisk is that they don't have a patent cliff where two or three main drugs lose exclusivity at the same time. Instead the main drugs are going off patent with a couple of years between them. Novo Seven has already lost its patent but managed to hold its market in 2012. The surprise package for Novo Nordisk this year is Victoza (GLP-1 therapy for type 2 diabetes). Victoza has already crossed 2011 sales figures in the first nine months of 2012.

Novo Nordisk currently holds 25% of the global diabetes care market share and the diabetic population is expected to reach 552 million in the next twenty years. If Novo holds its ground in the diabetes care market then it will be able to grow at a steady rate for the next 10-15 years.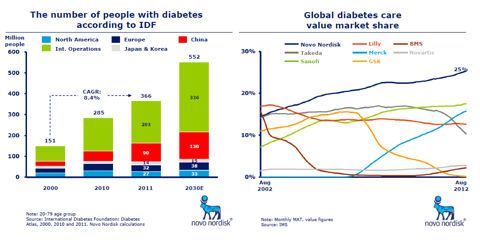 Source: Annual Report 2011
Pipeline
A good pipeline is important for any pharmaceutical company but it's even more important if the company has been growing at double digit speed for the past ten years. It's a known fact that Novo Nordisk concentrates on diabetes care and if they want to hold their number one position then they will have to outdo their competition by continuously innovating and adding new products to the market. Victoza has been great since its launch in 2011 while Tresiba (insulin degludec) and Ryzodeg (insulin degludec/insulin aspart) are awaiting regulatory clearances.
Novo Nordisk's Chief scientific officer told Bloomberg in an interview that Novo will be targeting US approval for Tresiba in the first half of next year. If the drug launch goes through smoothly, Tresiba (long-acting insulin) will be directly competing against Sanofi's Lantus, a +$5 billion/year blockbuster. FDA's advisory panel recently recommended Novo to further study the heart risks associated with Tresiba. Ryzodeg is in the final stages of regulatory clearance in Japan.
Financial Health
Novo Nordisk's free cash flow and net income growth during 2002-2012 looks like an exponential curve. It must also be noted that when revenue was increasing at breakneck speed Novo Nordisk kept improving its operating margin, signs of good financial management. It's very tough to keep increasing your margin while you are expanding at a fast clip, but Novo still managed to get that done.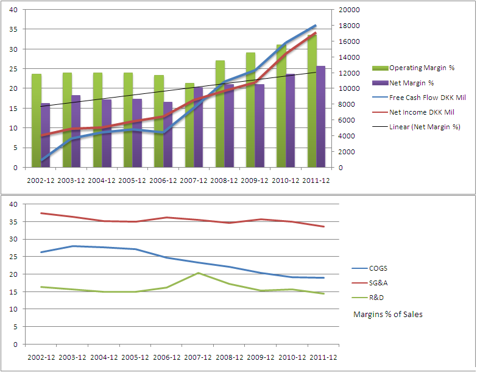 Source: Annual Reports, Morningstar
Deeper looks at the financial statements reveal that Novo Nordisk kept reducing its COGS, selling and administrative expenses as they added more revenue. The research and development expenses remained closer to 15% of sales during the entire period. I don't have much more to add here but Novo definitely has good financial managers and let's hope they keep up the good work. It may not be possible to keep improving the margins from here on as it's already at very high levels but it would be great if they keep the above average margins for a long time.
Novo Nordisk's debt levels are below average and with 570 million shares outstanding they have plenty of room if they need cash.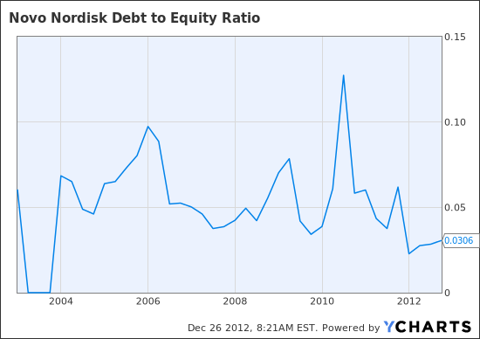 NVO Debt to Equity Ratio data by YCharts
The one grouse I have for Novo Nordisk is its net investment in property, plant and equipment in the past five years. The book value of the company in 2012 is pretty much at the same place as it was in 2008 after growing at a steady pace during 2002-2008.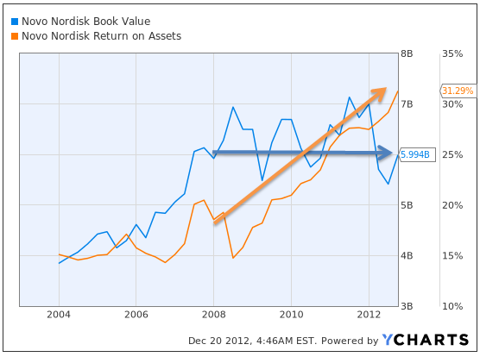 | Ticker | Market Cap | P/E | Fwd P/E | P/B |
| --- | --- | --- | --- | --- |
| JNJ | 194.04B | 23.03 | 12.75 | 3.03 |
| PFE | 184.65B | 20.06 | 10.95 | 2.26 |
| NVS | 170.68B | 17.82 | 11.86 | 2.28 |
| SNY | 125.16B | 15.84 | 6.8 | 1.71 |
| GSK | 107.03B | 13.6 | 11.37 | 10.62 |
| NVO | 73.27B | 24.95 | 20.57 | 17.03 |
| AMGN | 67.07B | 15.64 | 12.49 | 3.37 |
Source: Finviz.com
Valuation
I have used a discounted earnings model to derive the market's expected growth rate for the current share price. TTM EPS $6.36 is used for calculations. When discounted at 8% Novo Nordisk needs to grow at a 9% rate for the next seven years to value its shares at $161.52.
With a forward P/ E of 20.5 Novo Nordisk seems a bit expensive when compared to similar companies but it's definitely a great company with good managers. Novo deserves to be on the watchlist of long term investors who are willing to wait for a buying opportunity.
| Share Value ($) | 172.33 | 164.36 | 174.25 | 161.52 |
| --- | --- | --- | --- | --- |
| Earnings Growth Rate (Next 7 Yrs) | 3% | 6% | 7% | 9% |
| Terminal Growth (Earnings) | 2% | 2% | 2% | 2% |
| Discount Rate | 6% | 7% | 7% | 8% |
Disclosure: I have no positions in any stocks mentioned, and no plans to initiate any positions within the next 72 hours. I wrote this article myself, and it expresses my own opinions. I am not receiving compensation for it (other than from Seeking Alpha). I have no business relationship with any company whose stock is mentioned in this article.