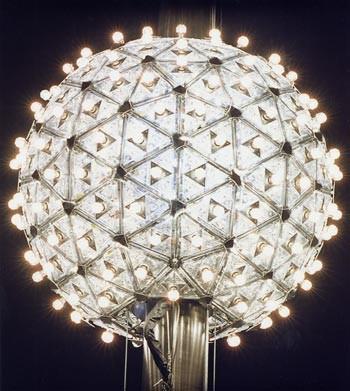 Sometime in the next few days, someone is likely to look at the sight of the falling ball at Times Square, meant to usher in 2013, as being a metaphor for falling off the "Fiscal Cliff."
I may be the first to do so, I may also be the only one to do so, but the clock is counting down on both.
During a time when coverage of the "Fiscal Cliff" is non-stop, we alternate between periods of pessimism and optimism as our elected officials jockey with one another to play out their dysfunction in front of reporters and cameras. Seemingly, they get great joy and reinforcement of their sense of self-importance by seeing how much they can swing the markets, in a variation of the old game "Let's see whose is bigger."
No one should end up terribly surprised if as the Times Square ball welcomes in 2013, the seeds for resolution will have been planted. Before the electorate even fully understands the result of all of this, before those electronic payments show up in their checking accounts showing much less money, elected officials will be planning their win-win strategy.
Once the Bush era tax rates expire, both sides can come together and simply lower the new rates to somewhere between the Clinton and Bush eras. Everyone wins. Norquist compliance is maintained, and all of this is done as early as you could possibly get in an election cycle so that no one is likely to remember the next time your Congressman stands up for his day of reckoning.
It's really a win-win situation when both sides can lay claim to lowering tax rates for the benefit of all Americans. For one, I'd consider it a win if we could just get these guys off the radar screen, no matter what the cost.
If you consistently utilized a covered option strategy in 2012, you likely experienced your own win-win, as long as your stock selections weren't mired in the likes of Herbalife (NYSE:HLF), Groupon (NASDAQ:GRPN), Zynga (NASDAQ:ZNGA), MolyCorp (MCP) and others. Unfortunately, I had some of those, but in a case of good conquering evil, their impact in a diversified portfolio was minimal and made even less by virtue of that wonderful gift of our tax code, the capital loss.
That was certainly the case in 2011, as Barron's magazine assessed the covered call strategy to have been the only winning approach for that year.
As 2013 is ready to roll in, with or without the adverse impact that is being predicted if we do fall off that cliff, I'm looking at a seventh year of nearly exclusivity exercising that strategy. Why change now? Other than brief periods of consistently higher or surging prices, there hasn't been much reason to consider changing paths. That's especially true when you consider that the experts paraded to give their opinions seem equally split on the market's reaction to an eventual Fiscal Cliff resolution.
As always, potential selections for the coming week are categorized as either being Traditional, Momentum, Double Dip Dividend or Premiums Enhanced by Earnings, although the pickings were very slim in the latter two categories this week (see details). In fact. the only company of note reporting earnings in the coming week is Mosaic (NYSE:MOS), but I couldn't find a compelling risk-reward argument.
The past few days have seen the financial sector take its lumps after having led the market higher. Although I did pick up shares in Wells Fargo (NYSE:WFC) this past week, JP Morgan Chase (NYSE:JPM) looks enticing again, after not having owned shares for about a month. It also happens to go ex-dividend in the coming week. Although not included in this week's dividend possibilities, both Bristol Myers Squibb (NYSE:BMY) and American Express (NYSE:AXP), appearing last week, do go ex-dividend on January 2, 2013 as well, and may still be well priced for some action.
EMC Corp (EMC) is another company that was recently owned and quickly assigned. In a two-week period, it's had about an 8% price range and is now right back to my comfort level.
MetLife (NYSE:MET) and Occidental Petroleum (NYSE:OXY) are precisely the same story as EMC, although the trading ranges have been a little smaller. They consistently offer attractive call premiums and inherently have downside protection.
I don't do this terribly often, but I jumped the gun on Anadarko Petroleum (NYSE:APC) having sent a Trading Alert to subscribers on Friday morning (December 28, 2012), rather than waiting until Monday to see if there was an opportunity. Like most everything in the oil patch, Anadarko has been weak the past few days, and its price was approaching where recent shares had been assigned just a few weeks ago. Those are the kind of opportunities that keep me enthused.
Another thing that I don't do very often is to completely disregard my own opinions. Last year, Eric Jackson, CEO of Ironfire Capital and a frequent CNBC and Bloomberg contributor and Forbes author, published an article on Twitter crowd sourcing. He compiled predictions from some (not so) notable Twitter posters. For some reason, I was on the "not so notable" portion of the list and selected Intel (NASDAQ:INTC) as my top short for 2012. That doesn't begin to explain why I currently own shares and am still debating whether to take the tax loss on them. For some reason, I didn't listen to my own advice.
This year, my top short selection appearing in Jackson's follow-up article for 2013 is Apple (NASDAQ:AAPL). That's probably not a surprise if you've read some of my previous Apple position articles. Although the next stop appears to be in the $425 vicinity, I may be willing to purchase some shares and sell calls, or sell puts, prior to the next scheduled earnings report, which conveniently enough, occurs in the February option cycle. Apple happens to be one of the few stocks that now has option contracts available for each of the next five weeks, so there are many potential permutations. Don't let my appearance sandwiched in between Josh Brown and Phil Pearlman sway you into false confidence. The only question is whether I'll be following my own advice.
On the flip side of things, my selection for "top long" position in 2013 was Freeport McMoRan (NYSE:FCX). I almost always own shares, and have done so for about five years. Despite owning a lot at $40 and having whittled down the paper loss by weekly purchases of cheaper priced shares and sales of in the money calls, I think there will be appreciable upside this year. So much so that I will likely keep a portion of my shares unhedged.
Leaving shares unhedged is not something that I do terribly often, but did so just recently with General Electric (NYSE:GE), on the heels of a large price decline after it was removed from a focus list. Its shares have not fared well in those two weeks, so it may be time to use the same strategy as has been working with Freeport McMoRan.
Although I should learn lessons from missteps such as Groupon, now that the holiday shopping season is coming to a close, I may add to my list of under-performing retailers and spice things up a bit with Sears Holdings (NASDAQ:SHLD). I find it hard to believe that at one time, I was deciding between buying equally priced shares of either Goldman Sachs (NYSE:GS) or Sears Holdings. I've never looked back at the decision to go with Goldman, but Sears may have its purpose at the moment.
Traditional Stocks: Anadarko Petroleum, Apple, EMC Corp, General Electric, MetLife, Occidental Petroleum
Momentum Stocks: Freeport McMoRan, Sears Holdings
Double Dip Dividend: JP Morgan Chase (ex-div 1/2/13)
Remember, these are just guidelines for the coming week. Some of the above selections may be sent to Option to Profit subscribers as actionable Trading Alerts, most often coupling a share purchase with call option sales. Alerts are sent in adjustment to and consideration of market movements, in an attempt to create a healthy income stream for the week with reduction of trading risk.
Disclosure: I am long MCP, WFC, APC, FCX, AXP, GE, INTC, GRPN, BMY, and I may initiate positions (or sell put contracts) in AAPL, EMC, MET, OXY, JPM and SHLD. I wrote this article myself, and it expresses my own opinions. I am not receiving compensation for it (other than from Seeking Alpha). I have no business relationship with any company whose stock is mentioned in this article.