The NY Times published an article last week titled Make Way for Kilowatts: A Growing-Up Year for Plug-Ins. The first sentence in the article was:
For those who advocate the electrification of the automobile, it has been a good year.
Nothing could be further from the truth. The electric car debacle was well summarized in an article I wrote here on Seeking Alpha: The Fall of the Electric Car and the Rise of the NGV a short time ago.
On the other hand, 2012 was definitely the year in which natural gas transportation took huge leaps forward. Among the more notable developments: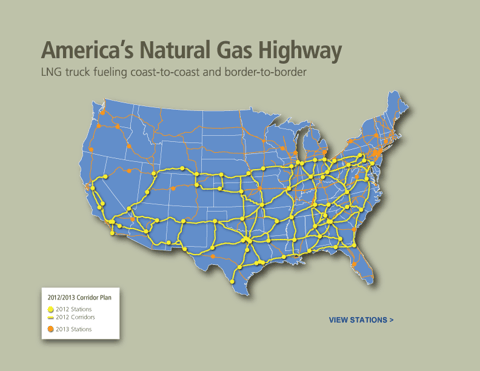 Fundamentally, natural gas transportation is a long-term transition and the sky is the limit. Worldwide natural gas reserves are abundant - huge discoveries have been made off the coasts Africa, Australia, and Norway. Russia and Iran have huge reserves of natural gas. In North America, Canada and the United States have abundant natural gas reserves, production is up, and prices are 1/3 of the international price. Given these fundamentals, combined with oil prices still in the $90-100 range and deep-water off-shore production costs steadily rising, it's clear the future for natural gas transportation is very bright indeed. So how can investors profit off natural gas transportation's growth prospects?
I have compiled a list of 5 stocks which I believe to be the best way to play this trend in 2013. These are one-year suggestions because the U.S. is currently facing an unstable outlook due to the fiscal cliff and the inability of Congress to govern. Taking the current investment environment into account, my stock picks tend to be fairly conservative and are income oriented. Here's the list:

Cummins Inc. (NYSE:CMI) is my favorite pick as it is most leveraged to profit off China's natural gas transportation initiatives:
Cummins China is headquartered in Beijing and was established in 1979.
Cummins China has more than 9,000 employees.
In 2010, Cummins China had over $3 billion in sales.
Cummins China has 15 manufacturing sites, 12 regional service centers, and over 300 authorized dealers across the region.
In 1981 Cummins signed its first license agreement with China National Heavy Dutry Truck Corporation (CNHTC).
In 1995 Cummins formed a JV with China's heavy duty industry and is working with Chinese companies Dongfeng Motor, Shaanqi Group, Beiqi Foton.
Cummins CHART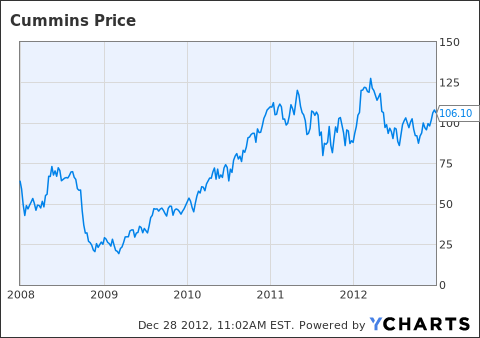 Under Jeffrey Immelt, General Electric has spent a few years recovering from former CEO Jack Welch's unwise foray into financial services. Immelt has done a great job re-focusing GE on its future: industrialization and energy. Those competencies will enable GE to be front-and-center in the natural gas transportation revolution. GE's Oil and Gas unit is well positioned to take advantage of growth in shale oil and gas drilling as well as infrastructure to support LNG refueling. It's power division is very well positioned to take advantage of the switch from coal to natural gas in the power generation sector.
Westport Innovations (NASDAQ:WPRT) is the most leveraged pick to profit off the adoption of natural gas transportation. While WPRT does not pay a dividend, its growth potential makes up for that shortcoming. Westport has the industry's most comprehensive patent portfolio of robust, reliable and efficient natural gas engine and related technologies. Westport leverages its proprietary technologies by partnering with leading diesel engine and vehicle original equipment manufacturers (OEMs) to develop, manufacture and distribute natural gas engines to a diverse group of global vehicle OEMs. Westport commercializes its technology in markets where demand for clean, low-emission engines is prevalent, including light-, medium- and heavy-duty.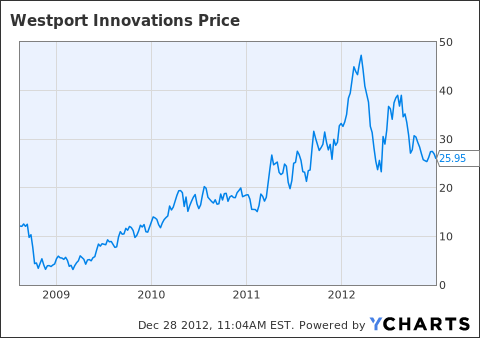 Exxon Mobil (NYSE:XOM) makes my list because it is the #1 producer of natural gas in the United States, its credit rating is higher than the U.S. government, and it pays a decent dividend. Historically, XOM's stock is somewhat of a safe harbor in otherwise stormy markets due to its size and safety. XOM's management does not favor natural gas transportation and instead is planning to export natural gas to profit off the huge spread between domestic and international gas prices. That said, it will profit mightily as natural gas demand (and prices) rise as a result of growing use in the transportation and electric generation sectors.
My last pick is Conoco Phillips (NYSE:COP). As of Q2 2012, COP was the 7th largest producer of natural gas in the U.S. That said, COP was one of the earliest companies to cut back on domestic natural gas production as the price weakened. The company has the ability to quickly and substantially increase production when domestic natural gas prices rise. However, the biggest natural gas growth prospects for COP revolve around its Australian natural gas investments which will supply Asia (i.e. think China's new push into natural gas transportation). Conoco has two large projects in Australia:
Australian Pacific LNG: a partnership with Origin Energy (42.5%) and Sinopec (15%)
Darwin LNG: COP is the operator with a 56.9% stake, with partners Santos (11.5%), INPEX (11.4%), Eni (11%), and Tokyo Electric/Gas (9.2%)
Read more specifics about these projects in my article China Vs. U.S.: Who Is Leading the Natural Gas Transportation Race? In case you decide not to read the article, the answer to the question, unfortunately, is China.
Speaking of China, Conoco recently signed an agreement with China Petrochemical (better known as Sinopec) to study shale-gas exploration in the Sichuan Basin. This agreement will provide COP a foothold into the emerging Chinese natural gas market. COP will drill two wells in a 3,900 square kilometer section of southwestern Sichuan province. The U.S. Department of Energy estimates China could have up to 1,275 TCF of recoverable natural gas reserves. in two basins. That is more than the combined reserves of Canada and the U.S.
COP has made great strides in selling off international non-core assets to focus on its North American growth prospects. I expect COP's performance in the Eagle Ford shale over the next two quarters to catch Wall Street by surprise. Conoco pays a fat dividend at $2.64/share which equates to a yield of 4.6%. This hefty dividend should provide downside protection should the upcoming fiscal cliff negotiations go south.
Before I end the article, I sincerely wish I had some good things to say about electric vehicles (EVs). A true EV is propelled only by electric motors - there is no internal combustion engine ((NYSE:ICE)) to recharge the batteries. Despite all the promises made, we have had a dearth of EV market offerings.
The Nissan (OTCPK:NSANY) Leaf is a true EV with an MSRP of $35,200. If you want the fast charge "SL" version (30 minutes with the 480V quick charge system), that will cost you another $2,000. Otherwise, it will take you 7 hours to charge the Leaf at home with the standard 240V charger. The Leaf has a range of 73 miles with a 90 mph top-end speed. The vehicle has a 360V 24 kWh lithium-ion battery consisting of 48 modules each containing 4 laminated battery cells. The motor is an 80 kW AC motor which delivers 107 horsepower and 207 ft-lbs of torque off the line.
One thing that worries me about the Leaf is this statement (taken from the Leaf website):
Lithium-Ion Battery Gradual Capacity Loss:
The Lithium-ion battery (EV battery), like all lithium-ion batteries, will experience gradual capacity loss with time and use. Loss of battery capacity due to or resulting from gradual capacity loss is NOT covered under the Nissan New Vehicle Limited Warranty.
Hmmm...I am not sure how to square this statement with the warranty verbiage:
Every US specification Nissan LEAF is backed by a New Vehicle Limited Warranty providing: 36-month/36,000-mile basic coverage; 60-month/60,000-mile powertrain and electric vehicle system coverage; and 96 months/100,000 miles Lithium-Ion Battery coverage[*].
But the bottom line is the car costs $35-37,000 (before applicable rebates) and has a range of 73 miles. The LEAF is therefore just as big a disappointment as is the Chevy VOLT (a PHEV) and the ridiculous Tesla. I mean what middle class person can afford these vehicles after being racked by the economy of the last few years?
Although the "environmentalists" just *love* EVs because they have "zero emissions," most of us know that "Money for Nothing" is a song by the Dire Straits. That is, something needs to provide the energy to charge the batteries and in the U.S., coal still (sigh...) generates more electricity than any other fuel. That said, coal usage is declining and natural gas is gaining momentum in the power sector. However, even if natural gas provided 100% of electricity in the U.S., when you take into account transmission and transformer losses, as well as losses in the home and the inefficiencies of the battery themselves (over time), why not just use natural gas in the vehicle to begin with?
With that thought in mind, and to repeat what I have been saying for years now, the best car architecture in the world is the Toyota (NYSE:TM) natural gas electric hybrid Camry concept vehicle pictured below.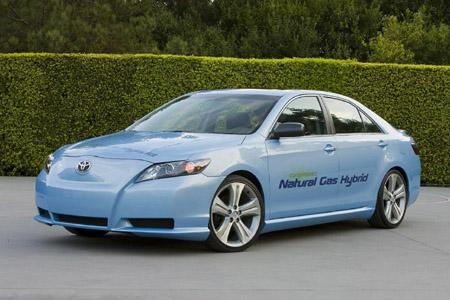 Think a Prius with the gasoline powered ICE swapped out for one powered by natural gas. This car was unveiled way back in 2008 and has yet to be made available in the U.S. or anywhere else as far as I know. That said, Toyota continues to "get it" with respect to hybrid vehicle technology and product offerings. They are, once again, beating the pants of the U.S. auto manufacturers. Why Ford and/or GM won't make a car like the Camry nat gas/electric hybrid is quite simply beyond me. With U.S. natural gas prices so low, increasing fuel efficiency standards, and a push to clean up the environment, you would think a car like this would be a no-brainer for American auto makers. But that statement probably explains itself. At least I know what to wish for on New Year's Day.
Soooo ... Happy New Year!
I would like to thank all those readers who participated in the comment sections of my articles in 2012. I have enjoyed the debate and exchange of knowledge as a result of your contributions to Seeking Alpha.
Here's looking forward to a healthy, happy, productive, and prosperous 2013!
Disclosure: I am long XOM, COP. I wrote this article myself, and it expresses my own opinions. I am not receiving compensation for it (other than from Seeking Alpha). I have no business relationship with any company whose stock is mentioned in this article.
Additional disclosure: I am an engineer, not a CFA. Please do your own research and contact your investment advisor. I cannot be held responsible for investment decisions you make. Thanks for reading and good luck!