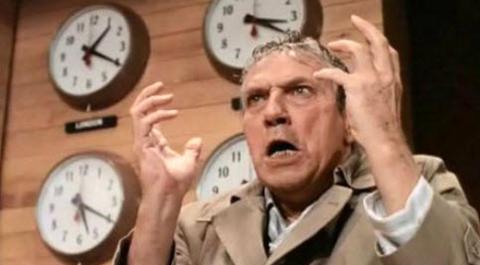 "I don't have to tell you things are bad. Everybody knows things are bad. It's a depression. Everybody's out of work or scared of losing their job. The dollar buys a nickel's worth. Banks are going bust. We know things are bad. Worse than bad. They're crazy. It's like everything everywhere is going crazy so we don't go out anymore. We sit in a house as slowly the world we're living in is getting smaller and all we say is, 'Please, at least leave us alone in our living rooms.' Things have got to change my friends. You've got to get mad. You've got to say, 'I'm as mad as hell and I'm not going to take this anymore!'"

Howard Beale (Peter Finch: Network 1976)
Things haven't changed much since 1976, have they? Only the names, faces and circumstances have changed. Americans are still getting the shaft, but this condition is routinely self-inflicted. We've made a mockery of the presidency, congress and markets. We know little about civics, the constitution and bill of rights, history, economics, science, literature and economics. We care more about toys and Hollywood distractions since critical thinking is just too hard. But I digress.
Meanwhile, the fiscal cliff sideshow and accompanying rumor-driven algo/HFT trading dominates trading. Most Americans don't even know what the fiscal cliff is -- they just know it's bad. The slip in Consumer Confidence to 65 from 74 reflected fear Thursday. Last week alone, investors jammed $80 billion into bank CDs.
I've been avoiding commenting, and even took a brief holiday in NYC for Christmas as HFT/algo-driven volatility was to be expected this week. And this is what the HAL 9000s delivered. These programs alone have driven many investors out of markets. I hope the NYSE and other proponents of this activity are satisfied with the results.
The Chicago PMI was only superficially higher (51 vs. 51 expected and prior 50.4). But within the data, the employment reading was -55.2 vs. -45.9 previously -- a hiring freeze. Pending Home Sales were in line with estimates (1.7% vs. 1.8% expected and prior 5.2%).
Again, rumors and trial balloons are being launched. What to expect this weekend? A mini-deal, an extension to buy some time (always a first choice), or a deal that fixes nothing? There are many possibilities and all the volatility will sell soap for the media, and that's about it.
We're rather well-prepared for trouble, if not opportunity. We raised nearly 55% in cash two weeks ago, with only 25% in stocks and the balance in the income space. We can deal with this one way or another.
Monday is scheduled to be a full trading day, and one would suppose vacations will be cut short, making New Year's Day and Wednesday a tough go for partiers.
Stocks fell sharply and even more so after the close, dropping 28 S&P points (see chart below).
Volume was spiked as news was leaked Obama wouldn't offer any new compromise. Breadth continues to be negative per the WSJ.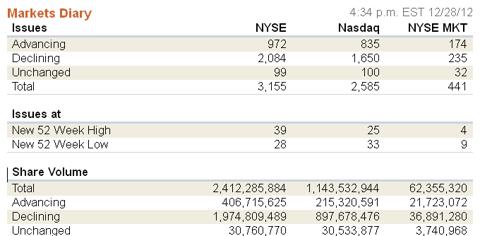 Post-close, S&P 500 Index collapse.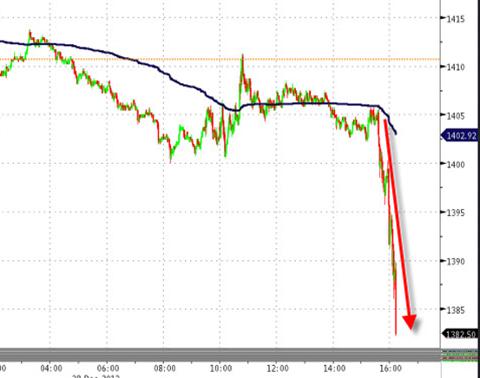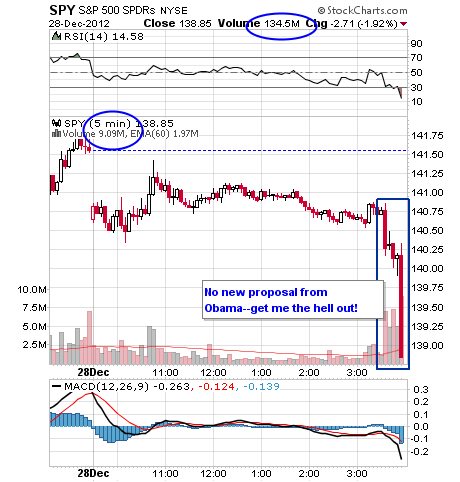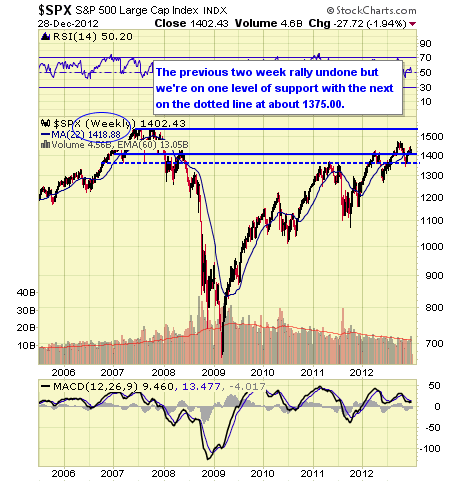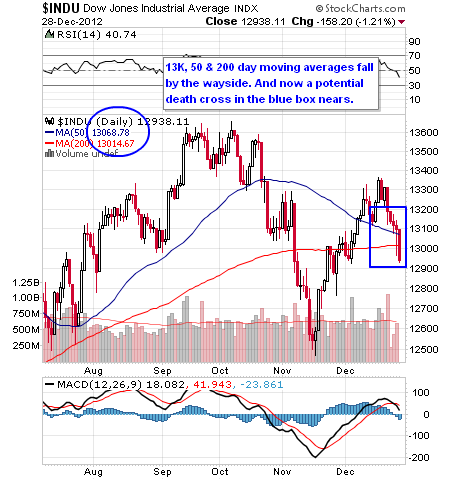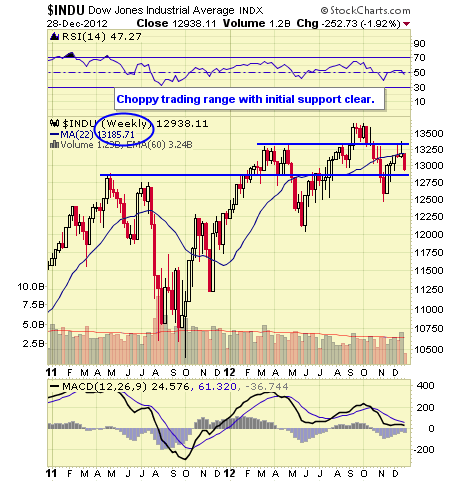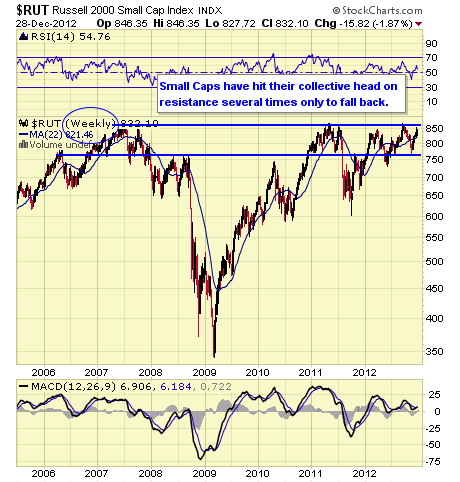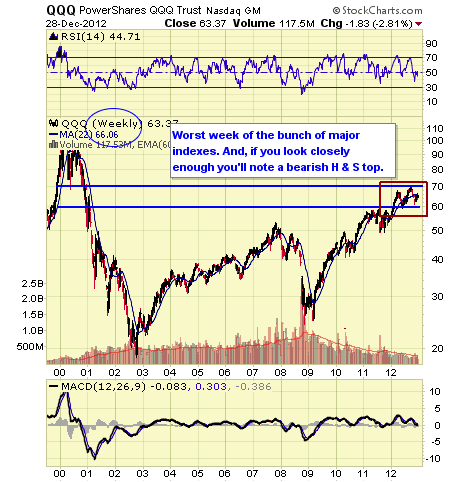 Continue to U.S. Sector, Stocks & Bond ETFs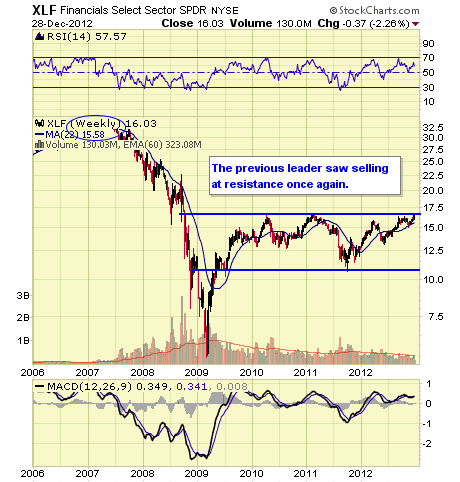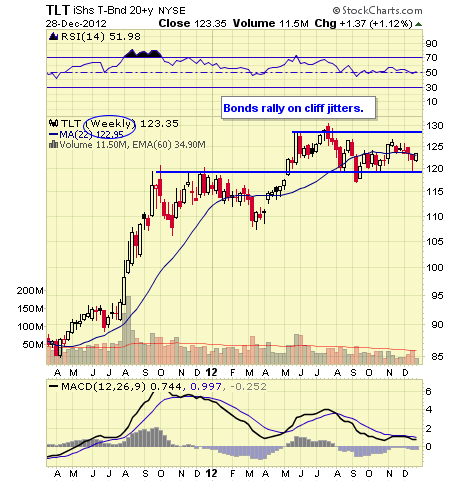 Continue to Currency & Commodity Market ETFs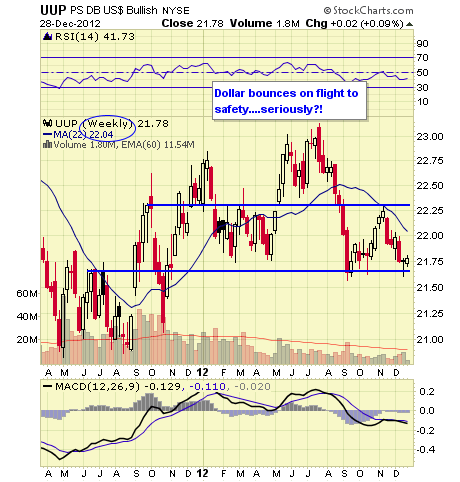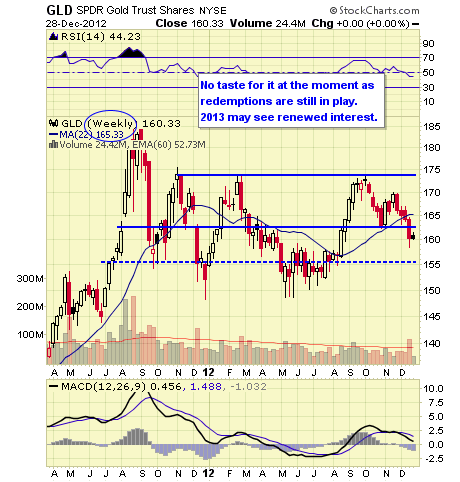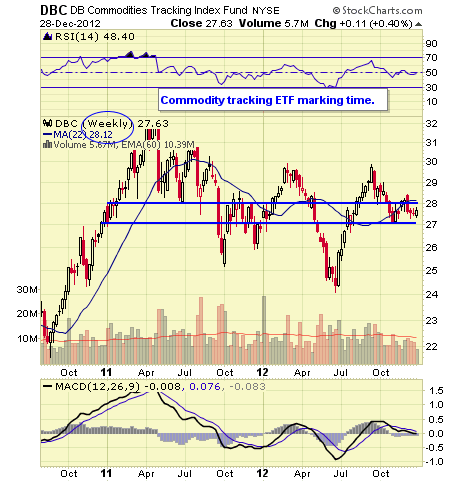 Continue to Overseas Sectors & ETFs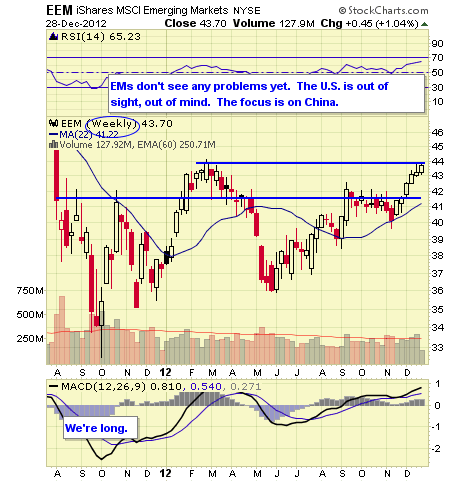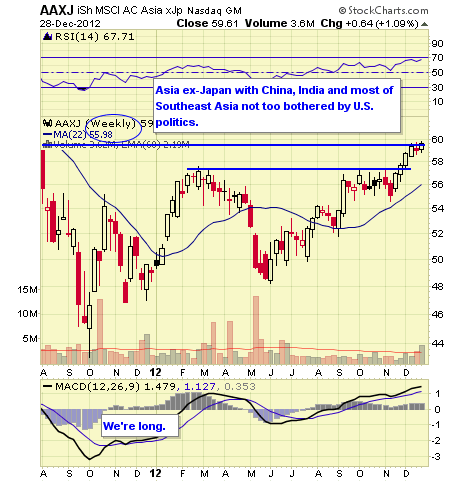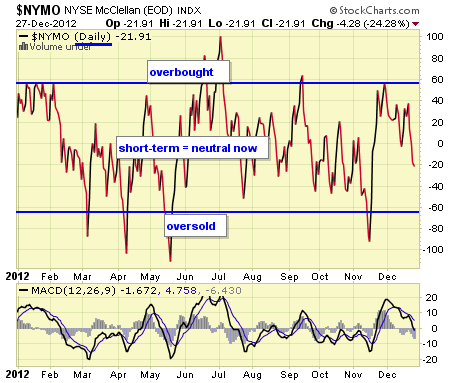 The NYMO is a market breadth indicator that is based on the difference between the number of advancing and declining issues on the NYSE. When readings are +60/-60, markets are extended short term.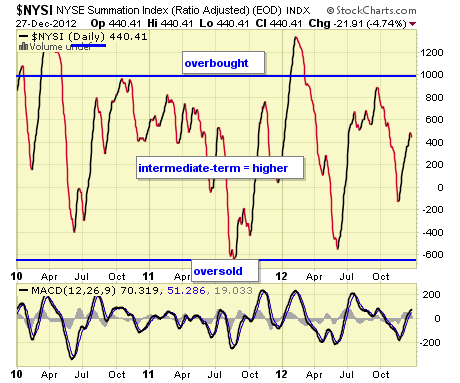 The McClellan Summation Index is a long-term version of the McClellan Oscillator. It is a market breadth indicator, and interpretation is similar to that of the McClellan Oscillator, except that it is more suited to major trends. I believe readings of +1000/-1000 reveal markets as much extended.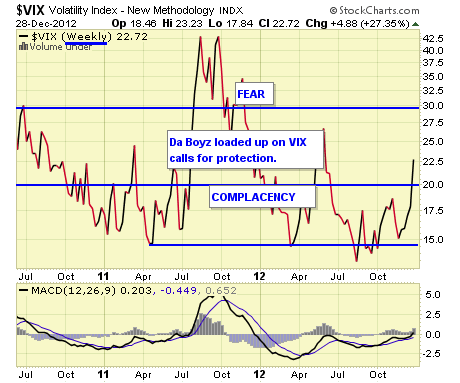 The VIX is a widely used measure of market risk, and is often referred to as the "investor fear gauge." Our own interpretation is highlighted in the chart above. The VIX measures the level of put option activity over a 30-day period. Greater buying of put options (protection) causes the index to rise.
Concluding Remarks
No doubt politicos are watching markets and assessing whether to cave in to the tape or their beliefs. How squishing are the latter is always about doing what will get them reelected. Besides, they count on voters having short memories and being easily distracted by other issues.
It should sadden and frustrate you to see how things haven't changed at all since 1976. That's seven different presidents, sky high debt and many distractions for the American people.
Disclaimer: The ETF Digest maintains an active ETF trading portfolio and a wide selection of ETFs away from portfolios in an independent listing. Current "trading" positions in active portfolios, if any, are embedded within charts: Lazy & Hedged Lazy Portfolios maintain the follow positions: VT, MGV, BND, BSV, VGT, VWO, VNO, IAU, DJCI, DJP, VMBS, VIG, ILF, EWA, IEV, EWC, EWJ, EWG, & EWU.
The charts and comments are only the author's view of market activity and aren't recommendations to buy or sell any security. Market sectors and related ETFs are selected based on his opinion as to their importance in providing the viewer a comprehensive summary of market conditions for the featured period. Chart annotations aren't predictive of any future market action rather, they only demonstrate the author's opinion as to a range of possibilities going forward.
Disclosure: I have no positions in any stocks mentioned, and no plans to initiate any positions within the next 72 hours. I wrote this article myself, and it expresses my own opinions. I am not receiving compensation for it. I have no business relationship with any company whose stock is mentioned in this article.