Poseidon Concepts (OTCPK:POOSF) is a company that has taken advantage of the unconventional revolution involving horizontal drilling with multi-stage fracturing that has occurred in the North American energy industry. Poseidon provides fluid handling solutions to the oil and natural gas sector across North America. What that basically means is that Poseidon supplies tanks to store water, fracturing and flowback fluids.
Think giant above ground swimming pools.
These giant above ground swimming pools were an idea born to the management team of Open Range Energy in 2010. Open Range was (it has since been acquired by Peyto Exploration (OTCPK:PEYUF)) a junior natural gas producer focused in Western Canada that created these tanks for their own use. Seeing an opportunity, Open Range developed a service company called Poseidon Concepts to rent these tanks to third parties.
In late 2011, Open Range spun Poseidon out to shareholders in an effort to have the value of its business more properly valued by the stock market.
Initially that worked well. Lately, Poseidon has a stock chart that only a short seller could love.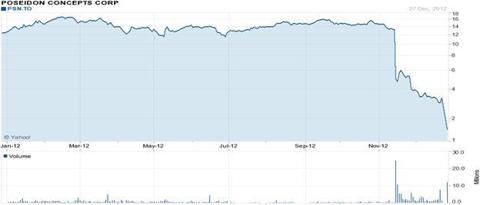 Poseidon never really appealed to me as an investor after being spun out for a few reasons:
- I prefer to own the energy company that owns the resource in the ground rather than provides the service. The reason being that I believe over time the land in these resource plays will appreciate in value as companies figure out how to extract more oil economically
- Poseidon was a one-trick pony, meaning that if anyone invented a better mousetrap, Poseidon's goose was cooked
- I thought Poseidon's margins were simply too good to last and that competition would be fierce
- I didn't understand why everyone and their dog couldn't simply make their own big above ground tank to store fluids, so why would they need Poseidon
Now the story is much different however. I only have to pay a fraction for Poseidon of what I would have had to pay a year ago. Perhaps now there is value in the shares of this company that is just too good to pass on.
What Happened?
As you can see from the chart above, Poseidon's share price wasn't very volatile for all of 2012 up to November 14 when the bottom fell out.
The cause of the drop was a quarterly earnings update. The details in that release that spooked investors were:
The impact of the slowdown became evident to Poseidon in the second half of the third quarter. Throughout the North American oilfield service industry, several fracturing‐related and ancillary rental services experienced significant spot market pricing declines, and Poseidon was not completely immune to the adverse conditions. While there was reported price discounting of up to 75 percent among some suppliers of 400‐ and 500‐barrel steel tanks in various regions, Poseidon was able to hold its price discounting to within 15 to 30 percent of historical norms. This is a testament to our disciplined pricing strategy and our significant operational and cost advantages relative to incumbent products.

Poseidon's tank utilization and revenue in the quarter were further affected as we renegotiated terms on several long‐term agreements with specific, strategic customers due to changes in their project schedules and capital budgets. Meanwhile, several other long‐term agreements lapsed without renewal or were suspended as certain customers' activities were reduced due to macro considerations or capital budget constraints. In addition, the Company experienced some difficulty in collecting payment from certain customers, necessitating the write‐off of approximately $9.5 million in accounts receivable, which was charged to earnings for the quarter.
I've bolded what were the concerning parts. What made the stock market really jumpy was that in October (after the end of the third quarter) management had confirmed forward dividend guidance which essentially confirms to the market that earnings guidance as well.
All of this bad news came as a surprise, and as we all know Mr. Market doesn't much care for surprises.
But that shock to the share price of Poseidon was only the beginning. On December 27 the hammer really fell with this news from the company which include three big items:
Item 1 - Dividend Suspension
Poseidon has established a Special Committee of the Board of Directors to review and address various issues arising from the recent write-off of certain accounts receivable and the evolving business plan of the Company. In consideration of the review being conducted by the Special Committee, the Board of Directors has determined to suspend the payment of undeclared dividends effective January 16, 2013.
Item 2 - More Write-Offs of Accounts Receivable
The Company has been diligently addressing its accounts receivable in recent weeks and is actively pursuing collections, including commencing formal collection processes in appropriate circumstances. While a final number cannot yet be determined, the Company may need to make additional write downs of accounts receivable in future periods and such write downs may be significant.
Item 3 - Business Has Gotten Worse
In recent months, exploration and development activity has slowed considerably due to weakness in commodity prices and uncertainty in the financial markets. As a result, some oilfield service companies, including Poseidon, are seeing reductions in realized pricing and contraction in earnings margins. In the face of reduced oilfield demand and increased market competition, all operational and cost components of Poseidon's business are being reviewed to ensure the company's profitability.
What a nice Christmas present for shareholders. Basically the company is saying to shareholders:
- We are stopping your dividend
- A large amount of our receivables are uncollectible which means a large amount of our earlier revenue figures (upon which you based your investment in this company) are bogus
- Our actual underlying business where customers actually pay is getting worse
No wonder the shareholders are voting with their sell fingers on their trading button.
But Is There Value Here?
There is a business here, but the big question for me is whether the reported numbers provide reliable enough information to value that business.
I'd like to first consider what we pay for Poseidon today at the current share price.
Shares outstanding - 81 million
Share price - $1.25
Long Term debt - $56 million
Enterprise Value = $157 million
I think to value this business I would like to consider two parts.
Part 1 - Calculate Net Asset Value
I will estimate the liquidation value of Poseidon's assets and then deduct the full amount of the company's debt and payables.
Cash - $3 million
Plus - Accounts Receivable - $82 million (estimate only 66% are collectible)
Plus - Inventory - $3 million (estimate worth 50% balance sheet amount)
Plus - Property Plant And Equipment - $30 million (estimate worth 50% of depreciated balance)
Less - Payables - $37 million
Less - Long Term Debt - $56 million
Net Asset Value - $22 million or $0.27 per share
I was hoping that number would be higher and that there would be considerable net asset value to underpin the share price. I've likely been too conservative with the haircuts I've taken on the asset values, but I think an investor has to be cautious.
Part 2 - Calculate Value of The Operating Business
Poseidon is a lesson for investors in the importance of focusing on the statement of cash flows rather than the income statement.
Through 9 months of 2011, Poseidon reported net income of $26 million. Through 9 months of 2012, Poseidon reported net income of $68 million which showed growth that must have thrilled shareholders.
Amazingly though through 9 months of each year, Poseidon reported cash flow from operations of roughly $30 million. In fact in 2012 cash flow from operations was $3 million lower than 2011 despite the huge increase in sales and net income.
The cash flow statement tells the truth, and this time it shows the massive build up in receivables, a significant write-off of which is now forthcoming.
I would value this operating business by looking at the cash being generated. Through 9 months of 2012, $30 million has been generated. That would provide us with an annual run rate of $40 million.
However, we have also been told that business has deteriorated, so a haircut to that number is required. To be conservative but reasonable, I'll assume Poseidon's core business can generate $30 million per year.
With the current enterprise value of $157 million that implies a free cash flow yield of $30 million / $157 million = 20%
That is interesting, but for now I think I'd wait for a lower price. If the company was debt free I'd be more interested and I'm very concerned that there is no sustainable barrier to entry that will protect other products from making Poseidon's tanks irrelevant.
I hope the share price turns around and goes up quickly for the shareholders who have suffered through this big drop. I've been there and done that, and I empathize with them.
Disclosure: I have no positions in any stocks mentioned, and no plans to initiate any positions within the next 72 hours. I wrote this article myself, and it expresses my own opinions. I am not receiving compensation for it (other than from Seeking Alpha). I have no business relationship with any company whose stock is mentioned in this article.