A rejuvenated Ford (NYSE:F) has seen strong price action lately. The company is working on containing huge losses from Europe, which are now estimated to be closer to be $1.5 billion for 2012 alone. But there has been a spark in Ford's stock over the last few months, taking it from $8.82 -- its 52-week low in August -- to $12.73 as of this writing. Personally, I think options are one of the best ways to play Ford and the rest of its impending move, as I will illustrate later in the article.
Some of these gains are of course, technically driven. The chart looks great, with excellent price support from the 50-day simple moving average. Also, Ford's 50-day simple moving average recently crossed its 200-day simple moving average to the upside, forming what is known as a Golden Cross. This is usually a very bullish sign for technicians and as the following chart will illustrate, Ford has found excellent support from those moving averages in recent months. The six month chart: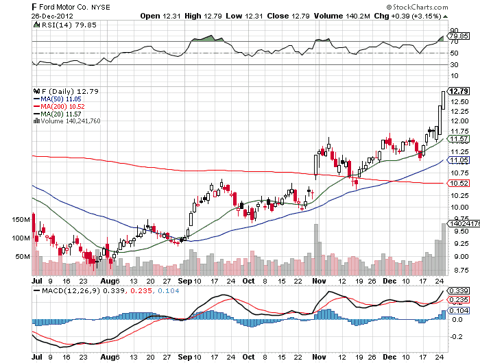 Source: Stockcharts.com
Obviously for the technically driven rally to occur, the fundamental aspect needs to be bullish -- at least in this case. Although Ford has been beaten down for much of 2012, it has beaten its last 3 earnings reports. While European losses continue to mount for the auto giant, strategic moves are being implemented to try and contain those losses, which include shutting down three plants.
The three European plants are estimated to save Ford $500 million, or roughly 1/3 of what they lost this year. The decision came from the CEO, Alan Mulally, who recently decided to stay with Ford until at least 2014. This decision is very important in my opinion.
I think Mulally is absolutely the best leader for this company. Mulally was able to keep Ford from bankruptcy and accepting government bailout funds in 2008, when the stock traded all the way down to $1. Eventually Mulally was able to reinstate the dividend, albeit a rather small one. Mulally is battle-hardened. He is without question, the best person who can run the show at Ford, and he has proved it over the past several years. If he made it through 2008, I'm confident he, and Ford, can make it through the European issues. After all, domestic sales are fine.
Despite losing an average of roughly $400 million per quarter in its European operations, Ford has been able to post profits in each earnings report. In a perfect world, you could have Ford only posting sales and earnings from its domestic unit, as U.S. numbers have been looking great. Sadly however, that's not the case. But that's not the only thing helping Ford to continually post strong numbers.
China, of all places has been a region where Ford's recent success has been great. The thriving sales have lead Ford to its third straight record sales month. More can be read about Ford's sales figure in China, here. Although Ford has five of the top-20 selling vehicles in America -- including the number one spot with the F-Series truck line -- there is still room for improvement.
No, it's not the mini-van market -- which Ford does plan to enter come 2013, and can be read about here -- but rather, the hybrid car sector. This area has typically be dominated by Toyota (NYSE:TM) and other foreign automakers, but Ford's rapid sales growth has many analysts wondering if it can overtake this space too.
Ford actually has several hybrid models to choose from. The Ford Fusion Hybrid, gets an astounding 47 miles per gallon (MPG) on both the highway and the city. In fact, the Fusion is the top rated affordable hybrid vehicle in a recent study this year. It came in with an overall ranking of 8.9/10. The Ford C-Max, Hyundai Sonata, and Toyota Camry came in 2nd, all with a ranking of 8.5/10.
The Sonata and Camry look familiar, but what's this Ford C-Max? The C-Max is Ford's newest electric car, capable of getting 47 MPG for both city and highway, just like the Fusion. The C-Max is conveniently priced at $26,000, something that's obviously meant to get the attention of hybrid vehicle purchasers looking at the similarly priced Toyota Prius and Toyota Camry.
It's hard to measure the C-Max against other models currently on the market due to the lack of its own time on the car lots. C-Max has only been available for to customers for two full months. However, while it's still early, the C-Max has outsold all other previous hybrid cars in their first two months of sales. According to a company press release, in the first two months, Ford has sold just over 8,000 models. Compare that to the Camry's 7,300 units sold in its first two months and you start to realize just how big this vehicle could be for Ford.
Furthermore, the Ford C-Max is selling three times faster than Prius and Honda (NYSE:HMC) Insight, combined. This race could actually turn rather quickly, in Ford's favor. Just in the month of November, the C-Max Hybrid and C-Max Energi outsold the Prius and Prius V by over 10%. Would this matter if the Prius was some half-hearted, bottom of the selling list car? No, of course not. But here's the impressive part, the Prius is the number one selling hybrid in America.
While it's still too early to tell, Ford is clearly making waves, and impressive ones at that. It's obvious that with gas prices remaining elevated, consumers want fuel efficient vehicles at a reasonable price. That has been the issue in the past, price that is. One could buy an electric car for $40,000, but in the long-run would the savings in gas justify paying for a car that costs twice that of a standard one? Many Americans didn't think so, but with hybrids being priced in the mid-$20,000 range, this is much more affordable for the average consumer looking for stylish, fuel efficient vehicles.
From October to November, Ford saw a 52% jump in sales, and December is expected to be even better, units wise, with estimates calling for an increase of 40%. Expectations remain high, as Ford expects its best quarter ever for hybrid vehicles, when the end of December rolls around.
I think in some form, being an American automaker is also helping sales. In the past, many hybrid makers were foreign auto companies who offered superior vehicles to that of domestic automakers. However, with the recent quality and vehicle improvements, Americans have been eyeing cars from U.S. companies, rather than those from abroad. Think about it this way: if you have two cars, that get essentially the same MPG, are both of high quality and are equally stylish, which would you choose, American or Foreign? Or in this case, Ford or Toyota? I don't speak for everyone, but I personally would choose the Ford.
In a recent study conducted by Maritz, fuel efficiency has been declared the number one consideration when selecting a new vehicle. This bodes well for Ford, as it is clearly listening to its customers, having eight vehicles with over 40 MPG. The Transit Connect Wagon, Ford's minivan set to debut in 2013, is estimated to get over 30 MPG as well.
The Trade
For the short- to intermediate-term, I suggest using slightly in-the-money options relative to Ford's trading price. For instance, when it was trading in the mid-$10 range, I would suggest buying the March 10 calls. When Ford rallied to $11.50 or so, rolling from the 10 calls to the 11 calls is the best way to continue looking for enhanced gain -- if it's there and in this case I believe it is -- while still limiting risks from what is now a rather large delta. For instance, I would look to purchase the March 12 call options, which are currently trading for 1.15 or $115. For a more in-depth analysis on Ford options selection, including short-term and long-term strategies, see my recent article here.
If you are looking for more of an investment on Ford via options, a stock replacement method can be used. Essentially, by being long via options, you sacrifice voting rights and dividends, but with such a low dividend payout, I feel as though options are more efficient for owning Ford.
With very strong sales figures in the U.S. and booming growth coming from China, Ford just needs to contain losses in Europe. If losses can be kept to a minimum and sales continue to be as strong as they have been, Ford shares should do great. The charts look strong and I like that Ford is addressing what its customers want, fuel efficiency, while attacking the hybrid car sector. I am long and bullish Ford.
Disclosure: I am long F. I wrote this article myself, and it expresses my own opinions. I am not receiving compensation for it (other than from Seeking Alpha). I have no business relationship with any company whose stock is mentioned in this article.