Citigroup (NYSE:C), and Bank of America (NYSE:BAC) are two of the most popular financial stocks amongst U.S. investors. Since the financial crisis, both companies have taken measures to assure their financial strength going forward, so as to not leave themselves as vulnerable to future crises.
Both of these companies were some of the hardest-hit banks to emerge from the financial crisis still standing. In fact, some people were so convinced of these banks' impending demise in 2009 that Citigroup was trading at a split adjusted $9.70 in 2009 after trading at a peak of $570 just two years prior, a loss of 98.3% of shareholder value. Even with the ensuing recovery, a $10,000 investment in Citigroup 5 years ago would be worth only $1,383 today. Bank of America's shareholders didn't fare quite so badly, with the stock falling from its 2006 all-time peak of $55.08 to a March 2009 low of $2.53, a loss of 95.4%. Shareholders have recovered a bit more of their equity too, and the aforementioned $10,000 invested in BAC 5 years ago would be worth $2,960. So, Citigroup was more exposed to toxic assets. However, all of this is in the past. Today's investors need to examine what both of these companies have been up to since the crisis, and the relative valuation of each stock to determine which is the better investment.
Citigroup has taken measures to restore its independence from the government and to restore shareholder confidence, including repaying the $20 billion TARP preferred stock stake it was forced to issue. As a result of all of these bailouts, existing shareholders got considerably diluted, down to 26% of their original ownership stake. In 2011, Citi completed a 1-for-10 reverse split and reinstated a very small quarterly dividend of 1 cent per share. However, Citi has expressed its intention to return more capital to shareholders, but not until 2013 at the earliest. The Fed must agree to any new capital distributions (dividends and/or buybacks), and the challenge is convincing the Fed that Citigroup could pass the "stress test" with an aggressive buyback or dividend plan in place. If the company can sufficiently demonstrate this, the Fed is likely to allow return of capital to shareholders in the coming years.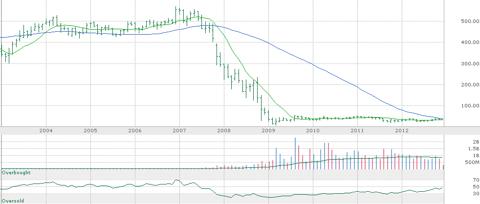 Analysts see Citigroup's revenues growing in 2013, following two years of declines, indicating that Citi's rebuilding efforts may be starting to bear fruit. As a result, consensus estimates call for earnings of $3.92 per share for the current year, rising to $4.65 and $5.13 in 2013 and 2014, respectively. So, Citi trades at 10 times current year earnings with a 3-year projected average growth rate of 14.5%. To put that in perspective, Citi trades at only 7.6 times 2014 earnings. Using the sector average of a 9.4 times earnings multiple, this gives me a 1-year target of $43.71, which is 12% above current levels.
Bank of America, on the other hand, took advantage of the crisis and used the misfortune of worse-off institutions to expand its own market share. Most notably, BAC acquired Merrill Lynch and Countrywide Financial, with the backing of the U.S. Government. These acquisitions have resulted in several legal settlements, affecting the company's bottom line. For example, in June 2011, BAC announced an $8.5 billion settlement with investors who had purchased Countrywide's mortgage bonds from 2004-2008. Just recently there was a $2.4 billion settlement announced for buyers of BAC stock and some options in late 2008-early 2009, having to do with misleading information pertaining to the Merrill Lynch acquisition. The settlement is definitely a good thing in the long run, however it still needs to be approved by the courts. BAC expects to take a hit in their earnings in the short-term as a result of this settlement. While there are no other large legal challenges looming, the finalization of these two settlements is still hanging over the head of BAC.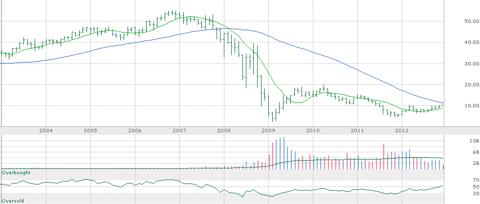 Consensus estimates call for Bank of America to earn $0.42 for this fiscal year, which is affected by several one-time charges related to settlements. This is expected to rise considerably to $0.96 in 2013, due to real-estate market improvements and the long-delayed foreclosure settlement finally being over. Earnings are expected to continue rising after 2013, with estimates of $1.25 for 2014. Using the same sector average multiple as we did for Citigroup, the 2013 consensus gives a 1-year price target of $9.02 for BAC, 21% below current levels.
Although both of these companies seem to be on the right track toward creating shareholder value and a more stable business model, by a valuation standpoint alone the choice seems clear: buy Citigroup and sell Bank of America.
Disclosure: I have no positions in any stocks mentioned, and no plans to initiate any positions within the next 72 hours. I wrote this article myself, and it expresses my own opinions. I am not receiving compensation for it (other than from Seeking Alpha). I have no business relationship with any company whose stock is mentioned in this article.