Over the past several months I have written several articles suggesting that investors should look at regional banks that are paying good dividends. The first article was written in June and covered 3 banks, Univest (NASDAQ:UVSP), Ohio Valley Banc Corp (NASDAQ:OVBC) and People's United Financial (NASDAQ:PBCT). The second article was written in July and covered Susquehanna Bancshares (NASDAQ:SUSQ), Fulton Financial Corp. (NASDAQ:FULT) and Wayne Savings Bancshares, Inc. (NASDAQ:WAYN). I invite readers to look back at those articles to get the background on these companies and the reasons for investing in them. This article is an update on these banks to ascertain that they are all headed in the right direction.
This update tracks the latest quarterly reports on profitability, checks to see if there are changes of inside ownership, looks at changes in dividend payments and plots the price movements over the past 6 months. The plan is to ascertain whether these banks are still worthwhile buys.
UNIVEST
UVSP reported a 10% increase in net income for the quarter ended September 30, 2012 when compared to the same quarter last year. Loans, deposits and non-interest income were all higher than last year as well. The only negative was a decline in the net interest spread from 4.21% to 3.92%. Asset quality has remained about the same and the dividend remains the same at $.80 per share. This represents a 4.5% dividend at the issue's current price around $17 per share.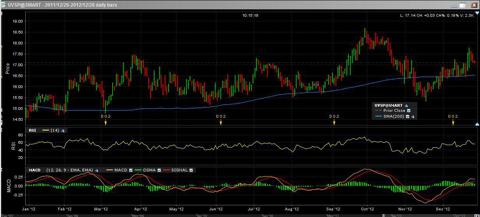 Insiders show almost no activity since June; there was a purchase of 60 shares and a sale of 170 shares. The price chart shows that the price of the stock went to $18 and then declined to nearly where it was in June and is now going back up. This stock is still a good dividend buy at the current price.
OHIO VALLEY BANC CORP.
OVBC also reported higher earnings for quarter ended September 30, 2012 as compared to last year. It reported a 25% increase in earnings and a 23% increase in earnings per share. Net interest income decreased around 4% from the previous year, but the net interest margin increased from 4.18% to 4.3%. This increase was attributed to higher deposits in non-interest bearing accounts. The ratio of non-performing loans has been rising over the past 2 quarters. This has been happening with several regional banks. A call to one of the banks helped shed light on this phenomenon. The Dodd-Frank Act now forces banks to list loans as non-performing when the borrowing entity is not producing earnings to cover the loan's cost even though it is still paying out the loan. Banks must also list loans as non-performing if they have modified terms to make it possible for an entity to continue paying out the loan. So there are loans that are still being paid to the bank but by law must be listed as non-performing. This law is causing some of these regional banks to show rather large increases in non-performing loans even if the loans are being paid down.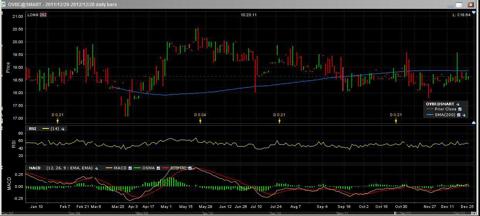 The price of the issue has been rather static and the dividend is still the same at $.21 per quarter. There have been no open market sales or purchases of stock by insiders. Mutual funds hold less than 10% of the stock. The dividend represents 4.5% return at the current price of the stock and it appears to be safe since OVBC is only paying about 50% of its earnings in dividends. OVBC is currently selling right around book value.
People's United Financial Inc.
PBCT reported earnings of $.18 per share for the third quarter. This was higher than the third quarter of 2011 by $.04 but lower by $.01 from the previous quarter. The company reported that net interest margins declined slightly but that non-interest income had increased. Selena Maranjian writing for the The Motley Fool said PBCT is growing through acquisitions and has a strong commercial banking business. She also pointed out that the bank has a high tier-1 risk-adjusted capital ratio and high non-interest expense. PBCT also sold $500 million in senior notes December 4, 2012 that were rated by S&P at BBB+ and by Moody's at A3. The dividend is still $.16 per share offering a 5.25% return at the current price of $12.00 per share. This represents a 96% payout of earnings. The company is selling considerably under book value which the company states at $15.20 per share.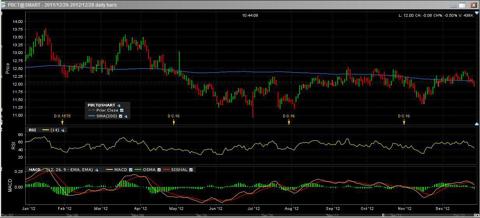 The graph above indicates that there has been very little movement in the stock since the last article. Insiders sold nearly 25,000 shares and institutions sold about 30 million shares over the past 6 months. Forbes wrote on December 12 that PBCT may be an attractive acquisition for a larger bank.
Wayne Savings Bancshares Inc.
WAYN continues to show improved earnings. It reported net income of $465,000 or $.16 per share for the quarter ended September 30,2012. The increase in earnings was largely due to decreased provision for loan losses and decreased non-interest expense. The bank, like those above saw a compression in its interest margin. WAYN, like PBCT, is selling considerably below its book value of $13.78 per share. The stock currently selling at $9.25 per share offers a dividend of 3%. This dividend represents less than 50% of its earnings.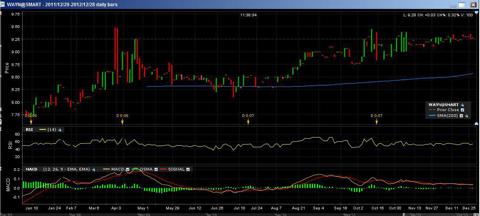 The graph above shows that WAYN has been slowly and steadily increasing in price. The article in July had the stock price at $8.25, $1.00 lower than the present price. Insiders and institutions have been net buyers of the stock over the past 6 months, albeit in small amounts.
Fulton Financial Corp.
Forbes offered an article on FULT touting its 3.27% yield, the insider buying and a selling price below book. The article also displayed the dividend graph depicted below.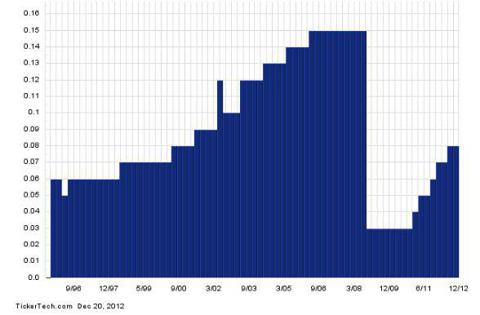 The graph vividly shows that dividends are increasing once again. FULT currently pays $.08 per share quarterly which represents a payout ratio of 36%.
FULT announced on 12/18/2012 that it plans to divest Global Exchange Group, a wholly owned subsidiary, for a pre-tax gain of $6.2 million before the end of the year. The proceeds will be used to prepay $20 million in Federal Home Loan Bank (OTCPK:FHLB) advances. This will save the bank $825,000 annually in interest expenses through 2017 although it will cost the bank a prepayment penalty of $3 million.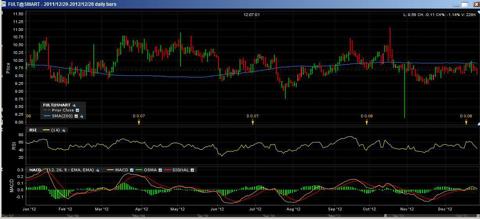 The price of FULT has decreased since the July article. It was selling at about $10 per share then and is now selling at $9.60 per share. The reduction in price appears to have come as a result of institutional selling. Institutions have sold nearly 13 million shares over the past 6 months. There has been very little activity by insiders. Net income increased about 5% year over year in the third quarter. Book value per share has grown about 4% year over year with the bank shares selling just below the book value of $10.36 per share.
Susquehanna Bancshares, Inc.
SUSQ reported a strong third quarter with a 40% increase in per share earnings over the prior year's third quarter. The company also increased the quarterly dividend by $.01 to $.07 per share. This marked the fifth increase since the first quarter of 2011. The bank also reported that it has redeemed $175 million trust securities that were paying an average of about 10% interest. It completed this redemption with cash on hand and a $150 million 5.375% offering of Senior Notes due 2022.
The bank is selling for about $10.50 a share and tangible book value is recorded at $6.82 per share as of the third quarter. Yahoo records book value at $13.86 per share which is correct if intangible assets such as goodwill are added back in. The bank has a large amount of goodwill since it has been buying up other banks at greater than book value. There has been very little insider buying or selling of the shares. There were only 2 filings over the past several months and both ended up showing small acquisitions.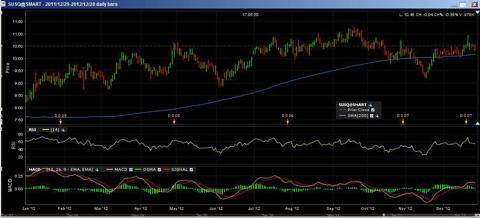 The graph above shows that the share price of SUSQ has been stagnant since the July article. With a forward P/E of 11.27 and a payout ratio of only 26%, this bank should be able to continue to raise its dividend. Currently the dividend returns 2.7%.
For those of you interested in a recommendation on these issues, I suggest that you buy several hundred shares of each of these banks as you see the prices decline. The politics of the so-called "fiscal cliff" are likely to drive prices down for the next several days and offer one good buying opportunities on many issues. All 6 of these issues pay 3% or more with most offering a good possibility of increases coming shortly. There is also the possibility of a takeover by a larger bank which would likely offer a quick profitable capital return. I was an owner of all of these stocks earlier this year, but sold most of them with the appearance of loggerheads over the "fiscal cliff." I am now in the process of writing puts and placing limit orders on these banks attempting to buy them at bargain prices.
Disclosure: I am long OVBC, FULT. I wrote this article myself, and it expresses my own opinions. I am not receiving compensation for it (other than from Seeking Alpha). I have no business relationship with any company whose stock is mentioned in this article.
Additional disclosure: I have standing orders and/or writing puts on other banks in this article.