As one of the largest providers of products and services used for the oil and gas sector, Weatherford International (WFT) has grown out of its more than 250 strategic acquisitions over the past 13 years. The company was founded in 1972, and has since established itself as a partner to its clients that strives for cost efficiency and increased well productivity. The company's services span across the drilling, evaluation, completion, production, and intervention cycles of oil and natural gas wells.
Even though the company exists as one of the largest providers of well services, Weatherford stands against more established competitors with much larger operations. The company has struggled to deliver of late, and most recently missed on both the top and bottom lines in its last quarterly report as seen here. A quick comparison between the competition found in Baker Hughes (BHI), Halliburton (HAL), and Schlumberger (SLB) can be found in the table below. The following values were taken from Yahoo! Finance and were accurate as of December 28, 2012.
Company
Mkt. Cap.
Fwd. P/E Ratio
PEG Ratio
Price/Book Ratio
Price/Sales Ratio
Weatherford International
$8.09 Billion
9.98
0.50
0.93
0.55
Baker Hughes
$17.56 Billion
12.48
1.03
1.04
0.82
Halliburton
$31.56

Billion

11.30
0.78
2.12
1.14
Schlumberger
$90.22 Billion
14.01
0.92
2.68
2.09
As seen on the basis of the above data, Weatherford continues to be discounted to its peers on practically every metric. The company is half the size of these larger competitors when considering market capitalization. Its growth prospect remains strong when considering the low PEG ratio, and even undervalued when averaging P/E ratios. Above all, the company is now trading below book value and with a price that is lacking in light of its sales figures.
Yet one notable fear that continues to plague the company can be found in a submitted late filing notice to the SEC. The company's internal controls remain suspect in light of previous tax discrepancies. The problem can be summarized in the following excerpt taken from the Form 12b-25 found here:
"In addition, as the Company previously reported on its Current Report on Form 8-K filed on July 24, 2012, management concluded that the Company had not remediated its previously disclosed material weakness in internal control over financial reporting relating to current taxes payable, certain deferred tax assets and liabilities, reserves for uncertain tax positions, and current and deferred income tax expense, and management has identified additional income tax errors related to prior years. A material weakness is a deficiency, or a combination of deficiencies, in internal control over financial reporting such that there is a reasonable possibility that a material misstatement of the registrant's annual or interim financial statements will not be prevented or detected on a timely basis."
Despite these setbacks, the company appears to be on track for growth in the coming years. A summary of the forward-looking analyst expectations can be found below. The graphic was taken from the projections listed here. It's clear that the analysts expect the company to not only stay in positive earnings but grow over time. Just as important, the historical chart of the company's stock shows that the share price bounced off of a 5-year low. When taken together, it is possible that the company will consolidate around these levels to build a stronger level of support.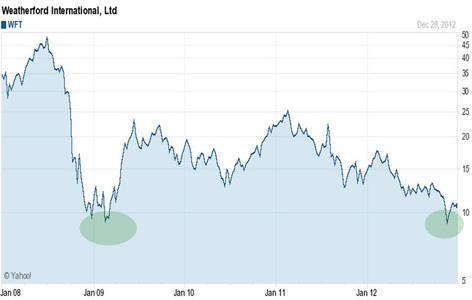 Last of all, a strong round of insider buying by multiple officers and directors remains a bullish sign that has been developing over the last two months. A list of the transactions can be seen below. This pattern of a cluster buy often serves as a strong bullish sign for investors. When those who are most familiar with the company's operations and prospects are willing to buy common stock on the open market, investors should begin to question whether there is something here that Wall Street fails to see. For just as there are many reasons to sell a stock, there are often very few reasons for an insider to buy shares apart from the earnest expectation of a future profit.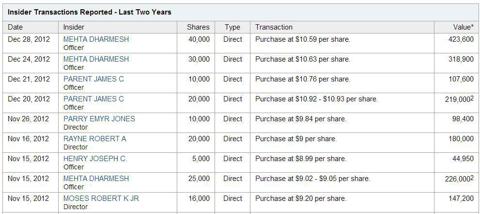 Conclusion
All things considered, Weatherford now trades at a discount to its competition in light of its poor performance of the past and lingering uncertainty over its internal controls. Yet the company's future remains prosperous according to analyst expectations. This thought is further reiterated by the ongoing round of heavy insider purchases that should not be taken lightly. The company now trades below its book value, and the present price serves as an attractive entry point. Overall, Weatherford appears to be a speculative buy. Yet as in every situation, investors should conduct their due diligence and make sure that the risks entailed are fit to the tolerance of the person.
Disclosure: I have no positions in any stocks mentioned, and no plans to initiate any positions within the next 72 hours. I wrote this article myself, and it expresses my own opinions. I am not receiving compensation for it (other than from Seeking Alpha). I have no business relationship with any company whose stock is mentioned in this article.