Stocks are looking to close out 2012 as a successful year, with double-digit percentage price gains for both the S&P 500 and the Russell 2000, but it wasn't due to strong earnings. According to Standard & Poor's (free registration required), 2012 projected growth for the S&P 500 is just 3%. You would think that with growth so scarce, those companies posting good numbers would have strong stocks, but that hasn't been the case for several companies. Hoping to identify some possible new investment ideas, I used Baseline to screen for lagging stocks with leading earnings. Here is what I did:
Russell 3000 member
Market Cap > $200mm
4-quarter Sales Growth > 15%
4-quarter EPS Growth > 20%
5-year Sales Growth Rate > 15%
2013 Projected EPS Growth > 20%
YTD Price Return < 15%
2-Year Price Return < 20%
Forward PE <30X
In summary, we are looking for companies with very strong historical and projected growth but with stocks returning roughly the same if not less than the market over the past two years and in 2012. Here are 12 that made the cut: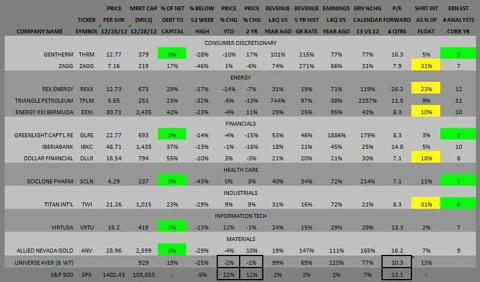 Now, before I go on, let me first say that these aren't recommendations. I have sorted the list by economic sector (7 of 10 represented) and from worst to best in terms of YTD performance. Some of these may be good potential ideas, but some are certainly value traps where the market recognizes something not sustainable. While I don't know most of these stories too well, I am going to share some additional information that may help us separate the wheat from the chaff.
First up is Gentherm (NASDAQ:THRM). If you aren't familiar with this, it might be because the company changed its name from Amerigon after Labor Day. The company (link to website) makes heating and cooling and temperature control applications for primarily the automobile industry (but also some recent product offerings like mattresses and office chairs). In May 2011, the company closed on the acquisition of W.E.T. Automotive Systems of Germany and are guiding 2012 sales growth of 10% on the combined entity's full 2011 results. 2013 earnings growth projections are high, but they have come down a lot since the summer (.85 now, was 1.22). The acquisition was transformational, as legacy THRM sales and earnings are a fraction of the combined entity's. Interestingly, the company used stock and a convertible preferred to pay for the deal and appears to be slowly reducing the latter, using cash flow and the proceeds of an March 2012 equity offering (5.3mm shares at $15.25). This one, which isn't too widely followed, might be a good vehicle for investing in new car sales growth.
Zagg (NASDAQ:ZAGG) makes accessories for mobile devices (ZAGG and iFrogz). The company (link to website) just promoted its President and former COO to CEO earlier this month. I noted a big short-interest, which can be an indicator of a potential problem but also a trigger for price appreciation if it is too crowded or based on an incorrect thesis. Skimming the 10-Q, it looks like the company got a bad deal on its purchase of iFrogz in mid-2011, as Q4 sales growth there was flat and it actually posted a loss. The company has high customer concentration, with 31% of YTD sales from one customer and 10% from another. 56% of receivables outstanding at Q3 were from a single customer. The SEC filings indicate several litigation issues.
Rex Energy (NASDAQ:REXX), Triangle Petroleum (NYSEMKT:TPLM) and Energy XXI (EXXI) are all in the pressured Energy sector. I shared some big picture ideas last week, suggesting production growth is the key attribute to pursue in this market. I had restricted my screen to companies with market caps above $1 billion. Otherwise, REXX and TPLM would have made it. EXXI just missed due to projected sales growth slowing to 13%. REXX, focused on the Marcellus and Utica shale formations at the Illinois Basin, is in the process of exiting from the DJ Basin. The price decline in natural gas and NGLs disguises very big production growth here (128% gas and 73% NGL YTD). TPLM, based in Denver, is a Bakken/Three Forks producer with 86K net acres in the Williston Basin as well as a provider of pressure-pumping services (RockPile Energy Services). EXXI is focused on the Gulf of Mexico and the Gulf Coast, with $128mm invested in Davy Jones, $50mm in Blackbeard East, $49mm in Blackbeard West and $40mm in Lafitte.
While Financials are the best sector by far in 2012, three laggards include Greenlight Capital (NASDAQ:GLRE),IberiaBank Corp (NASDAQ:IBKC) and DFC Global (NASDAQ:DLLR). GLRE is David Einhorn's Ireland and Cayman Islands-based reinsurance company, trading at 80% of tangible book value. Of course, this is pre-Sandy. According to the company filings, its portfolio is concentrated in Florida homeowners, U.S. employer health, property catastrophe retrocession and private passenger automobile. The investment portfolio holds "a significant position in gold" and is positioned for higher interest rates.
IBKC is the holding company for a 125-year old Louisiana-based IberiaBank. The company purchased Florida Gulf Bancorp in July ($286mm deposits). Deposit growth in Q3 was an impressive 5% before consideration of the acquisition. 2.8% dividend yield, and the stock trades at just 1.3X TBV (near the lowest valuation in over a decade and well below the 2.3X median). This one looks interesting!
DLLR (link to company website), which is the parent of Dollar Financial, provides financial services to the unbanked and under-banked in nine different countries in North America and Europe. It operates pawn shops (the largest pawn lender in Europe) and has 1429 retail store-fronts globally for various financial products as well as multiple Internet, mobile phone and other remote platforms. The stock looks cheap at 7PE or 5X EV/EBITDA, but it's not alone in that regard for the space.
SciClone Pharmaceuticals (NASDAQ:SCLN) markets 14 partnered products in China as well as ZADAXIN (thymalfasin) in over 30 countries for treatment of hepatitis B and C and certain cancers. The company admits to a poorly executed acquisition of NovaMed in 2011 and reduced its 2012 outlook after Q3. The company isn't widely followed - just Aegis Capital and BWS Financial. SCLN has no debt and over $1.50 per share in cash.
Titan International (NYSE:TWI) is one I know fairly well. It fell and then rallied back after I declared it the loser in "Clash of the Titans," but the winner is still lower. While I prefer the other Titan, Titan Machinery (NASDAQ:TITN), the tire maker is an interesting play on both agriculture as well as heavy equipment machinery. The short-interest is very high, only partially due to a convertible bond. The CEO, Maurice Taylor (a former Presidential candidate), is an interesting character. I worry about this one being too much a one-man show. He provided 2013 guidance earlier this month, not surprisingly quite bullish: Sales of $2.4-2.7 billion (vs. $1.8-1.9 billion for 2012) and EBITDA of $340-400mm. He also expects to produce sales of $4-4.5 billion by 2015. I think that macro concerns and worries about potential drought impact have left this one beaten up more than it should be. Call it my second-favorite Titan.
Virtusa (NASDAQ:VRTU) is a global IT services company based in Massachusetts and operating in North America, Europe and Asia. 90% of sales come from existing clients. The company has been increasing its applications outsourcing (57% of YTD business), which is recurring in nature, relative to its consulting and technology implementation business. Most of the business is based on time-and-materials, as just 15% is fixed-price. The stock price seems to track its large rival, Cognizant (NASDAQ:CTSH), though the fundamentals seem better here (plus a cheaper valuation). About 15% of the stock is held directly by insiders.
Last is Allied Nevada Gold (NYSEMKT:ANV), which is engaged primarily in mining gold and silver from the Hycroft mine. The entire gold miner sector has been under pressure all year - this is one of the better performers. CapEx YTD of $123mm is a multiple of the $32mm net income. The company has plenty of cash after a large issuance in Q2. While I like the gold miners (I have a 10% allocation in my Sector Selector ETF model portfolio), I don't know this one well enough to judge it against its peers. The expansion project, if successful, will allow gold production to increase 4X per year beginning in 2015.
So, we have looked briefly at a dozen companies that are growing nicely but not enjoying substantial gains in their stock prices. While the market may be right on most of these, a few stand out to me as meriting deeper investigation, including ANV, IKBC, REXX, THRM, TWI, and VRTU. As always, I am interested in which of the 12 sound interesting to readers. With that, let me wish you happy hunting in 2013!
Disclosure: I have no positions in any stocks mentioned, and no plans to initiate any positions within the next 72 hours. I wrote this article myself, and it expresses my own opinions. I am not receiving compensation for it (other than from Seeking Alpha). I have no business relationship with any company whose stock is mentioned in this article.
Additional disclosure: Long TITN in one or more models managed by the author at Invest By Model