Do you prefer stocks that pay part of their return in dividend income? If so, here's a list you might be interested in.
We ran a screen on the S&P 500 for stocks paying dividend yields above 2% and sustainable payout ratios below 50%. We then ran a DuPont analysis on return on equity (ROE) profitability to find those with strong sources of profits.
DuPont analyzes return on equity (ROE, or net income/equity) profitability by breaking ROE up into three components:
ROE
= (Net Profit/Equity)
= (Net Profit/Sales)*(Sales/Assets)*(Assets/Equity)
= (Net Profit Margin)*(Asset Turnover)*(Leverage Ratio)
It therefore focuses on companies with the following positive characteristics: Increasing ROE along with,
Decreasing leverage, (i.e. decreasing Asset/Equity ratio)

Improving asset use efficiency (i.e. increasing Sales/Assets ratio) and improving net profit margin (i.e. increasing Net Income/Sales ratio.
Companies with all of these characteristics are experiencing increasing profits due to operations and not due to increased use of financial leverage.
Interactive Chart: Press Play to compare changes in analyst ratings over the last two years for the stocks mentioned below. Analyst ratings sourced from Zacks Investment Research.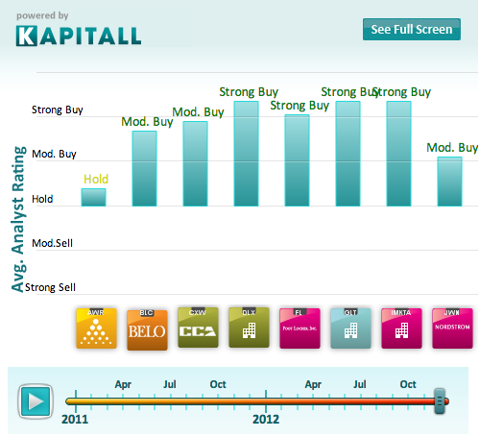 Do you think these stocks pay reliable dividends? Use this list as a starting point for your own analysis.
*Accounting data sourced from Google Finance
Disclosure: I have no positions in any stocks mentioned, and no plans to initiate any positions within the next 72 hours.
Business relationship disclosure: Business relationship disclosure: Kapitall is a team of analysts. This article was written by Sabina Bhatia, one of our writers. We did not receive compensation for this article (other than from Seeking Alpha), and we have no business relationship with any company whose stock is mentioned in this article.