Actionable Items:
Highest Positive Spread: The Eagle Capital Growth Fund (NYSEMKT:GRF)
Focus Stock: Nuveen Short Duration Credit Opportunities (NYSE:JSD)
Last Week's Focus Stock: Advent Claymore Convertible Securities and Income Fund (NYSE:AVK)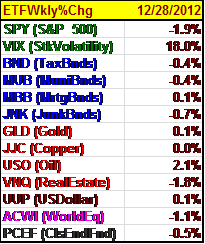 Weekly Performance: The "fiscal cliff" is giving impediment for businesses spending in the fiscal year 2013. The mood is tax-increases and spending cuts are not that far-away and may be bridged. The final analyses are what will the final numbers be?
Consumption Spending: Consumers' spending, business confidences for a wide swatch of spending cuts and the reduction of the federal deficits may push the deficits to a "CBO's" recession mode. Are anxieties of "Capitol Hill" not what electoral wants? We need faster answers to complicated questions. The dam may not hold the river back.
The holiday's mood is cutting into share trading by 46.5% into the S&P 500 ("GSPC"). The stocks ended down 1.9% with U.S. Oil (NYSEARCA:USO) being a "top tick".
ETFs: As the year passes, the following is the list for categories (YTD%Chg). The year-end changed for 2013 might be: "Financial", "Pacific/Asia", "Technology", and "Energy".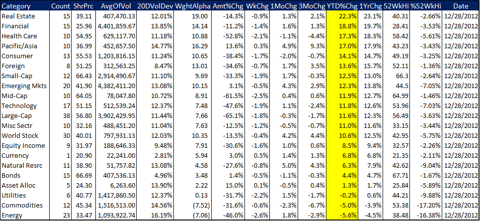 CEF Weekly Fund Type Performance: The CEF index leader of the week (12/28/12) was all by-the-board (negative). The negative 0.2% for OtherFnds and WrldEqFnds (negative 0.3%) topped the scoreboard. Laggards was GenEqFnds and USMrtgBndFnds (-1.6%) and NatlMuniBndFnds (-1.7%). NatlMuniBndFnds scored a PrcNAVSprd of -1.9% (negative-scores good).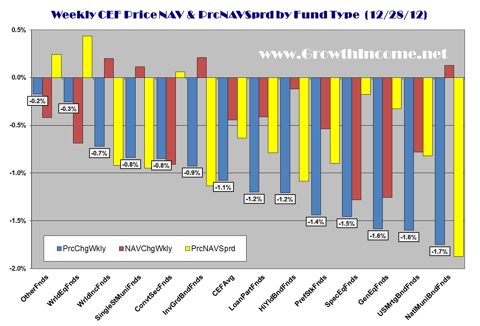 Highest Focus Stock for the Week: The Eagle Capital Growth Fund price increased 5.1% with a change of a negative 2.1% for the NAV. This would indicate a positive PrcNAVSprd of 7.2%. (Prices change relative to NAV change-negative at best). GRF had a year-end cash dividend of $0.36 per share. The record date for this dividend is December 17, 2012, and the payment date is December 28, 2012 (passed). The net assets value is $23.8 million with tradable stocks and bonds.
Lowest Spread and Focus Stock for the Week: Nuveen Short Duration Credit Opportunities share price was a declined -5.2% and its price was a negative 0.5% from NAV; its PrcNAVSprd declined was -4.7%. The capital is a blend of portfolio of low-rated corporate debt instruments. The distribution level (monthly) seemed to go up over the December 2011 level to around 18.5% for December 2012. The monthly yield ranged down from 6.9% premium to a premium of 1.8% reduction. The average annual yield (monthly) is 7.9% percent. Total assets are $282 million and a 21% leverage rate.
Last Week's Focus Stock: Last week we had Advent Claymore Convertible Securities and Income Fund . The stock was up 0.6% to $15.89 on the price of December 14th.

Disclosure: I have no positions in any stocks mentioned, but may initiate a long position in JSDA over the next 72 hours. I wrote this article myself, and it expresses my own opinions. I am not receiving compensation for it. I have no business relationship with any company whose stock is mentioned in this article.