The new Chinese leadership has set the tone for 2013: they will continue proactive fiscal and prudent monetary policies. The government is concentrating on urbanization being the big driver of domestic demand, which should attract more investment on public infrastructure. True urbanization will stimulate investment as well as consumption.
Many economists expect GDP growth to recover from 7.6 percent this year to 8 percent in 2013. Once again we will see that China is shifting from an export-driven and investment-driven growth model to a domestic consumption-driven growth model. In my opinion, this is the only sustainable path for China going forward.
I am optimistic about a rebound in U.S.-listed China small caps. I choose three companies that will reap the fruits in 2013.
Since the beginning of December we started a fund called RJT in the IEX Fund Manager competition. A Dutch investor's competition with real money where you could win your own mutual fund. Our portfolio has three U.S. listed China small caps.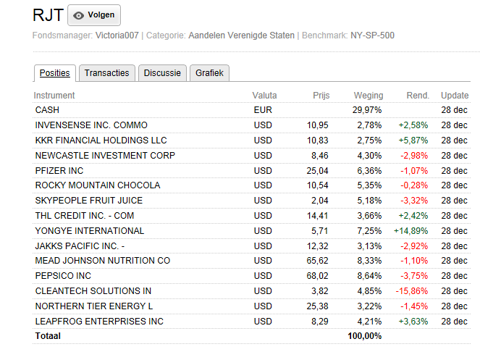 Cleantech Solutions International
We followed Geoinvesting's due diligence report and took a position in Cleantech Solutions (CLNT). It hasn't brought profit yet because the stock is a trader's ball and day traders use it to reap daily profits. Despite that, we think the company has a lot of potential. In a keynote speech at the Chinese Communist Party Congress in November, outgoing Chinese President Hu Jintao called for dramatic changes in how natural resources are used within the country. According to the Financial Times, Hu highlighted the environment as one of China's priorities, alongside the need for political reform, widespread economic growth, and efforts to tackle corruption.
He said the world's largest emitter of CO2 and second biggest economy should sharply cut its energy use, emissions, and release of major pollutants. China has a target to supply 11 per cent of its energy from renewable sources by 2015 and in 2013 is set to launch seven pilot emissions trading schemes in cities and provinces, covering 700 million tonnes of CO2 equivalent.
I think this is beneficial for clean technology industries. Cleantech Solutions is a manufacturer of metal components and assemblies, primarily used in these industries. The company supplies forging products, fabricated products and machining services to a range of clean technology customers, primarily in the wind power sector and supplies dyeing and finishing equipment to the textile industry.
CLEANTECH SOLUTIONS INTERNATIONAL
Market Cap
10.20M
P/E
2.21
ROA
5.26%
Shs Outstand
2.67M
Income
4.52M
EPS (TTM)
1.73
ROE
6.15%
Shs Float
1.72M
Sales
53.31M
P/S
0.19
ROI
6.13%
52W Range
1.65 - 8.81
Book/sh
28.65
P/B
0.13
Gross Margin
22.44%
Avg Volume
287.50K
Cash/sh
0.36
Oper. Margin
12.84%
Price
3.82
Profit Margin
8.48%
SkyPeople Fruit Juice
Another company with a promising future is called SkyPeople Fruit Juice (SPU). As mentioned in my article of December 19 the company has many catalysts going forward that could drive the stock price much higher. Chinese consumers are embracing a healthier lifestyle and are switching from carbonated soft drinks to healthier alternatives. Fruit juice producer SkyPeople will benefit from this trend.
The current stock price of $2.04 doesn't reflect the growth prospects of this company.
SkyPeople Fruit Juice
Market Cap
54.39M
P/E
4.00
ROA
8.85%
Shs Outstand
26.66M
Income
13.54M
EPS
0.51
ROE
9.75%
Shs Float
12.96M
Sales
91.35M
P/S
0.60
ROI
10.62%
52W Range
1.31 - 2.24
Book/sh
5.52
P/B
0.37
Gross Margin
29.98%
Avg Volume
35.85K
Cash/sh
3.03
Oper. Margin
20.66%
Price
2.04
Profit Margin
16.14%
Yongye International
Yongye International, Inc. (NASDAQ:YONG), a leading developer, manufacturer and distributor of crop nutrient products in China, is one step closer to leave the U.S. capital markets. The company signed a $99 million one-year loan agreement with China Development Bank Corp, according to its filing with the U.S. Securities and Exchange Commission. China Development Bank agreed to provide debt financing of as much as $232 million to finance the deal.
Yongye International
Market Cap
288.58M
P/E
4.68
ROA
14.55%
Shs Outstand
50.54M
Income
60.09M
EPS
1.22
ROE
16.92%
Shs Float
45.94M
Sales
416.59M
P/S
0.69
ROI
18.05%
52W Range
2.60 - 5.88
Book/sh
9.02
P/B
0.63
Gross Margin
59.54%
Avg Volume
380.54K
Cash/sh
0.36
Oper. Margin
21.70%
Price
5.71
Profit Margin
18.18%
The going private deal of $6.60 is almost finalized, but gives investors still a free lunch of 16% profit.
Final Note
The year 2013 will tell us if we were right with our thesis to allocate some money to U.S. listed China stocks. We think we saw the worst, and believe that allocating to Chinese stocks is a great way to avoid the fiscal cliff.
Disclosure: I am long YONG, SPU, CLNT. I wrote this article myself, and it expresses my own opinions. I am not receiving compensation for it (other than from Seeking Alpha). I have no business relationship with any company whose stock is mentioned in this article.