Market rallies are good times to take profits, lighten up on stocks that have run, or simply sell stocks of companies when our thesis just didn't work out. That's what I've done this December. I just sold half of one of my biggest holdings, China Mobile (NYSE:CHL).

Graph by YCharts
CHL is the ticker symbol for China Mobile's American Depository Receipt shares traded on the NYSE. Here is its five year chart. I believe it's time to sell.
I had held this stock and been accumulating since 2007. For a long time I was sure that China Mobile was a real growth story. However, I've recently decided it was time to move on. There isn't much growth now and there won't be a turnaround here. In fact, when one digs into the data, we can see that China Mobile has structural problems which will hamper any potential growth for at least the next couple years.
Cutting Through The Jargon
One of the things that makes it tough for laypeople to understand China Mobile's reports is their reliance on jargon and abbreviations without explaining meanings or significance. So before I make the case for why I sold China Mobile, let's look at the background story, some of the terms used and what they mean.
China Mobile has been moving from wireless voice and SMS (2G), where it is dominant, into a platform for mobile data and internet surfing (3G). That means smartphones. China Mobile's 3G system, called TD-SCDMA, has not been successful because it is a proprietary network incompatible with some of the more popular smartphones.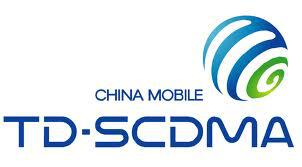 One of China Mobile's remedies for its unsuccessful 3G system has been to build out a superior wireless internet network, or WLAN.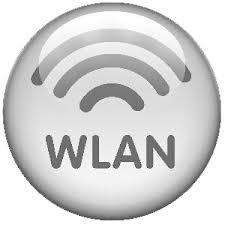 Meanwhile, and probably as an acknowledgement of its failure to capitalize on the 3G network, China Mobile has been working to build out a new 4G network, called TD-LTE. 4G networks have a much faster speed and higher capacity than its 3G predecessors. Unfortunately for China Mobile, the TD-LTE network is still in test phases and won't likely be viable in 2013.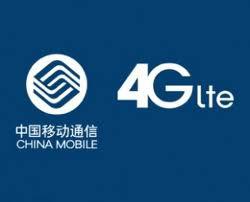 Stagnant Earnings Despite Revenue Increases
| | | | |
| --- | --- | --- | --- |
| | 1H 2011 | 1H 2012 | Change |
| Operating Revenue | 250,080 | 266, 530 | 6.6% |
| EBITDA (Billion RMB) | 124,152 | 123,051 | -0.9% |
| EBITDA Margin | 49.6% | 46.2% | -3.4ppts |
| Net Profit | 61,283 | 62,202 | +1.5% |
| Net Profit Margin | 24.5% | 23.3% | -1.2ppts |
China Mobile 2012 Interim Results Presentation
These numbers don't seem to reflect the robust growth of the Chinese economy at all! Nor do they reflect growth in data usage. Despite revenues being steadily higher, margins are down no matter how you look at it and this has caused profit to be stagnant.
Also, declining Average Revenue Per User (ARPU) seems more the cause of this decline than higher operating expenses.
| | | | |
| --- | --- | --- | --- |
| | 2011 | 1H 2012 | Change |
| Total Customers | 649.57 | 683.08 | N/A |
| Minutes of Use [mou] | 525 | 518 | -1.3% |
| APRU [rmb] | 71 | 67 | -5.6% |
| Avg. Voice Svc. Revenue/Minute | 0.094 | 0.086 | -8.5% |
China Mobile 2012 Interim Results Presentation
Looking at this table, we can see that the decline in margins clearly comes from a decline in APRU. Why exactly is this? What is the catalyst driving lower revenue per user? Unfortunately, China Mobile's management glosses over these data points and analysts in China rarely ask management hard questions. We have to look between the lines.
Reading The Tea Leaves
One of the more useful exercises in analyzing government majority-owned Chinese companies is to check with analysts from Chinese banks which are also government owned. They sometimes have more color on the situation. Michael Meng, a China Mobile analyst from BOCI (Bank of China), appeared on CNBC this past August and made some very interesting comments on China Mobile during his appearance.
First of all, he said that 3G carries much less margin compared to 2G for China Mobile. Meng said that China Telecom's (CHA) and China Unicom's (CHU) 3G margins are superior to China Mobile's. We can see, therefore, that while China Mobile has 3G margin issues, they are not universal and are particular to China Mobile. Unfortunately, China Mobile does not itemize its 3G business in operational reports, but merely classifies revenue between voice and data. This is why these comments from analysts such as Meng are so important.
Despite 3G TD-SCDMA margins being lower, China Mobile is forced to migrate from 2G to 3G as customers are moving from plain voice and SMS phones to smartphones. This is probably the reason behind China Mobile's declining revenues. If so, that trend is not going to reverse anytime soon.
As I mentioned, China Mobile only classifies its revenue into voice and data. We can, however, still read between the lines to see 3G's weighting within the company's revenue structure.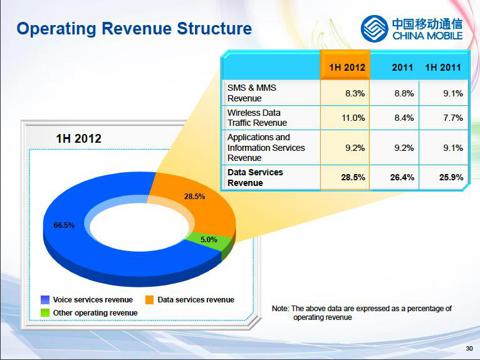 China Mobile 2012 Interim Results Presentation
I think there are two important takeaways from this pie chart. First, voice and SMS (text messages) still account for 74.8% of operating revenue as of the first half of 2012. Also note that analyst Michael Meng, in his CNBC appearance, stated that 90% of China Mobile's voice customers are on the 2G network. So, 2G is still the majority of China Mobile's business.
Second, we can see that wireless data revenue, all of which should be from the 3G network, has increased from 7.7% to 11% of all revenues in the past twelve months.
While 90% of existing customers are on the 2G network, 47% of net additional customers in 1H 2012 were 3G subscribers, as we can see below.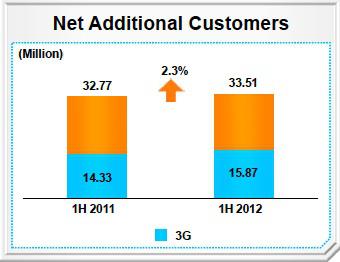 China Mobile 2012 Interim Results Presentation
In both revenue and customer numbers, we can see that 3G is growing as a part of China Mobile's business. We can also see that as 3G becomes a bigger share of the business, margins are also steadily declining. I believe these two points are related.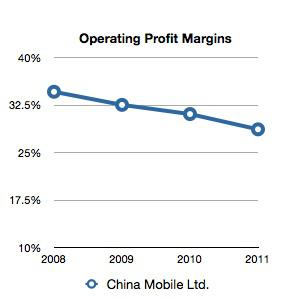 Data from previous annual reports. Compiled by Stock-Analysis-On-Net
Bull Case, Broken
When I first started buying China Mobile stock, the bull case looked great. China Mobile's asset and equity returns were highest in class because unlike its competitors China Unicom and China Telecom, China Mobile had no legacy fixed line to manage. China Mobile was getting the lion's share of new customers onto its wireless 2G network as the Chinese population continued to get on the grid.
I figured that once mobile internet and 3G data plans came to prominence in China, China Mobile would therefore also get the dominant portion of that revenue, too. Though there was some talk of the government working to make the other providers more competitive, I'd believe that when I saw it.
Well, I can see it now, and frankly I don't like it. The bottom line is that the government probably helped China Unicom leapfrog past China Mobile into smartphones and mobile internet much the same way they helped China Mobile leapfrog past the competition back when China transitioned from fixed lines to wireless voice (2G). This would explain the margin and efficiency differences in 3G between China Mobile and the other two competitors. Either way, China Mobile's growth story is officially left for dead.
Some Things To Like
That's not to say China Mobile should be given up on. Its margins and Return on Assets (ROA) still well outpace industry averages. Its balance sheet is pristine and not much effected by interest rates in Europe or the U.S. And for all the Chinese government's intervention, it's doubtful they will leave China Mobile for dead. Who knows? China Mobile might come to dominate 4G in years to come. Finally, of all the Chinese telecoms, China Mobile is the most generous with its dividend.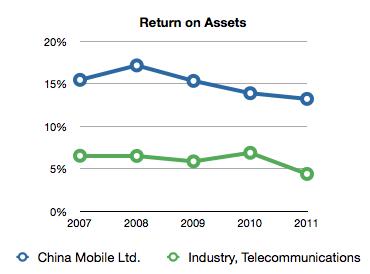 Data from previous annual reports. Compiled by Stock-Analysis-On-Net
Strategy
Growth and dividend growth investors should make China Mobile a smaller part of their portfolios, if at all. Value-minded investors could add shares when the P/E ratio drops below 10 or the dividend rises meaningfully above 4%. Both of these points have tended to serve as support over the last year. Currently, the trailing twelve month P/E ratio is 11.7 with a dividend hovering around 3.7%.
Summary
China Mobile no longer has major growth catalysts behind it. In fact, one forecast from Hong Kong Business has earnings declining in 2013. The business is somewhat stable, however, and the stock has been and can still be a good value.
Disclosure: I am long CHL. I wrote this article myself, and it expresses my own opinions. I am not receiving compensation for it (other than from Seeking Alpha). I have no business relationship with any company whose stock is mentioned in this article.