Perhaps it seems like I have gotten the order reversed, but after looking ahead to 2013 in last week's article, in this one we look at the market in the final full week of 2012. It was a good year in the market, all things considered. Let's take a tour of the final week:
Economy: The "fiscal cliff" drama in Washington took the lion's share of the attention, as it has for weeks now, but there was plenty of other news in the economic arena, much of it encouraging. On the housing front, we saw a nice upside surprise in the Case Shiller 20 city index for October, along with better than expected November pending home sales. Housing is showing slow but steady improvement, and while it won't solve all our economic ills by itself, it is a crucial component of a broad recovery.
Initial unemployment claims came in a little lower than forecast, and Chicago PMI just a bit higher, but consumer confidence was off. Overall, once the nation's fiscal policy gets sorted, the data show a slow recovery on course, steadily moving ahead.
Stocks: It was a tough week in U.S. equities, as volatility picked up - the VIX surging more than 27% on the week and breaking a downtrend that had been in place for over a year. The major U.S. indexes were all off around 2%, and all ten S&P economic sectors were in the red. The Dow and NASDAQ both finished very close to their 200 day moving averages. Short term, the market reads oversold, but not extremely so.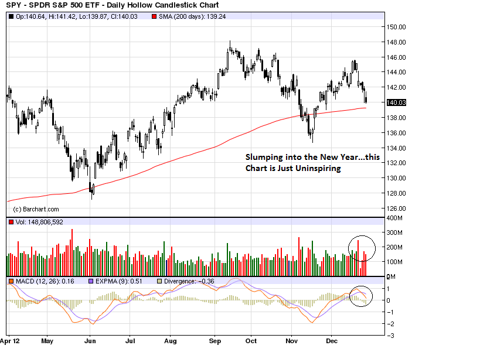 Turning to global markets, the twelve major foreign indexes we follow were cleanly divided between east and west: all those in the Americas and Europe were down for the week, while all those in Asia (including Russia) were up. The Nikkei took top honors with a weekly gain of nearly 5% as the yen continued to plunge. Long term charts of the Nikkei show a broken downtrend going all the way back to the 1990 top.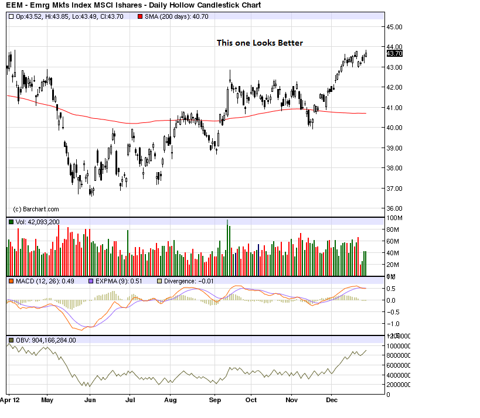 Bonds: Yields on the ten and thirty year Treasuries again tested their 200 day moving averages and pulled back, as risk aversion drove some investors to safety at year end. It looks like my longer term guess that the long bond would end the year under 3% will prove to be correct, while the benchmark ten year note continues to find resistance above 1.8%. Across the board, from TIPS to munis to corporates, bonds steadied in the final week after a difficult December.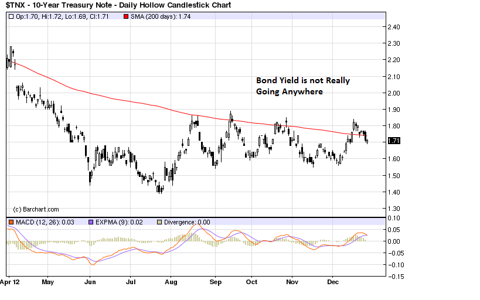 Commodities: WTI crude rallied above $90 coming out of the Christmas holiday, and held it by week's end. Copper also staged a minor rally, while gold settled into a short term trading range in the $1,650s and silver held support above $30. The grains continued to slump into year end, closing out what had been a strong year on weakness. The broader S&P GSCI commodity index tested its 200 day but could not get through.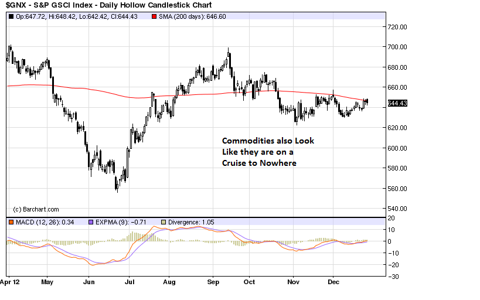 Currencies: The dollar index saw choppy trading but closed nearly flat each day, finishing just under the key support/resistance level of 80. The big action in the major currencies continued to be seen in the yen, which broke a long term uptrend on the dollar cross. In a global economy seeing austerity regimes enacted or contemplated at every turn, Japan is very much the outlier here.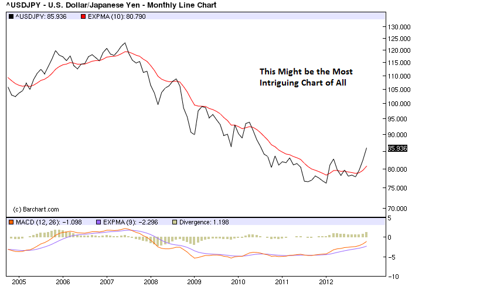 Key Takeaways from the Week:
The U.S. economy continues to show steady (if weak) growth. Once the fiscal policy picture gets sorted we could be in for a nice rally
Risk and uncertainty in the short term are clouding the picture, so a cautious approach to U.S. equities going into the New Year is warranted
Foreign markets generally, and emerging markets particularly, continue to look more attractive than the U.S. Japan, which has not attracted our interest in a very long time, is finally beginning to deserve another look
Finally, a note on the two trading strategies introduced on my blog. The ETF rotation model is going to be starting 2013 invested 50% in emerging market stocks (NYSEARCA:EEM), and 50% in international real estate (NYSEARCA:RWX), while the S&P 500 strategy will open 100% in cash.
I would like to extend by best wishes to all of you and your dear ones for a happy, peaceful and prosperous New Year.
Disclosure: I have no positions in any stocks mentioned, but may initiate a long position in EEM, RWX over the next 72 hours. I wrote this article myself, and it expresses my own opinions. I am not receiving compensation for it (other than from Seeking Alpha). I have no business relationship with any company whose stock is mentioned in this article.