In the universe of master limited partnership - MLP - investments, Enterprise Products Partners (EPD) stands apart. With a market cap of $44 billion, EPD is over 50% bigger than the next largest MLP company, Kinder Morgan Energy Partners (KMP). Of course, the full deck of Kinder Morgan companies totals out to more market value than EPD. A major benefit of the Enterprise Product Partners single company approach is that the company pays no general partner or incentive distribution rights which reduce cash available to pay L.P. unit holders.
Note: MLP companies such as Enterprise Product Partners have units and pay distributions. The words stock, shares and dividends may be used here with the understanding that the rules of MLP units apply including the tax consequences of investing in MLP units.
Riding Wave of NG Production
Enterprise Product Partners is a diversified midstream energy company. Assets include over 50,000 miles of energy pipelines, 190 million barrels of storage capacity, 25 natural gas processing plants, 21 NGL & Propylene fractionators, 6 offshore hub platforms, NGL import / export terminals and a Butane isomerization complex; octane enhancement facility; high-purity isobutylene facility. Source: Company Presentation Materials.
Although the company covers midstream services for dry natural gas and crude oil, the bulk - 57% - of revenues and gross margins come from natural gas liquids - NGL - pipelines and services. NGL processing and transport appears to be a sweet spot in the world of U.S. shale gas energy production. E&P companies realize larger profits from NGLs and are willing to pay significant fees to EPD for processing and transport. Enterprise Product Partners has built pipelines and processing facilities into basically all of the shale gas fields and the company has built its growth primarily on the tremendous growth of shale gas and oil drilling and production in the U.S.
Capital Spending Fuels Growth
Enterprise Product Partners management sees plenty of growth opportunities in the company's markets and continues to spend money on capital projects. Capital spending in 2012 was about $4 billion and the company has almost $8 worth of projects under construction. Management likes to point out the company has a long history of bringing in projects on time and under budget.
One project which caught my eye is the current construction of the world's largest propane dehydrogenation plant to produce propylene from propane. The plant is expected to go online in the second half of 2015. I have previously highlighted narrowly focused PetroLogistics LP (NYSE:PDH), which currently owns the only operating plant of this type in the U.S. Check it out.
In spite of continued high levels of capital growth spending, Enterprise Products Partners has reduced its level of debt leverage by one-third over the last four years.
Record of Investment Growth
The results to date for investors in EPD have been very rewarding. The dividend rate has been increased for 33 straight quarters and the 2012 third quarter distribution was 6% higher than the one paid a year earlier. The 10-year average annual total return from EPD is over 18% and the company has produced close to 20% per year for investors for the last 5 years.
Compared to the average returns for the last decade, 2012 was a sub-par year. From the 2011 closing price, the EDP share price is up 6%. Distributions for the year add in another 5.5% for a total 2012 return of 11.5%. You gotta love an investment where an off-year is a double-digit total return.
Conclusion
The EPD unit price is down about 10% from where it was trading in October. The last two months of the year have been hard on the energy MLPs in general. The fiscal cliff mess has put a larger than usual dose or uncertainty into the market. One thing investors can be certain of is a continued stream of rising distributions from Enterprise Product Partners. Investors looking for a stable growing income investment should be watching and ready to pull the trigger on EPD.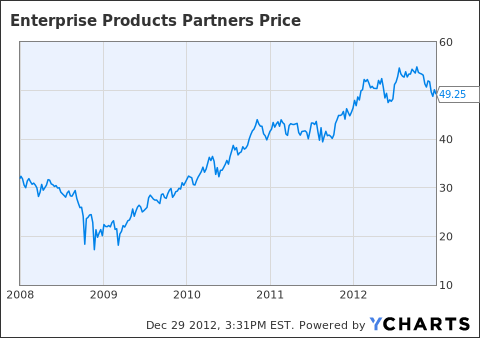 Disclosure: I have no positions in any stocks mentioned, and no plans to initiate any positions within the next 72 hours. I wrote this article myself, and it expresses my own opinions. I am not receiving compensation for it (other than from Seeking Alpha). I have no business relationship with any company whose stock is mentioned in this article.