By Siraj Sarwar
Vringo, Inc. (VRNG) is involved in the innovation, development and monetization of intellectual property and mobile technologies. Vringo's patent portfolio is composed of 31 patents, 11 of which have been granted. By having a merger with Innovate/Protect, the company owns a portfolio of 8 patents attained from Lycos, Inc. Vringo runs a global platform for the supply of mobile social applications and services such as Facetones.
In the less than five month period since Vringo closed a merger with Innovate/Protect, the company was able to strengthen its balance sheet. In addition, Vringo acquired multiple marquee patent portfolios, initiated action against ZTE's UK subsidiary, and continued to develop new technologies and intellectual properties. Moreover, the company received a jury verdict in I/P Engine's against Google, AOL and others. In this article, I look at the company's financial situation, its business plan and future prospects.
Third Quarter Operating Results:
The company has more than $60 million in cash which is enough to meet any continuous financial obligations. The net loss for the Q3 was $3.1 million. Subsequent to the merger with Innovative/Protect, the corporation recorded revenues of $226,000. On a per share basis, net loss dropped by 83 percent. Vringo submitted to a net loss of $0.06 per basic share, in comparison to a loss of $0.36 per basic share in the Q2 of 2012.
Scalable business plan
The company is undertaking a scalable business plan with a target in mind to monetize its existing patent portfolio. In addition, Vringo teams up with business professionals and world-class law firms to find superior risk adjusted returns for investors.
The merger with Innovative/Protect was finished less than 4 months back. With strengthening financials, the company's balance sheet shows more than $60 million in cash and no debt. The company also declared "under subsidiary Vringo Labs", they filled up "nine" provisional patent applications. Furthermore, the firm started to build the telecom infrastructure collection with the purchase of the Nokia (NYSE:NOK) patents while in the Q3. Vringo also filed a lawsuit in the UK versus a subsidiary of ZTE Corporation, a major manufacturer of telecom equipment.
Vringo received a favorable jury judgment versus Google (NASDAQ:GOOG) on November 6, 2012 in a patent litigation. I believe that Vringo has designed a powerful, unique, and scalable business model as a corporation that creates, develops and monetizes intellectual property and technology. I continue to see their strategy as being a scalable model.
Vringo expects to keep innovating and acquiring intellectual property and technologies in their key expertise. I believe the company has demonstrated with the portfolios already acquired from Nokia, Lycos and Quantum Stream. Vringo foresees an outstanding opportunity in the IP sector which turns into an attractive asset class commanding substantial attention and investment.
The Speculative stock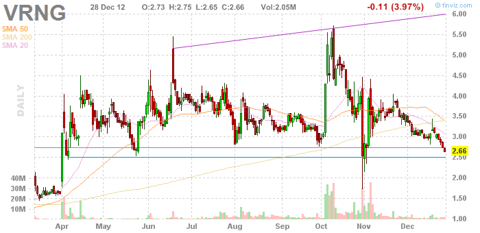 Source: Finviz.com
Fundamentally, the company has few positives. Vringo has a gross margin of 74 percent. The company's EPS this year is up 40 percent. In addition, the company has $0.66 in cash per share. Nonetheless, the reason investors may begin a position in Vringo will most probably not be based on fundamentals, but speculative upside potential.
Technically, the company's stock has leveled off and been under accumulation for numerous months. Vringo's stock continues to trade between $3 and $6 with shaky swings. I believe this is standard behavior for patent lawsuit players. At the moment, the stock is resting around $2.77.
Vringo's stock recently jumped 5 percent after the U.S. federal court recommended 3.5 percent royalty on U.S. AdWords revenue. The company's stock calmed down in recent days following enormous volatility during the trial. Vringo is a speculative play, but currently trading near the bottom of the latest trend channel. I believe a part of a portfolio could be dedicated to speculation and Vringo could be that speculative stock.
In Conclusion
With regards to Vringo, the actual software development corporation goes, there's a little investment here. For the Q3 of 2012, the company documented an operating loss of $10 million on revenues of $266,000. In fiscal 2011, Vringo documented zero revenue.
In terms of the firm's intellectual assets, I believe the success they are about to achieve against Google sends a chill through the industry and obviates the need for Vringo to litigate going forward. Several companies will accept to pay the licensing fees Vringo is challenging, and that should enhance Vringo's cash flows.
I also expect the corporation to be very active in chasing such fees with a backlash of their Google victory. Vringo stock clipped on news of victory in court, and subsequently, gave it all back. It's challenging to believe we'll see a continual rise in stock if or till the actual product the corporation sells catches on.
Disclosure: I have no positions in any stocks mentioned, and no plans to initiate any positions within the next 72 hours.
Disclaimer: EfsInvestment is a team of analysts. This article was written by Siraj Sarwar, one of our equity researchers. We did not receive compensation for this article (other than from Seeking Alpha), and we have no business relationship with any company whose stock is mentioned in this article.