Discover Financial Services (NYSE:DFS) reported earnings on Thursday, December 20th of $1.07 per share, missing estimates by 6 cents per share. Net income was up 7.4% year-over-year and total loans, credit card loans and Discover card sales volume all increased 6% from the same period a year ago. Charge-offs reached a historic low in the quarter and credit card loans more than 30 days past due was 1.86%. While delinquencies increased slightly sequentially they are down 53 basis points year-over-year. The miss on earnings was driven by higher expenses related to increasing headcount, marketing and rewards.
In the coming year Discover will continue to face some higher costs as it continues to get the home lending unit running, and its works on the PayPal partnership. Furthermore the company sees a lot of investment opportunities to drive growth into the future. The over 6% increase in receivables in the quarter was higher than management had indicated, and while management expects growth into next year it will likely not be quite as high. I think this is positive has a fair amount of this growth likely carried through to the rest of the holiday season. However, some of the increase in receivables was likely driven by retailer's ever expanding sales after Thanksgiving, moving some sales from December to November. This could have contributed to November seeing the largest year-over-year increase in receivables for Discover. Management indicated the increase in receivables was a balanced between current customers increasing balances and new accounts.

When you look at Discover's valuation compared with some of its peers it still appears undervalued. Discover's forward P/E is 8.46, the lowest in the group. The company's PEG ratio at .82 is considerably lower than American Express (NYSE:AXP) at 1.17. Also Discover has the highest dividend yield and is growing its dividend. The company has a dividend payout ratio of about 12% and the company will likely work to increase the dividend pending approval from the Fed. Discover has also had one of the best growth rates and has been gaining market share in credit cards for some time. Discover has been using its strengths including very high customer satisfaction and strong rewards to win customers.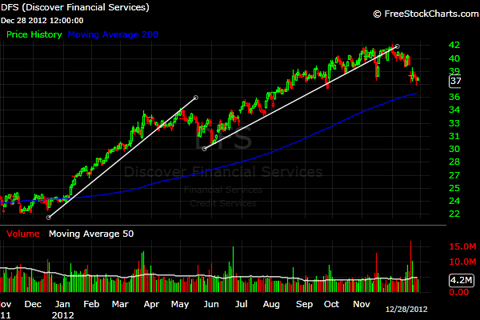 The chart shows two strong uptrend's that have taking the stock from $24 per share to $38 per share in 2012. There has been a pullback over the past month and while it looks like the trend has been broken I believe this is more a short term pullback rather than a larger decline. The 200 day moving average could provide support in the near term and put and end to the down trend. The pullback in Discover is presenting a good buying opportunity for investors and I would look for the stock to hold the 200 day and using that as an entry point. This downtrend has likely been accelerated by the fiscal cliff as investors worry about what hit the cliff will cause to consumer confidence. As we are hopefully close to an end of fiscal cliff standoff I believe investors will soon start looking past this issue as they prepare their portfolios for 2013.
Data sourced from: Company filings, and Yahoo!Finance. Chart from: Freestockcharts.com
Disclosure: I have no positions in any stocks mentioned, and no plans to initiate any positions within the next 72 hours. I wrote this article myself, and it expresses my own opinions. I am not receiving compensation for it (other than from Seeking Alpha). I have no business relationship with any company whose stock is mentioned in this article.