With the increasing fear of the unknown last chapter of the Fiscal Cliff, it is clear that REITs are beginning to look like the "goose that laid the golden egg." As we all know, there is nothing new or significant pertaining to REITs, except that non-REIT dividends are likely to revert to being taxed at ordinary rates in 2013.
As the Bush Tax Cuts expire (at the end of the calendar year in 2012), REIT income will soon be on a much more level playing field as compared with non-REITs whose tax advantage is likely to be removed. Hence, REITs will not be affected and that will make the asset sector even more attractive, compared to C-Corporations.
As I wrote in a recent Seeking Alpha article (Why Sound Investors Should Consider My "Bond-Proxy" REIT Picking Strategy):
Triple-net REITs are generally at the top of most investor wish lists - and for the same reason - many of the newest proposed REITs have considered entry to the durable triple-net income sub-sector. Among the new triple-net candidates include Lamar (NASDAQ:LAMR) - see article here, Penn Gaming (NASDAQ:PENN) - see article here, and Iron Mountain (NYSE:IRM) - see article here. The "bond-like" net lease alternative is attractive not just because of the relative simplicity of being the landlord of a single-tenant triple-net leased investment, but also because of the security offered by the repeatable income fundamentals of these properties.
As I was writing the above-mentioned article, I ran across a REIT that seemed to provide an interesting value proposition. In addition, I wanted to determine if there is another healthcare REIT that I could include in my upcoming Forbes newsletter "sleep well at night" portfolio. As I wrote (in the above-referenced Seeking Alpha article):
In general, the healthcare REIT occupancy rates are more closely aligned with the office sector rates; however, the strong demand in medical space (and low new supply) has enabled healthcare occupancies to become more closely aligned to the triple-net REIT sector. Clearly the strong demand in the stand-alone asset class is what makes the "bond-like" classification so attractive.
Is LTC the Right REIT For Me?
LTC Properties, Inc. (NYSE:LTC), based in Westlake Village (California), is a healthcare REIT that invests primarily in the long-term care sector of the healthcare industry through the origination of first mortgage loans and acquisition of properties that are leased to numerous long-term care providers. LTC was incorporated on May 12, 1992 in the State of Maryland and commenced operations on August 25, 1992. LTC invests primarily in senior housing and long-term healthcare property types including skilled nursing properties (or SNF), assisted living properties (or ALF), independent living properties (or ILF) and combinations thereof.
As of the latest quarter (Q3-12), LTC owned assets of approximately $710 million with total debt of around $224 million. The majority of LTC's assets are invested in skilled nursing (54%) - followed by assisted living (36%), other senior housing (18%), and schools (1.4%).

Most of LTC's assets are invested in real property (94.3%) with a small amount invested in loans (5.7%).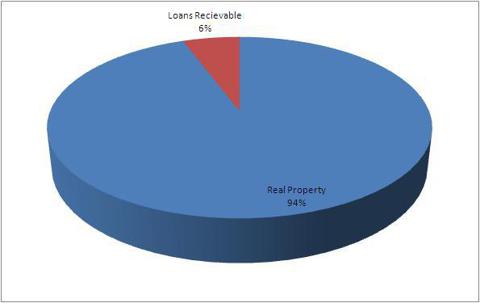 LTC has a diverse portfolio of assets scattered across 35 States. Texas has the highest concentration (26.8%), followed by Ohio (13%), Florida (7.9%), and California (6%).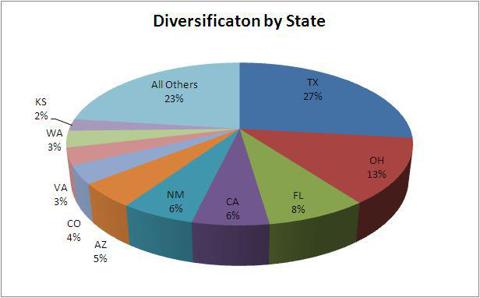 Here is snapshot (chart) of LTC's geographic diversification (by State) and by gross investment: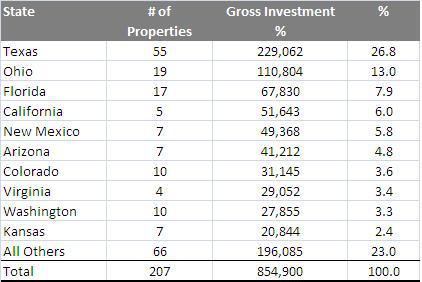 Does LTC Have a Sustainable Income Model?
About a month ago, I wrote a Seeking Alpha article on Omega Healthcare Investors (NYSE:OHI). While researching that article (and since Omega has around 97% concentration in skilled nursing operators), I decided to examine the potential risks that could impact most (from the Affordable Care law) and specifically, the operators that receive reimbursements from Medicare.
In particular, skilled nursing facilities (nursing homes) draw 40% to 50% of their reimbursements from Medicare and that appears to be the biggest threat for healthcare REITs that derive income from that sector.
Like Omega, LTC has a majority (54%) invested in skilled nursing and both Omega and LTC house their tenants under triple-net leases. Omega is much larger in size ($2.643 billion market cap) compared to LTC ($1.063 billion market cap) and Omega has 460 properties (435 skilled nursing properties) compared with LTC's 207 properties (89 skilled nursing properties).
The biggest threat for the long-term care sector is the possibility that their tenants could be impacted by the operators' health and ability to pay rent. In the case of Omega, there are 44 different operators, the largest of which is Communicare (36 facilities and 11.4% of rent) - followed by Sun (40 facilities and 11.1% of rent), and Airamid (38 facilities and 7.9% of rent).
LTC has 32 operators including skilled nursing tenants like Ensign Group (NASDAQ:ENSG), Skilled Healthcare Group (NYSE:SKH), Preferred Care, Sun Healthcare (NASDAQ:SUNH), and Senior Care Centers. LTC's largest assisted living tenants include Brookdale Senior Living (NYSE:BKD), Emeritus Senior Living (NYSE:ESC), Assisted Living Concepts (NYSE:ALC), Senior Lifestyle Corp., and Sunrise Senior Living (SRZ).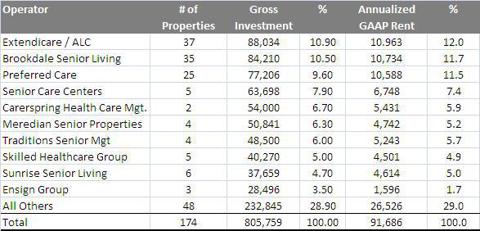 Here is a snapshot of LTC's gross investment by operator: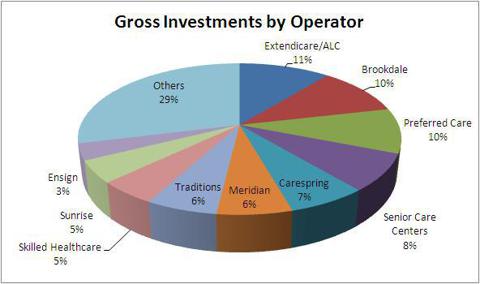 Upon further review, it appears that one of LTC's primary tenants, Assisted Living Concepts is having trouble. While Sunrise and Brookdale have traded up in recent months, ALC shares have dropped over 42% this year. The company has had a losing streak of losses with declining occupancy and revenue. Earlier this year, the CEO was booted and the company is trying to find its footing by refurbishing facilities and paying down debt.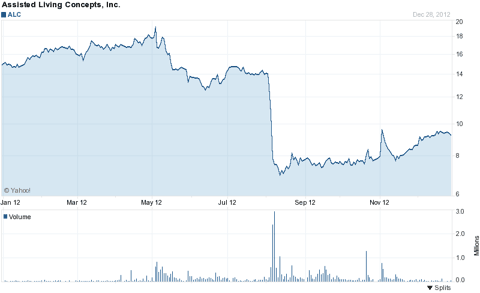 Clearly Obamacare adds to the drama as many healthcare operators are continuing to face pressure with declining profitability. I think that ALC is an isolated example; however, as many of the operators (like BKD and SRZ) are reporting positive and improved earnings.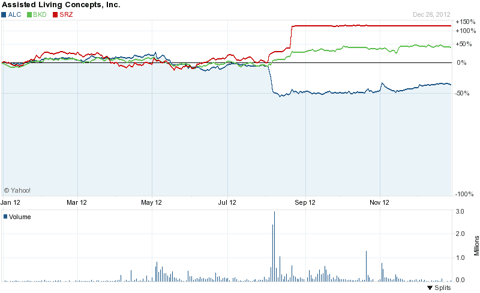 During LTC's recent earnings call, Wendy L. Simpson, CEO and President, explained the impact (or lack of impact) on ALC:
As I've said in the past, then I reiterate now, there is no reason to assume that LTC will not collect all rents due us under our two master leases with ALC/Extendicare. ALC disclosed in their 10-Q that they might, they violate debt covenants at year end. Our leases with ALC/Extendicare do not provide that this potential default will be a default under our leases. ALC also stated in their 10-Q that it is working to get waiver. ALC's selling asset it could give more security to the banks, it could pay higher interest, there appears to be ways to negotiate a waiver.

There is no reason to believe that the assets will be in a diminished physical condition at the termination of our master leases. There is no reason to believe that LTC will not be able to collect the same is not more rental income when the master lease terminates on the properties that are now covering 1.2 time after 5% management fee and have been operated under a challenging turnaround environment.
Furthermore, Simpson explained that ALC is making progress with its new management team:
I'm sure many of you who have listen to the recent ALC Conference Call, Dr. Roadman, the Interim CEO discussed many improvements that he and his team have implemented and will implement at ALC. They indicated that they are making progress with lending relationship with regulators, employees and residence.
Here is a snapshot of LTC's occupancy including and excluding the impact of ALC:

Here is a snapshot of LTC's EBITDAR coverage including and excluding the impact of ALC.

What I Like About LTC?
One thing that I noticed when I was writing the "Bond-Proxy" REIT article is that LTC has an exceptionally conservative balance sheet. Compared with all 18 REITs that I researched in that article, LTC had the second lowest debt-to-market cap ratio (18.1%). Note: National Health Investors (NYSE:NHI) had the lowest at 11.9%.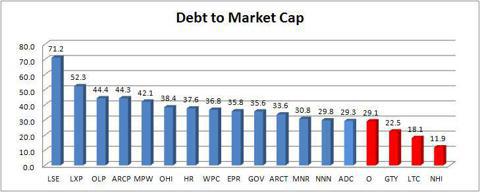 Another positive for LTC is the fact that the company has just a small fraction of secured debt - just 1.2%. That is also the second lowest REIT just beat out by National Retail Properties (NYSE:NNN) with secured debt of just 0.7%.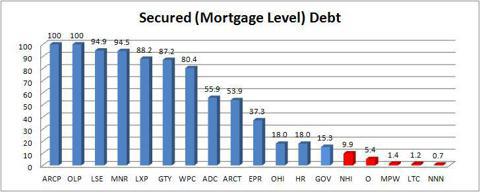 LTC's capitalization consists of around $971 million in common stock, $38.5 million in preferred stock (Series C), and total debt of around $224 million.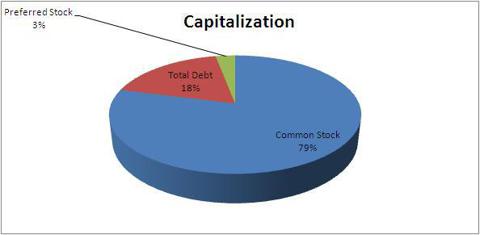 The debt is broken down as follows: $35 million in bank borrowings (LIBOR + 125 bps), $185.8 million in senior secured notes (weighted average rate is 5.17%), and bonds payable (weighted average rate is 2.21%).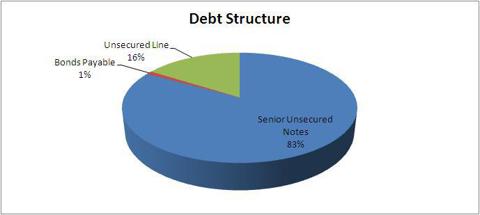 LTC has no meaningful debt maturities until 2015 ($29.166 million in notes) and the company's lease roll-overs are fairly staggered.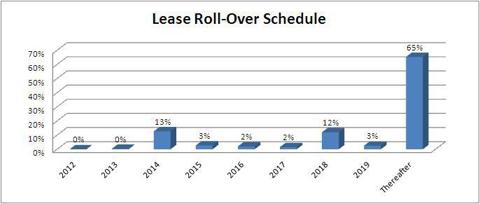 So How Does LTC Stack Up Against the Other Net Lease Players?
First, let's take a look at LTC, compared with the healthcare peers.
LTC's shares are trading at $34.85 with a market cap of $1.063 billion. The latest (Q3-12) AFFO is $17.362 million. Compared with the direct peer group, LTC is trading at a fair multiple.

The current dividend yield is 5.34% and that puts LTC right in the middle of the pack (average of this peer group is 5.37%).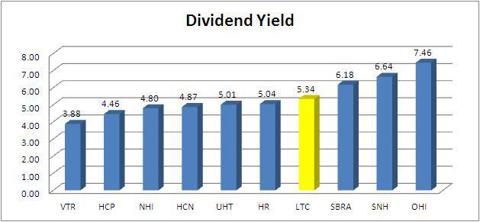 Now, let's take a look at how LTC compares with the broader "bond-proxy" group. As you can see, there is nothing great, just in the middle of the pack.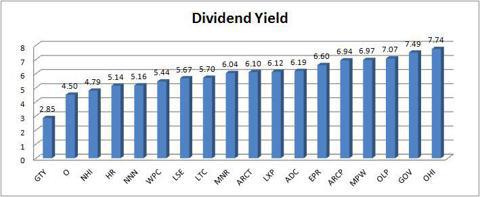 Now Let's Compare to the Big Bad Dividend Machine
OK. Now I can put this bond-proxy example to work as a "real life" example. As I explained in that article (referenced above):
My theory of Realty Income (NYSE:O) as a "bond-proxy" alternative goes that bonds are meant to stabilize your portfolio and dampen the volatility inherent with the violent swings of the stock market. They are also meant to provide diversification benefits by zigging when stocks zag and vice versa. In this way, bonds can significantly reduce the risk of your portfolio without reducing returns too much. Realty Income seems to meet both of these requirements with higher returns and income than the average bond fund.
So as Realty Income as the "bond-proxy" benchmark, let's take a look at the "dividend machine's" dividend payout history: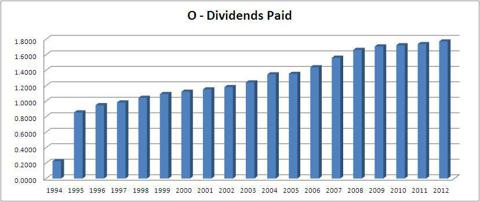 Now that is a smooth-looking dividend chart… how does that compare with LTC?

Oops. Fumble. As you see, in 2001 there is no love for LTC. Not one quarter of mailbox money. Now, in all fairness, LTC has rebounded nicely and in fact, the company started paying monthly dividends in 2005 (the company was paying quarterly before that) and during the third quarter (of 2012), LTC increased its monthly common dividend from $14.05 per share to $15.05 per share.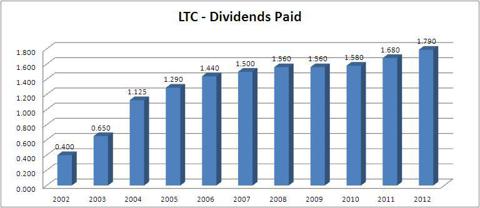 But let's take a look at the historical dividend growth of LTC compared with a stalwart "monthly dividend machine".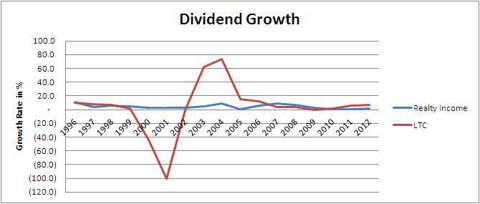 Drilling down further, take a look at Realty Income's growth history: It's not the best growth chart I have ever seen but pay special attention to the years that I highlighted in yellow - the years we call the Great Recession. While most REITs were busy cutting or suspending dividends (only 11 REITs increased), the "monthly dividend machine" kept on ticking….

Does LTC Fit Inside My Box?
Overall, I like LTC. As noted above, I was initially attracted to the REIT because of the very well-positioned balance sheet. In addition, I like the fact that the company has not cuts its dividend in 10 straight years.
However, the sector is clearly at risk and its primary tenant, Assisted Living Concepts, is having difficulties. When compared with the broad "bond-proxy" net lease group, I feel as though there are too many other REITs that provide a much more attractive risk-adjusted return. Specifically, there is less than a 100 bps difference in dividend yield between Realty Income and LTC.
Consider this. Would you rather own the "dividend machine," an investment grade rated (S&P: BBB) REIT with over 2,838 individual net lease properties that consist of 144 different tenants and 44 categories, (that portfolio will likely grow to 3,345 properties with the merger of ARCT) that pays 4.50% OR would you prefer to own LTC with 207 properties and 32 tenants (many of which are under pressure due to Obamacare) that pays a 5.34% dividend?
In addition, I think there are better ways to play healthcare. As I have written in previous article, I like Healthcare Trust of America (NYSE:HTA) - paying a 5.84% dividend, Medical Properties Trust (NYSE:MPW) - paying a 6.81% dividend, or Omega Healthcare - paying a 7.46% dividend.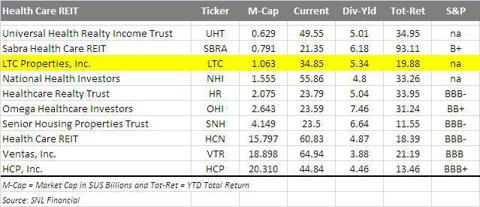 Alternatively, if LTC shares drop below $25.00, you are back in bargain range (analyst consensus is $26.75 to $27.50) or perhaps you should consider the preferred shares (Series C) with an 8.5% yield.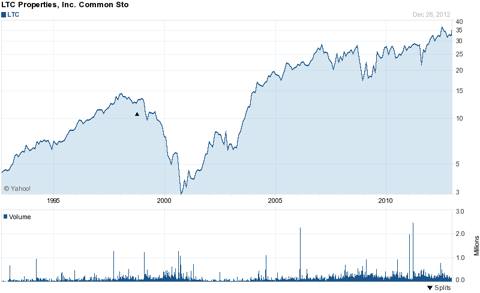 For those who have been invested in LTC for a while, it may be time to look at rebalancing the portfolio and riding out the Assisted Living Concepts risk by finding a more risk-aligned healthcare REIT. Given the continued risk of the highest risk healthcare sector (long-term care), I believe there are better alternatives that will help you "sleep well at night."
Source: SNL Financial and LTC Presentation (November 2012)
Companies mentioned: (NASDAQ:SBRA), (NYSE:HR), (NYSE:SNH), (NYSE:HCP), (NYSE:VTR), (NYSE:UHT), (NYSE:LSE), (NYSE:LXP), (NYSE:OLP), (ARCP), (NYSE:MNR), (NYSE:GTY), (NYSE:WPC), (NYSE:EPR), (NYSE:GOV), (NASDAQ:ARCT), (NYSE:ADC).
Disclosure: I have no positions in any stocks mentioned, and no plans to initiate any positions within the next 72 hours. I wrote this article myself, and it expresses my own opinions. I am not receiving compensation for it (other than from Seeking Alpha). I have no business relationship with any company whose stock is mentioned in this article.