Though the bulls started out last week with some modest optimism that the United States might avoid falling off the fiscal cliff, they sure didn't end the week that way. Things went from bad to worse on Friday, pushing the market and option trading to the brink of a technical meltdown whether or not Washington comes to its senses now.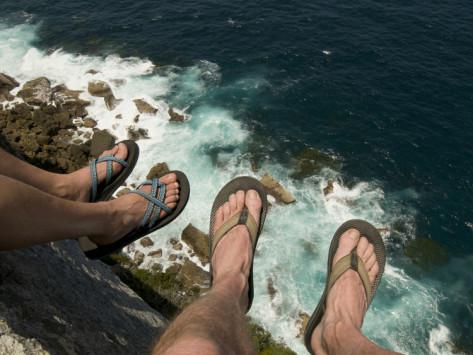 Still, though on the brink, we're not past the point of no return just yet. We'll dissect the bull/bear cases below, right after we run down the major economic numbers on the way this first week of 2013.
Also coming on New Year's Day - since it's that time of year - a wrap up of how the market's major sectors, styles, and market caps performed in 2012, and what that may mean heading into 2013.
Economic Calendar
Last week was pretty light in terms of economic data, though we did get a big dose of housing data…mostly good.
No fanfare needed - the Case-Shiller Index said home prices rose by 4.3% in October, pending home sales were up 1.7% for November, and new home sales moved up to an annual pace of 377,000 (versus expectations of 379,000). As we noted a week ago, the real estate and construction numbers have been reliably improving for well over a year, so it should be no surprise we saw another round of encouraging numbers on this front last week. Don't chalk last week's up to mere luck.
The only other item of real interest from last week was the sizable plunge in consumer confidence. The Conference Board's consumer confidence reading for December fell from November's 71.5 to 65.1. The bigger trend is still an upward-pointing one, so we don't want to jump to conclusions. But, this will be a data set we want to scrutinize a little more than usual for a while.
Consumer Confidence (vs. S&P 500)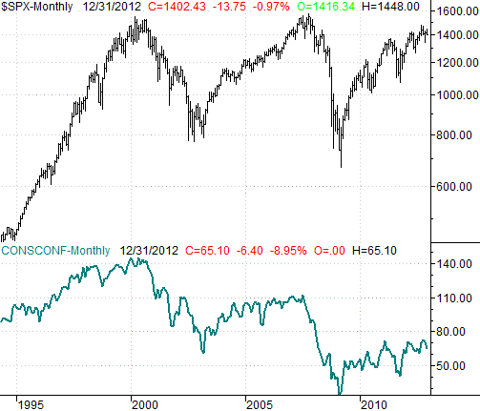 Economic Calendar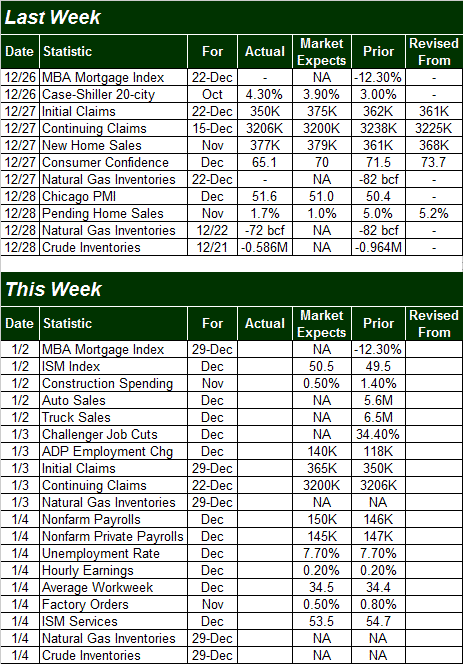 As for the coming week, it's a fairly busy one, especially in terms of employment.
On Thursday we'll get an early look at December's payroll creation, via the ADP employment change report. The pros are looking for 140,000 new jobs, while the government number from Friday is expected to show 150,000 new nonfarm payrolls (145,000 nonfarm private jobs created). Unfortunately, that still won't be enough to push the unemployment rate lower than November's reading of 7.7%.
We'll also get November's factory orders on Friday. Economists expect an increase of 0.5%, which is a slightly lower pace than October's 0.8% rise.
Stock Market
Although Thursday's trading went pretty deep into the red early in the session, at least the bulls managed to fight back later in the day to push the S&P 500 (SPX) (NYSEARCA:SPY) back above the 50-day moving average line. Not so on Friday. On Friday, the market opened at the high and proceeded lower all day long, to close at the low for the day. That was more than enough selling to carry the index under the key 50-day moving average line (on a closing basis) for the first time since early December. The downward move also pulled the S&P 500 under the 20-day and 100-day moving averages; point being, the pullback is no trivial matter.
The CBOE Volatility Index (VIX) (NYSEARCA:VXX) also pushed through to new multi-week highs, breaking above its upper Bollinger band as firmly as it has in months. Take a look.
So we're bearish on the broad market (NYSEARCA:DIA) (NASDAQ:QQQ) (NYSEARCA:IWM)? Not quite, for a handful of reasons.
First and foremost, the fiscal cliff dilemma is 100% in the driver's seat, pushing stocks around at will. Whether it actually matters or not, that debate has the power to send stocks upward or downward, so there's no real need to take anything to heart…at least not yet.
Even without the fiscal cliff, however, the lower 20-day Bollinger band as well as the key 200-day moving average line are both still below the S&P 500′s value, ready to act as a floor when necessary.
As for the VIX, yes, it's decidedly moving higher, but there's something fishy with the way it's done so. It's too much, too fast. While the breakout may be the beginning of a longer-term move, for the time being, the VIX is overextended, which means the S&P 500′s dip is also overextended. As was noted though, the fiscal cliff issue could lead to any number of outcomes for stocks. For the time being, however, the index remains stuck in a range, and we should expect it to remain range-bound (1390 to 1444) until it's clear it's snapped out of that rut.
Disclosure: I have no positions in any stocks mentioned, and no plans to initiate any positions within the next 72 hours. I wrote this article myself, and it expresses my own opinions. I am not receiving compensation for it. I have no business relationship with any company whose stock is mentioned in this article.
Additional disclosure: BigTrends Rapid Options Income subscribers have an open SPY options position.