With 2012 at an end and the new year upon us, pros and amateurs alike are busy analyzing the trends that defined the outgoing year and going on record with their predictions for the coming 12 months. As I peruse the myriad reflections and prognoses, I continue to come to the same conclusion: if stock prices are connected at all to the general well-being of the U.S. consumer (and they certainly should be related given that consumption accounts for three quarters of economic output), the path that lies ahead for U.S. equities might prove to be quite arduous.
In a recent article, I suggested that because private sector wage growth in the U.S. is running well below the two decade average and because real disposable personal income growth is stagnant, the ability of the average American consumer to support the economic recovery via spending will be constrained for the foreseeable future. The counterpoint to this argument, which I highlighted on my website, comes courtesy of the Reformed Broker's Joshua Brown who notes that betting against the resiliency of the U.S. consumer can be any great economist's Waterloo. Brown points to the fact that the Consumer Discretionary Select Sector SPDR Fund (XLY) staged a "rally on top of a rally" in 2012, outperforming the S&P 500 by 30%.
To me, it isn't really a matter of betting against the U.S. consumer's resiliency -- framing it thus seems to suggest that it is the spirit of consumerism in question. While Americans will no doubt want to spend more, it appears that economic realities will eventually conspire to inhibit that consumption. For example, Jeff Gundlach, CEO at DoubleLine Capital, recently highlighted the following chart which shows wages in the U.S. as a percentage of GDP: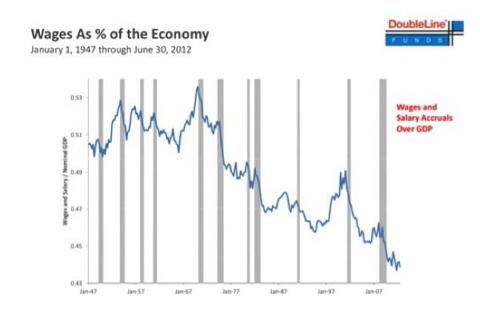 Source: DoubleLine
The above graphic is astonishing as it shows wages as a percentage of the total economy are at all-time low and have been consistently putting in new lows for about the last four years. From Gundlach:
Many jobs created since the financial crisis have been in lower wage occupations, and workers are also receiving less benefits than they were before.
Relatedly, Millan Mulraine, the director of rates, FX, and commodities research at TD Securities, recently highlighted a chart which shows the steep and prolonged decline in the year-over-year growth rate of average hourly earnings for production workers. His chart was a bit blurry, so for clarity's sake, I present the same chart via the St. Louis Fed's database: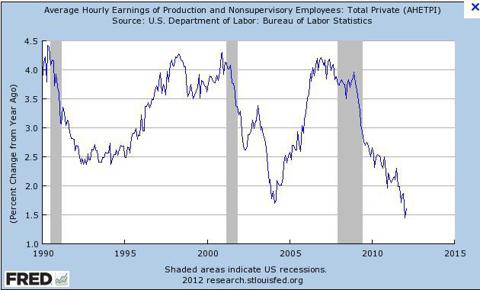 Source: St. Louis Fed
As you can see, average hourly earnings are barely growing at all. In fact, according to Bloomberg's Rich Yamerone, the 1.1% year-over-year increase in October was the "lowest since record keeping began in 1964." Note the growth rate in November was 1.3%. That is not even enough to keep up with the modest level of inflation reflected in the Consumer Price Index (CPI).
Also remember that those of a skeptical persuasion will likely argue that the disparity between the growth rate of hourly earnings and the increase in the CPI is perhaps far greater than that which can be calculated from headline figures. Recall that as of 1999, the CPI is calculated using a geometric mean formula which, according to the Bureau of Labor Statistics (BLS),
...reflects the fact that consumers shift their purchases toward products that have fallen in relative price.
The BLS acknowledges that this change has led to accusations that it is under-reporting price increases by assuming a substitution effect that may or may not take place, but denies these charges on the above cited web page, which is appropriately titled "Common Misconceptions About The CPI: Questions and Answers."
While one can argue about the validity of switching to the new method, what seems indisputable is that, as Lance Roberts of StreetTalkLive recently noted,
...the primary result of the switch to a geometric weighting was a lower weighting to CPI components that were rising in price, and a higher weighting to those items dropping in price.
Some critics have charged that this, in conjunction with other statistical sleights of hand, have resulted in a substantial reduction in the reported CPI.
Of course, in terms of predicting consumption, whether or not the CPI is understated is really a secondary concern given that, as noted above, real wage growth in the U.S. is negative even if one accepts the reported CPI. Questions about the accuracy of reported price increases then are simply questions about just how negative real wage growth really is. The following chart shows the year-over-year change in inflation adjusted hourly earnings: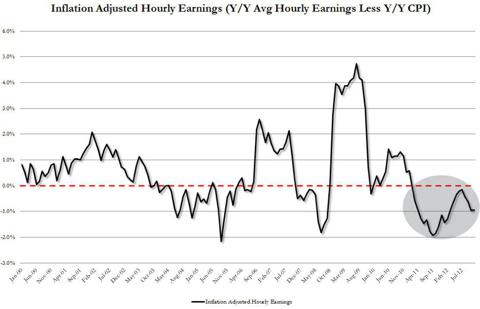 Source: ZeroHedge
Put simply, if real wage growth is negative, it is quite difficult to see how the consumer can support the floundering economy, no matter how much he or she would like to.
This is bad news for the U.S. economy and, by extension, U.S. equities. Despite the grim outlook for the consumer and the likely knock-on effect for domestic economic growth, investors are nonetheless shockingly optimistic about the prospects for U.S. equities. For its part, Morgan Stanley recommends being underweight U.S. stocks in 2013, calling the U.S. a "crowded trade with the most earnings risk in a relatively expensive market." This is perhaps an understatement. According to NYSE data, margin debt recently hit a 5-year high, meaning investors are leveraged long, a position which could prove quite costly should the market gap lower.
Many investors who remain long U.S. stocks seem to be of the mind that the U.S. can indeed spend its way back to prosperity. Remember: one cannot spend what one doesn't have, and until real wage growth is once again positive it is difficult to take seriously even cautiously optimistic positions regarding U.S. economic growth. Given the above considerations, investors should expect a challenging macro environment in 2013. This should contribute to increased uncertainty and should ultimately cause U.S. stocks (SPY) (QQQ) to perform poorly on balance throughout the year.
Disclosure: I have no positions in any stocks mentioned, and no plans to initiate any positions within the next 72 hours. I wrote this article myself, and it expresses my own opinions. I am not receiving compensation for it (other than from Seeking Alpha). I have no business relationship with any company whose stock is mentioned in this article.