Mr. Market is obsessed with Apple (NASDAQ:AAPL) Computer. And why not? Expert after expert along with analysts by the car load are predicting that Apple could become the world's first trillion dollar company, exceeding $1,000 per share in the near future. It would be interesting for some data geek somewhere to come up with the number of articles about Apple written in the last year. It seems everybody has something to say about Apple.
Some of the articles you find cite number after number without ever saying a word about what this storied company actually does. Take away the irrational and rational hype stemming from Apple's astounding numbers, and you realize that at its core Apple is a gadget maker. They have so far managed to avoid the fate of other revolutionary gadget makers like Polaroid and Palm by expanding and improving the core gadget line. In this article we will talk about a weak link the market may be ignoring - Apple's Research and Development spending.
Make no mistake about it; the rise of Apple follows the introduction of the company's game changing gadgets. Here is a share price chart for Apple from Yahoo Finance going back to 1985.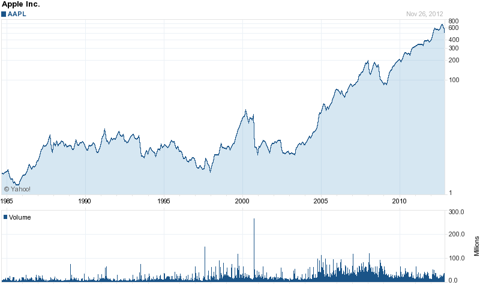 The first iPod was released in 2001. Following some improvements in 2002, the 2003 release added the iTunes Music Store; elevating the iPod from product to platform. In 2004, the iPod mini was released and sent the stock northward, an uptrend that has continued largely unabated.
Apple introduced its first iPhone in 2007 and the first iPad in 2010. It is interesting to note none of these products were "firsts." The iPod crushed Sony's (NYSE:SNE) Walkman and a variety of MP3 players through innovative design and the addition of the platform. IBM (NYSE:IBM) introduced the first Smartphone called Simon in 1992 but it proved to be too pricey. In 2000 Ericsson (NASDAQ:ERIC) introduced the first cell phone called a Smartphone. The iPad was not even Apple's first attempt at tablet computing. Remember the Newton MessagePad? What Apple has done brilliantly was integrate entertainment platforms into these devices that allow for a seamless and reliable user experience.
Apple Bulls see two catalysts in the near term that could propel the stock to the coveted $1,000 level. The first is China Mobile (NYSE:CHL) adding the iPhone to its line. The second is the introduction of the iTV.
The China Mobile deal appears likely as the company's rivals already offer the iPhone. Apple's legendary secrecy has led to a good deal of confusion about the iTV. On the one hand you have an analyst at Piper Jaffray saying the launch is imminent. On the other hand journalist and blogger John Paczkowski questions that claim, stating the launch is "probably" not imminent.
The iTV will come out sooner or later and it will probably follow Apple's success at integrating and improving existing technologies into that legendary seamless and reliable user experience. Add the iTV launch to a China Mobile deal and you have two catalysts that could return the stock to its status as an unquestioned Wall Street Darling. But then what?
In the analyst community one of Apple's biggest Bulls is analyst Gene Munster from Piper Jaffray. A recent article in the online edition of Forbes had this quote from Munster with a word of caution about the current price target of $900. Here is the quote:
The key risk to the Apple story is pace of innovation. While we have not seen anything to make us believe innovation will slow, it is the fundamental barrier that stands between shares at $600 and at $1,000. Apple has won the ecosystem and interface war, and must continue to innovate around its leadership position to grow the business. Going forward, consumer interest in owning future Apple products is a key metric to measuring Apple's pace of innovation.
We think Piper may be missing the weak link in the Apple juggernaut. While Apple rose to prominence, other tech titans like Microsoft (NASDAQ:MSFT) and Google (NASDAQ:GOOG) were ignoring the hardware space. That has changed. The point is while the pace of innovation at Apple may be constant; its rivals are entering the hardware space and spending a lot more on R&D than Apple.
Mashable reports Apple's latest 10-K filing shows a 29% increase in its R&D budget. The dollar amount was $1 billion, still leaving Apple behind others nipping and biting at its market share. The following table summarizes total spending and spending as a percent of sales for Apple's major competitors:
| | | |
| --- | --- | --- |
| Company | R&D Expense | R&D as % of Sales |
| Microsoft | $9.8 billion (FY 2012) | 13% |
| Samsung (OTC:SSNLF) | $9.1 billion (FY 2011) | 6% |
| Nokia (NYSE:NOK) | $7.3 billion (FY 2011) | 14.5% |
| Google (GOOG) | $5.2 billion (FY 2012) | 13.6% |
| Apple | $3.4 billion (FY 2012) | 2% |
| Hewlett-Packard (NYSE:HPQ) | $3.3 billion (FY 2011) | 3% |
| Amazon (NASDAQ:AMZN) | $2.9 billion (FY 2011) | 6.1% |
In truth Apple has lagged behind in R&D spending for some time investing around 2% of sales for the last three years. Instead of obsessing over the number of iPhones sold, Apple investors might do well to think long and hard about the company's position for excellence in innovation.
A November article in Business Insider relates a post on social media site Tumblr from former Apple engineer Patrick Gibson. Gibson makes the salient observation that Google is getting better at designing gadgets much faster than Apple is getting better at Internet services. Internet services are key to Apple's ecosystem and Gibson goes on to list a host of Apple failures in that arena.
Google's Android operating system has grabbed the collective lead in Smartphone market share and the successful Nexus 7 is crimping Apple's iPad business. Some investors make the mistake of focusing on Apple's Smartphone dominance as a manufacturer. However, as the following chart from Wikipedia shows, the Apple operating system lags behind Android.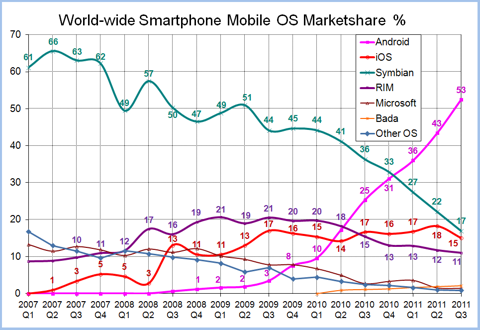 Figures for Q3 2012 are in and as reported in Gartner newsroom, things are not looking up for Apple. Android's worldwide market share has climbed to 72.4% while Apple's has dropped to 13.9%.
Our final argument about Apple's weak link comes from none other than co-founder of the company, Steve Wozniak. The Washington Post reports that in a recent interview with TechCrunch, he was asked if he thought Microsoft was now a more innovative company than Apple. Wozniak is quoted as saying he feared that Microsoft may have been sitting in their labs while Apple was just used to cranking out the newest iPhone and falling a little behind, and that worried him greatly.
Disclosure: I have no positions in any stocks mentioned, and no plans to initiate any positions within the next 72 hours. I wrote this article myself, and it expresses my own opinions. I am not receiving compensation for it (other than from Seeking Alpha). I have no business relationship with any company whose stock is mentioned in this article.