Background
Silicon Motion (NASDAQ:SIMO) is a small-cap fabless semiconductor company that develops three major products:
Mobile Storage (68% of net sales)
Mobile Communications Products (28% of net sales)
Multimedia/Mobile Graphics Products (4% of net sales)
While the company has seen extremely nice revenue and profit growth over the last several years, the stock now trades at extremely cheap valuations on a P/S, P/E, and PEG basis. The company also has a very clean balance sheet ($146M in cash, no debt), which further adds to the value proposition of the stock at the ~$14/share level ($451M market capitalization).
There are a number of reasons that the stock could be trading as cheaply as it does:
Market inefficiency misprices the stock simply because it is not particularly well known.
The market (correctly or incorrectly) foresees significant structural headwinds that could significantly put a damper on growth rates going forward.
In this article, I am to determine which of these is driving the current stock price and to see if there is a significant investment opportunity.
Analyst Estimates
For a high-growth company, the first place to look is on the analyst estimates for the top-line growth. The analysts covering Silicon Motion expect that the company will turn in $283M on the top line for the current fiscal year (ending in December), representing 26.3% growth over the previous year. Analysts then expect the company to see the growth slow to 13.1% for the next fiscal year with sales pegged at $320M.
On the EPS side, analysts are expecting the company to hit $1.77/share in the current year and then $1.95/share in the coming year. The former representing a 31% Y/Y increase and the latter representing a 10% increase.
Our starting point is this: analysts expect the company to see healthy growth this year, but expect that growth to significantly taper off next year.
Multimedia/Mobile Graphics Borderline Obsolete In SoC Era
This is the smallest segment of Silicon Motion's business, representing a mere 4% of net sales. According to the firm's website,
Our embedded GPU product line targets embedded and consumer applications such as high resolution handhelds, point-of-sale terminals, medical equipment, multi-functional printers, casino gaming machines, industrial PCs, and servers.
It is, however, no surprise that this segment remains an insignificant part of the firm's revenues. As embedded applications continue to move towards "system-on-chip" design approaches, all major functional components -- including graphics -- become integrated onto a single solution, making Silicon Motion's standalone graphics products all but obsolete. As such, it is unlikely that this segment will remain relevant in the foreseeable future. The world is moving towards fully integrated solutions in which graphics/multimedia is just another functional block on the chip.
In short, this is a business that will likely see flat to shrinking sales in the near term and ultimately faces extinction.
Mobile Communications: Major Threat Extinguished
There is no doubt that mobile communications products are a highly relevant market today. The explosive growth in the smartphone and tablet spaces is quite compelling, and so the secular tide here raises all boats.
In particular, Silicon Motion provides LTE transceivers to Samsung (OTC:SSNLF) for many of its products. This is what has traditionally been the "high-growth" driver for the company. However, back in February, a very interesting analyst note hit the wires. The gist of the note was that since Qualcomm (NASDAQ:QCOM) had successfully developed an integrated 3G/LTE baseband solution, Samsung would stop using Silicon Motion's discrete LTE transceivers and instead opt to use Qualcomm's all-in-one solution which includes an integrated transceiver.
For some products (in particular, the USA version of the Galaxy S III), this has held true. However, Samsung seems to have moved to Qualcomm's products as a temporary solution until it could develop its own LTE baseband. Shortly after the analyst note in February 2012, it was revealed that Samsung had begun deployment of its own custom solution and the transition away from Qualcomm's products. It is clear that Samsung favors vertical integration, extinguishing this threat.
In fact, this bodes extremely well for Silicon Motion as the next generation Samsung Galaxy S IV will likely feature Samsung's own baseband and Silicon Motion's transceiver. Why is this? Simple. According to the most recent earnings release, six new Samsung phones with Silicon Motion's LTE transceiver entered production in the fourth quarter, one of which is likely the Galaxy S IV as inventory is built well in advance of launch.
If Samsung were to develop its own for next year's Galaxy S IV (or any of its phones), then the technology would need to be just about ready in order for timely deployment. Why would Samsung choose to use Silicon Motion's products in six of its devices if it could realize a gross margin savings by using in-house technology? The most reasonable answer is that if it plans to go in-house, it won't be this generation.
Embedded Storage: An Underappreciated Opportunity
Another overlooked segment is, ironically, the company's largest operating segment by revenue. In the embedded storage arena, Silicon Motion provides the following products:
Flash Card Controllers
Solid State Drive Controllers
Embedded Flash Controllers
Single Chip Solid State Drive
This business is particularly attractive (and understated) for the following reasons:
The company forecasts that the general market for eMMC (the major interface for the embedded storage) will grow by 20%, so the sector will see double-digit secular growth.
The company further forecasts that it will capture 15-20% of the market during 2013 (up from the 5-10% that it expects to take in 2012).
The company has been winning designs with Samsung and SK Hynix, two of the largest flash memory providers, lending credibility to the major market share gains that it forecasts.
It doesn't stop there. According to the most recent earnings report, the company has scored a number of high profile, likely high volume deals:
Separately, this year we started delivering our eMMC controllers to both Samsung and SK Hynix and have design-wins with at least half of the top 10 smartphone OEMs and in a majority of the leading Android and Windows 8 tablets.
The most impressive thing is that this is the first year in which the company has been delivering eMMC controllers, so the entirety of its >=5% market share came at the expense of a competitor. Further, as Samsung and Hynix are among the largest providers of flash memory products (first and fourth, respectively), it is clear that design wins there are likely to translate into significant overall market share gains. Keep in mind that Silicon Motion does not sell directly to end users, so its success/failure is totally dependent on the strength of its customers. Having two of the leading flash suppliers on your side is an unequivocal tailwind and the key driver to share gains for 2013.
Explaining The EPS Dive
In the most recent quarter, it appears that Silicon Motion's earnings actually saw a 13.5% year-over-year decline. Do not be deceived by these numbers! I now direct your attention to the following from the most recent earnings report: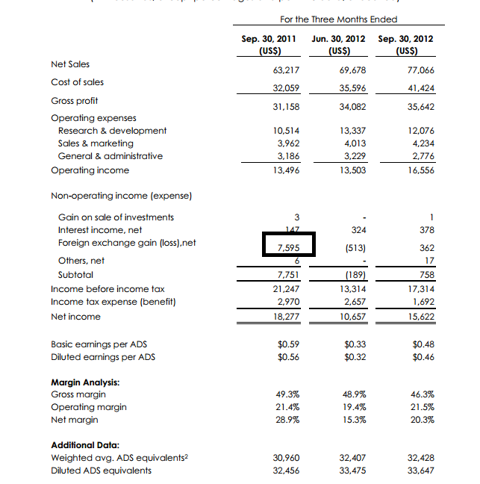 Year-over-year, sales grew 22% (although this was partially the result of some Q4 orders spilling into Q3 -- more on this shortly), cost of sales grew 28% (R&D and Sales & Marketing went up, G&A went down, which is good for a technology company). However, in the year-ago quarter, there was a massive $7.5M benefit from foreign exchange conversion (according to the earnings release, Silicon Motion does not use financial instruments to hedge against currency fluctuations, so this was an artifact of exchange rates). This benefit was not present in the most recent quarter, and thus made the most recent quarter look as though operating income declined (since EPS declined). Investors must absolutely be aware that this was not the case.
However, there is still the pulling in of some Q4 sales into Q3, so it is critical that we then compare Q3 + Q4 sales for 2011 with Q3 + projected Q4 for 2012 to understand the "true" growth rate here. Doing so yields:
Year-Ago Q3+Q4 = $130M
Current Year Q3 + (Average Analyst Estimate) Q4 = $149M
We still see a 15% year-over-year increase in this case, which is still quite healthy. The estimate range is quite tight at $71.7 - $73.4, so growth numbers are still robust, even in the "worst" case.
What is unattractive is that it seems that gross margins are coming under pressure. The decline from 49.3% to 46.3% needs explanation. Is it a long-term thing, or is it a short-term problem?
Gross Margins Under Pressure: What's Going On?
To explain the gross margin dive, I present the following helpful excerpt from the most recent earnings call:
Our third quarter actual gross margin came in lower than guidance because we strategically traded lower pricing for larger and longer program wins, with a few of our important OEM customers for several of our major existing parts primarily relating to our core products. This strategic pricing should help our business partners become more cost competitive and will be EPS accretive to us next year. This strategic pricing result in several quarters of lower gross margins.
The gross margins in the most recent quarter was strategic and, most importantly, expected to be EPS accretive next year. This to me seems like a good trade-off if the volumes enabled by the lower cost can more than offset the gross profit loss.
Marching further into the earnings call, we see that the gross margin impact will be felt for only a couple of quarters before rebounding to the traditional 48 - 50% range:
In the fourth quarter, our gross margin should fall to 44% to 46% as revenue shifts more towards core products. In the first quarter of 2013, our gross margin should be similar to the fourth quarter if not slightly better. We are going to be rolling out near parts that are either higher value added, and lower cost or combination of value and cost over the next few quarter. So we anticipate our gross margin and reversing back to our 48% to 50% range by third quarter of 2013.
So the gross margin decline is a result of a conscious trade-off, and not necessarily due to forces outside of the company's control. Further, the margin depression is expected to be temporary, and any bounce on the margin line (especially as sales increases) should significantly improve EPS, and add additional value to the share price.
Attractive Buyout Target
The company is an extremely attractive buyout target for its very relevant technology in the mobile space. In particular, I believe that Samsung would be the most likely acquirer as it could attempt to further vertically integrate by owning its own LTE transceiver technology. Further, Samsung could benefit twice from the acquisition as it also uses the firm's embedded flash controllers.
At current levels (7.86x forecasted FY2012 earnings, 7.13x forecasted FY2013 earnings), the company looks like an outright bargain. Back out the substantial cash position of $146M (33% of market capitalization), and the firm is trading at even lower valuations. For a company that has strong competitive positioning in two very healthy, secular growth markets, the likelihood of an acquisition should share price remain depressed continues to mount.
Shorts Are Covering -- For Good Reason
It is extremely helpful to look at the short interest over the past 12 months: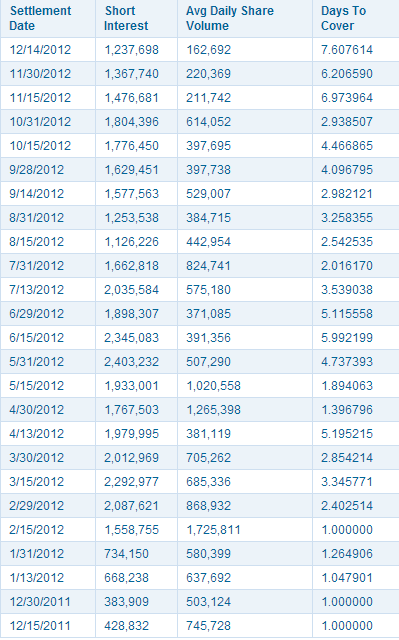 Notice that short interest doubled near the analyst note mentioned above and has now been coming down, although still quite a bit higher than its late-2011 levels. I believe that the catalysts mentioned above (better than expected LTE adoption, share gains in mobile storage) will drive further short covering in the coming months, creating a significant opportunity on the long side of the trade.
As I expect continued share gains in the mobile storage space, and as I further expect gross margins to stay mostly flat to slightly down going forward (the company may take margin hits to win significant deals/customers, so margins may be lumpy), I would take a conservative long-term gross margin view of approximately 47%, just under what management expects margins to rebound to.
I expect 15-20% yearly sales growth over the next two years as LTE becomes more pervasive, and as the eMMC share growth (and secular segment growth) plays out. To fuel the share gains, I expect R&D and Sales & Marketing costs to stay mostly flat as a percentage of revenue. This implies a GAAP profit margin of about 19% (taking a conservative view).
So for FY2013, I expect revenues of $325M - $339M and EPS (using 32.5M shares outstanding) of $1.90 - $1.98, and then FY2014 sales of $373M - $406M and EPS of $2.18 - $2.37.
Applying a conservative 13x multiple (a slight discount to market multiples despite healthy growth in the name of conservatism), there is upside to the $24.70 - $25.74 level representing nearly 100% upside from current levels. Should operational strength continue into 2014, then applying the same conservative multiple to the EPS estimates for that year give us upside to $28.34 - $30.81.
The Risks
It would be irresponsible not to detail the company-specific risks that could come into play here. They are the following:
Samsung decides to develop its own in-house LTE RF transceivers rather than use Silicon Motion's and/or buy the company out in a bid to bring things in-house.
Samsung, Hynix, and the like move to proprietary in-house eMMC flash controllers (which they have done in the traditional solid state drive space) without buying Silicon Motion to do it.
LTE does not see rapid adoption (although this seems unlikely given the insatiable demand for faster mobile connectivity).
Gross margin slide continues and does not rebound as management has predicted (although my model calls for fairly conservative margins).
Should the company do an acquisition that ends up diluting the share count, the EPS estimates will need to be revised in light of the share count.
Silicon Motion's increasing traction on the LTE RF side with Samsung, and relatively new wins with Samsung and Hynix in the mobile flash space indicate that these companies are not likely to ditch using third-party products in the near-to-medium term. In fact, staffing up an R&D team and then spending many years to try to develop a comparable solution seems almost foolish given how cheap Silicon Motion is. Nevertheless, it remains a risk that investors need to be cognizant of.
Conclusion
Silicon Motion is a cheap, profitable, and well-capitalized player in industries that are growing and it is gaining market share in its core industries. At current multiples, it is an absolute steal for the kind of growth that you're paying for, especially as the company is an attractive buyout target. I firmly believe that the shares have at least 100% upside from here from purely organic growth drivers, and the returns could be further amplified by a potential take-over of the company.
Disclosure: I have no positions in any stocks mentioned, but may initiate a long position in SIMO over the next 72 hours. I wrote this article myself, and it expresses my own opinions. I am not receiving compensation for it (other than from Seeking Alpha). I have no business relationship with any company whose stock is mentioned in this article.