Some stocks are trades and some are investments. The difference lies in both where the company sits within the marketplace and what the buyer (or seller) is looking to achieve. Buying Lululemon (NASDAQ:LULU) is buying a company that has a clear and progressive vision for the future and the execution of this vision has resulted in the stock price increasing nearly 60% in the past year. Lululemon has attracted scrutiny from onlookers who believe the company is overbought and does not warrant the stock-price currently being exhibited in the market. For every one doubter of Lululemon, though, there are far more who see the value in the vision the company has put forth under the leadership of Christine Day. The case for investing in Lululemon lies in its past track record of increasing sales and profit (below), but more so lies in the potential that the company has in the ever changing world of today. Though the third-quarter results below illustrate a company growing dramatically, the greater reason to invest in Lululemon is to have a piece of a company that is changing the way modern day retail is thought of and is paving the way for a store that extends beyond its initial "yoga wear" and into the realm of "everyday wear".
For the thirty-nine weeks ended October 28, 2012:
Net revenue for the first three quarters increased 41% to $884.9 million from $629.3 million in the same period of fiscal 2011.
Comparable stores sales for the first three quarters increased by 19% on a constant dollar basis.
Direct to consumer revenue increased 112% to $119.0 million, or 13.4% of total Company revenues, in the first three quarters of fiscal 2012, an increase from 8.9% of total Company revenues in the first three quarters of fiscal 2011.
Gross profit for the first three quarters increased 36% to $488.3 million, and as a percentage of net revenue gross profit decreased to 55.2% for the first three quarters from 57.3% in the same period of fiscal 2011.
Income from operations for the first three quarters increased 31% to $223.9 million, and as a percentage of net revenue was 25.3% compared to 27.2% of net revenue in the same period of fiscal 2011.
The tax rate for the first three quarters was 28.7% compared to 35.8% a year ago. The lower effective rate reflects the ongoing impact of revised intercompany pricing agreements.
Diluted earnings per share for the first three quarters were $1.11 on net income of $161.2 million, compared to diluted earnings per share of $0.76 on net income of $110.5 million in the same period of fiscal 2011.
Clear & Forward Looking Strategy:
Lululemon has in many ways diverged from the way traditional retail outlets operate by: levying tremendous power to its store leaders, using this dispersed power to engage customers through social media and community events, and by lacking a formal structure for store-design and planograms that lends itself to a greater understanding of the local retail market. This divergence has yielded tremendous fruit in the company's recent growth and appeal to customers. The company is expanding into areas from England to America to Hong Kong and in expanding into Asia and Europe the company is hoping to tap into the same growth and excitement it has in America. Camolo Lyon of Canaccord Genuity stated before the earnings release: "I think that the world is really available to them. I think it's a concept that translates well globally." Though there is uncertainty as to whether or not the company will be able to achieve this same level of success throughout the world, its vision for the future and its way of doing things is a philosophy they extends around the globe. It's products do not only speak to a narrow group of people, but rather speak a language of sustainability, community, quality, and a movement toward a less formal and a more comfortable world. If you believe in this vision and change occurring the marketplace, then lululemon is an investment for the future.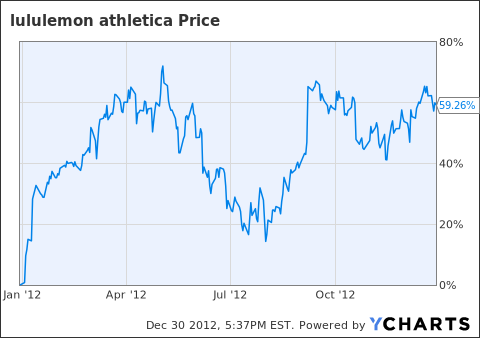 Conclusion:
Though Lululemon trades at 32 times forward earnings, it has a PEG ratio of 1.37. Though this is by no means "cheap", it is also not obscene. This article is not to say that Lululemon will have a clear trajectory to being an international superstar and sensation, but rather that the vision put forth by Lululemon's leadership team has achieved strong success and this success shows little signs of stopping in the long-term. The company's vertical integration, commitment to empowering its stores, and ability to cater to its individual markets even though it is vast in size is an achievement in and of itself. For investors, Lululemon marks an investment in a strategy that is centered around people, communities, and great products. There are few signs that point to this strategy failing or falling out of fashion within the marketplace. Rather, Lululemon has the potential to change the lead the times through its forwarding looking strategy.
Disclosure: I have no positions in any stocks mentioned, and no plans to initiate any positions within the next 72 hours. I wrote this article myself, and it expresses my own opinions. I am not receiving compensation for it (other than from Seeking Alpha). I have no business relationship with any company whose stock is mentioned in this article.