The title seems silly, right? After all, shares of Las Vegas Sands (NYSE:LVS) haven't collapsed. It has been a frustrating two years for shareholders, perhaps; despite substantial market share gains in Macau after the opening of the Sands Cotai Central in April and growth in earnings per share from $0.51 in 2010 to an estimated $2.21 in 2012, LVS' share price essentially hasn't moved: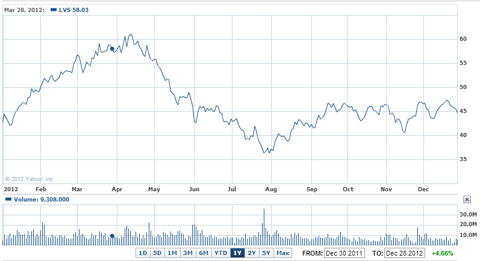 LVS one-year chart courtesy Yahoo! Finance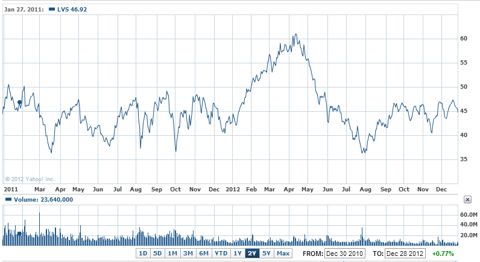 LVS two-year chart courtesy Yahoo! Finance
LVS' two-year return is less than one percent; including $3.75 per share in dividends paid in 2012, the stock's total return is a little over nine percent. That is hardly the return investors might have envisioned, given the fact that Macau gaming revenue is expected to hit $38 billion this year -- six times that of Las Vegas -- and that LVS itself became the first gambling company ever to create a billion dollars in pre-tax income in a single quarter earlier this year.
Certainly, LVS' recent return of roughly four-and-a-half percent annualized -- lagging the broad market -- is disappointing. But it would hardly be called a collapse. Unless you consider the two-year run at Las Vegas Sands' majority-owned subsidiary, Sands China (OTCPK:SCHYY):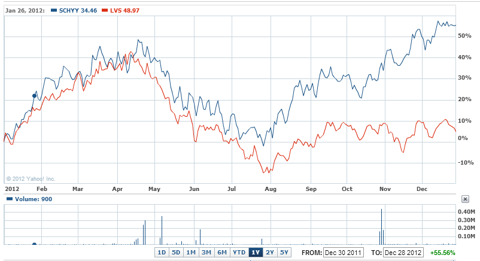 One-year chart of LVS vs. SCHYY; chart courtesy Yahoo! Finance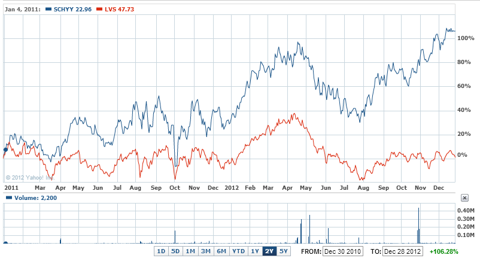 Two-year chart of LVS vs. SCHYY; chart courtesy Yahoo! Finance
While parent LVS has stayed flat, Sands China (referred to in company literature as SCL, for Sands China Limited), which owns the company's operations in Macau, and is 70.3% owned by Las Vegas Sands, has better than doubled over the past two years. This marked rise at SCL has clearly not been reflected in the share price of parent Las Vegas Sands. The conflict between the share price growth in the subsidiary and the flat returns at the parents means that the value placed by the market on LVS' operations outside of Macau has dropped:
Las Vegas Sands ex-Macau
| | | | | |
| --- | --- | --- | --- | --- |
| Date | LVS Price | LVS Mkt Cap* | SCL Stake | LVS ex-SCL |
| 12/31/10 | $45.94 | $36.3B | $11.9B | $24.4B |
| 12/31/11 | $42.73 | $34.2B | $15.3B | $19.4B |
| 12/28/12 | $44.72 | $36.9B | $25.0B | $11.9B |
* -- market capitalization calculated using fully diluted shares outstanding at the end of Q4 '10, Q4 '11, and Q3 '12, adjusted in 2010 and 2011 for $6 per share price of warrants which reflected the overwhelming majority of potential dilution (see 2011 10-K). 2012 figure not adjusted as potential dilution was essentially immaterial.
In short, there has been a collapse at Las Vegas Sands, as the value of its non-Macau businesses has fallen by more than 50 percent over the past two years. This drop cannot be explained by other financial factors. For instance, casino analysts often use enterprise value as opposed to market capitalization to value companies in the often leveraged sector; but LVS' net debt has not increased substantially over the past two years. Debt less cash has grown from $7.1 billion at the end of 2010 to $8.1 billion as of September 30th, adjusted for the nearly $2.3 billion paid in a special dividend in December. The Sands China balance sheet has similarly seen very little change over the period. As such, the market value of LVS ex-Macau cannot be explained by new debt issuance that markedly changed the enterprise value of either the subsidiary or the parent. LVS has paid out some $3 billion in dividends this year; but Sands China paid out $1.2 billion itself (with nearly $1 billion of that going to the parent). Dividend policies alone cannot account for the over $12 billion decrease in value of the non-Macau operations of LVS over the past two years.
Furthermore, Las Vegas Sands' stake in SCL has not changed over the time period, and the shares outstanding at the parent, when accounting for the warrants issued in conjunction with preferred stock in 2008, have only grown modestly. Currency fluctuations do not explain the move either, as the Sands China subsidiary is listed in Hong Kong, whose currency is pegged to the U.S. dollar. The Hong Kong dollar has strengthened since the end of 2010; but by less than three-tenths of one percent.
It is true that the fact that Sands China has outperformed the U.S-listed parent is, in and of itself, unsurprising. The Hong Kong market -- where Sands China is listed -- has simply been far more bullish on Macau-facing stocks, perhaps because of its geographic proximity to the enclave. Shares of Hong Kong-listed companies such as Galaxy Entertainment (OTCPK:GXYEY) and SJM Holdings (OTCPK:SJMHF) have consistently outperformed their U.S. counterparts for the last few years, while Hong Kong-subsidiaries of Wynn Resorts (NASDAQ:WYNN) and MGM Resorts International (NYSE:MGM) have, like Sands China, delivered returns that outpace those of the U.S.-listed parents: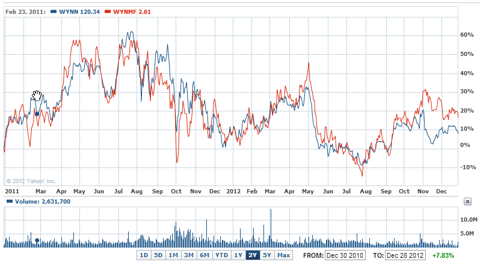 WYNN (blue) vs. Wynn Macau (Red) two-year chart; courtesy Yahoo! Finance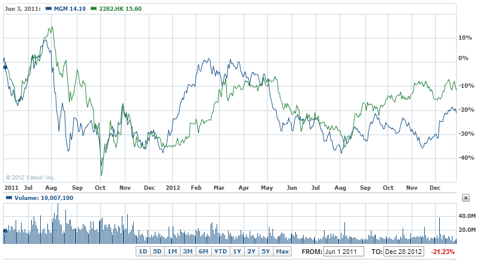 MGM (blue) vs. MGM China (Green); chart since June 2, 2011 IPO of MGM China on Hong Kong exchange; chart courtesy Yahoo! Finance
Of course, the divergence between WYNN and MGM and their respective subsidiaries comes nowhere close to the massive difference in returns between Las Vegas Sands and Sands China. Indeed, it's simply hard to explain the vast drop in LVS' non-Macau operations, because on a fundamental basis, the change is so stark. At the end of 2010, Las Vegas Sands ex-Macau was trading at 24 times the full-year adjusted EBITDA of its properties in Singapore, Las Vegas, and Bethlehem, Pennsylvania. By the end of 2012, that multiple had fallen 60 percent to just 9.5x.
Given a fall in value of some 50%, and the significant multiple compressions, investors might expect that fundamentals outside of Macau were quickly deteriorating. But that's hardly the case:
LVS ex-Macau, FY 2010 and Trailing 12 Months
| | | | |
| --- | --- | --- | --- |
| | 2010 ($MM) | TTM($MM) | % Change |
| Las Vegas Net Revenue | 1,203 | 1,416 | 17.7% |
| Las Vegas Adj. EBITDA | 310.2 | 359.3 | 15.8% |
| Bethlehem Net Revenue | 302 | 450.6 | 49.2% |
| Bethlehem Adj. EBITDA | 59 | 109 | 84.7% |
| Singapore Net Revenue | 1,262.7 | 2,975.9 | 135.7% |
| Singapore Adj. EBITDA | 641.9 | 1490.6 | 132.2% |
| Ex-Macau Net Revenue | 2,767.7 | 4,842.5 | 75.0% |
| Ex-Macau Adj. EBITDA | 1,011.1 | 1,958.9 | 93.7% |
To be fair, Sands' Marina Bay Sands casino in Singapore did not open until the middle of the 2nd quarter in 2010, which exaggerates its recent growth rates. But we can see that the Venetian and Palazzo casinos in Nevada have held up well amidst a flat gaming revenue market on the Las Vegas Strip. Bethlehem has created strong top- and bottom-line growth, thanks in large part to Pennsylvania's decision to legalize table games at the beginning of 2011. The growth numbers above certainly do not seem to justify Las Vegas Sands' lagging share price; indeed, given the doubling of the value of the stake in Sands China and the growth posted above, investors would surely expect that LVS stock had soared, rather than flat-lined.
There are concerns about the future of these operations that may explain -- at least partially -- LVS' sluggish share price and the multiple compression outside of Macau. Las Vegas' top- and bottom-line growth has been juiced mostly by increased table win -- an average of 21.6% over the past four quarters, compared to 18.5% in 2010 -- and slot hold -- which has averaged 8.7% in 2012, up from 7.88% in 2010. Occupancy has actually decreased from over 90% in 2010 to 85-86% in 2012, with RevPAR (revenue per available room) flat at about $173 per night. Beyond the increased gaming win percentage -- which may not be sustainable -- performance at the Venetian and Palazzo looks little better than that of its competitors in the slowly recovering Strip market.
Bethlehem has performed well, as noted, doubling its table drop from Q1 '11 -- the first quarter in which the games were installed -- to Q3 '12. But it remains a small part of the company's portfolio; with trailing adjusted EBITDA of $109 million, the property is likely valued at no more than $1.5-$2.0 billion (and that is being generous). Compare that to the company's market capitalization of some $37 billion, or even the enterprise value of LVS' non-Macau operations of about $18.1 billion (which excludes the $1.9 billion in net debt attributable to Sands China). There is also the specter of additional competition, as a second casino will be built in Philadelphia later this decade, table games are instituted in Maryland in 2013, and New York looks to expand its own gambling operations.
The clear crown jewel of Las Vegas Sands -- and the key earnings driver -- beyond its Macau properties is the Marina Bay Sands in Singapore, and it is likely that its perceived struggles have been the largest weight holding LVS stock down. After posting $16.7 billion in rolling chip volume in Q3 '11, showing strength in the VIP segment, RCV has tumbled, averaging around $12 billion so far in 2012. Neither mass market table gaming nor slot handle -- both of which have been relatively flat over the past six quarters -- have been able to offset the lack of growth from VIP customers. There had been speculation that the softness in VIP volume was due to a tightening of credit, but on the Q3 conference call executive vice president Robert Goldstein dismissed those claims. "It wasn't by design that demand was soft," he told an analyst in the Q&A portion of the call. "It was by customer demand, or lack thereof." Adding insult to injury, the company's third quarter results were severely impacted by an unlucky stretch in Singapore, where Q3 hold in VIP was just 1.79%, a full percentage point below the expected 2.85%. That lower hold alone cost the company over $100 million in EBITDA, bringing the quarter in below analyst estimates.
But if weakness in Singapore is concerning the market, it simply does not justify the 50% drop in the value of LVS' non-Macau assets, nor the massive multiple compressions used in valuing those operations. On the call, LVS management noted a series of initiatives to entice customers from throughout Southeast Asia, while CEO Sheldon Adelson sounded a note of confidence:
I think the same thing is happening in Singapore, that the Chinese are averse to uncertainty. And they don't know what's going to happen when the new government comes in either this month or next month, but before the end of the year. And so their issue of uncertainty will be resolved and people will go back to their normal lives. I for one, having discussed this with the Chinese people and their behavior, everybody says -- everybody I talked to says the same thing, they lie low where there's uncertainty. And they become more high profile when the uncertainty is lifted. All right?
If Adelson is correct, Singapore should show a rebound in Q4; in Macau, December gaming revenue is forecast to hit an all-time record, with Sterne, Agee noting the growth reflects "a minor thawing of China's VIP customer base post China's political handover" in November. That same thawing would no doubt help business in Singapore. And any growth in the market provides a significant boost to LVS' bottom line, with Marina Bay Sands posting a trailing twelve-month adjusted EBITDA margin of nearly 50 percent, even despite the below-average hold in Q3.
The lack of hoped-for growth in Singapore simply does not justify the fact that LVS is selling for less than 10x its property-level adjusted EBITDA. Bear in mind that Pinnacle Entertainment (NYSE:PNK) acquired Ameristar Casinos (NASDAQ:ASCA) earlier this month for 7.6x trailing adjusted EBITDA. Yet Ameristar's properties in places such as Jackpot, NV and Lake Charles, LA, and its complete exposure to a stagnant, cutthroat U.S. regional market, have nowhere near the growth potential that Singapore -- or even the Las Vegas Strip -- create for Las Vegas Sands. That LVS' non-Macau operations are seeing a valuation remotely close to that of Ameristar's properties shows just how depressed its multiple has become.
What most clearly shows the folly of LVS' non-Macau multiple is the similar figure at Wynn Resorts. Wynn Resorts has a market capitalization of $11 billion; net debt at the parent company appears to be about $3.2 billion. (There is $5 billion in debt as of Q3 at Wynn Las Vegas and the parent Wynn Resorts, with $2.7 billion in cash. About $900 million USD in cash was attributed to Wynn Macau as of the subsidiary's interim report on June 30th.) Wynn's 72.3% stake in Wynn Macau is currently valued at $10.1 billion USD. Based on Wynn's trailing twelve-month Las Vegas operations adjusted EBITDA of $382.3 million, the Las Vegas EV-EBITDA multiple sits at 10.7, well above the multiple of Las Vegas Sands' complete non-Vegas operations multiple of 9.5. This only makes sense if investors believe that Singapore (and the minor contribution from Bethlehem) will underperform Las Vegas. And while the Singapore market is expected to grow gambling revenue "only moderately" in 2013, LVS' high margins there mean that bottom-line growth will likely outpace that of Las Vegas, where EBITDA margins are roughly half those seen in Singapore.
And of course, there is more to Las Vegas Sands beyond Macau, Singapore, Pennsylvania, and the Las Vegas Strip. On the Q3 conference call, COO Michael Leven noted the company's interests in a number of developments worldwide, including Japan, Korea, Vietnam, Toronto, South America, New York City, and the company's well-publicized "EuroVegas" development in Madrid, Spain. It may be that the high-risk nature of some of these projects -- notably the Madrid project, whose cost estimates have run as high as $35 billion -- has turned off some investors. But long-term investors should feel comfortable that Adelson -- who controls over 50% of the company's shares and has essentially his entire net worth still invested in LVS -- will make sensible, beneficial deals for his shareholders. This is a man who first saw the revolutionary power of conventions for Las Vegas, who led the trend toward elegant, luxury hotels on the Strip, and who, along with rival Steve Wynn, was one of the first Americans to see the potential of gambling in Asia. And given the importance of Las Vegas Sands to his fortune -- Adelson received $1.2 billion from December's special dividend alone -- there is little risk Adelson would make a bad deal simply to appease Wall Street or burnish his reputation.
This is not to say that any Sands expansion is a slam dunk; but in Madrid, Adelson will be negotiating from a position of marked strength, given the country's gloomy employment and revenue shortages. Projects in Toronto and New York would cater to some of the wealthiest markets in North America. And with a wealth of opportunities, the company will be able to pick and choose. On the Q3 conference call, Adelson repeated his key rule for expansion: "we will only pursue projects with returns in excess of 20 percent," noting that his position as the largest shareholder mandated the company only "owning the highest value projects."
In short, Las Vegas Sands still has plenty of growth opportunities beyond Macau, whether through expansion into new areas or through a recovery in Singapore or the Las Vegas Strip. And yet its properties outside of Macau are being valued at historically low levels, below those of its competitor Wynn and near those of the high-competition, zero-growth U.S. regional operators. There are simply too many possibilities going forward for Las Vegas Sands, and too long a history of success, for such a multiple to continue going forward.
Investors looking to take advantage of the LVS decline can essentially arbitrage out the non-Macau assets via a pairs trade: long LVS, short SCHYY. This would remove much of the effect of the Macau operations from the trade's returns. (Given the 70.3% stake in SCL held by LVS, a 1:1.42 ratio between long and short would completely remove any impact of Sands China, at least in theory.) This trade would be a noted reversal; the long subsidiary, short parent pairs trade has worked remarkably well since the Hong Kong IPOs of Sands China and Wynn Macau. But with the substantial multiple compression outside of Macau, that trade may have run its course. Investors can also go long LVS while shorting WYNN, betting that not only LVS' lower multiple ex-Macau but its significantly higher market share in Macau (currently 20.6% vs. 9.5% according to Sterne, Agee) will lead Adelson's company to outperform its rival in 2013.
Of course, the simplest way to play LVS' decline -- and likely the smartest for individual investors -- is simply to go long LVS. While the rate of growth of gambling revenue in Macau has slipped, its growth and its size still dwarf that of any gambling market anywhere in the world. LVS has excellent exposure to the mass market, whose growth rates continue to impress, plus a strong base of high-end, high-margin retail space. (On the Q3 conference call, Adelson referenced the possibility of monetizing that retail space, either through a REIT spin-off or through a sale similar to his sale of the Las Vegas retail assets to General Growth Properties (NYSE:GGP) in 2004.) And Las Vegas Sands has a wealth of opportunities for expansion worldwide, with a management team whose success in Asia has shown its ability to generate healthy returns from massive, capital-intensive projects.
When you add in the fact that Las Vegas Sands' current assets are available at a clear discount, the bull case for the stock is very simple. Las Vegas Sands is clearly the best-in-breed gambling operator in the world, and right now, many of its assets are available on sale.
Disclosure: I have no positions in any stocks mentioned, and no plans to initiate any positions within the next 72 hours. I wrote this article myself, and it expresses my own opinions. I am not receiving compensation for it (other than from Seeking Alpha). I have no business relationship with any company whose stock is mentioned in this article.