There is still no deal on the fiscal cliff, but the markets this morning are actually holding on quite strongly given the situation. It is appearing ever more likely that we are going to go over but long-term it appears the market has confidence that Washington will make a deal. One can only hope so, especially as the economic news has only supported the fact that the economy is picking up steam and the outlook is improving. This morning we want to highlight to data points which we think will be important moving forward.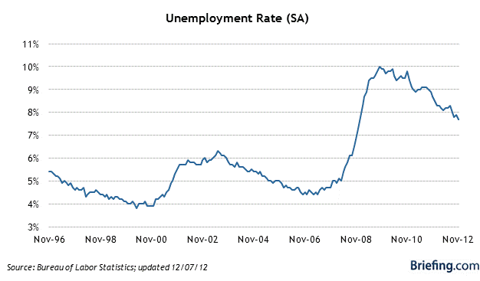 Chart courtesy of Briefing.com.
The unemployment rate is coming down. The move is slow and due in part to both people leaving the labor market and new hires.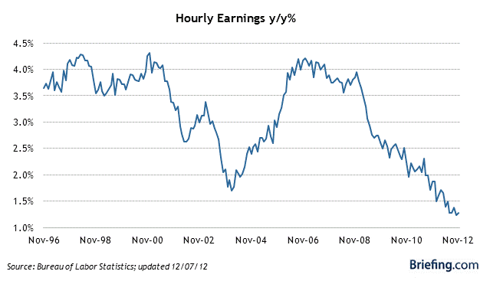 Chart courtesy of Briefing.com.
As the unemployment rate continues to come down we would expect to see hourly earnings begin to tick up. Notice that right now we are at the lowest growth rate for hourly earnings since late 1996, even with all of the money the Fed has injected into the economy.
We have no economic news due out today but January 2nd shall have the first batch of economic news for 2013.
Asian markets finished higher today:
All Ordinaries - CLOSED
Shanghai Composite - up 1.61%
Nikkei 225 - CLOSED
NZSE 50 - CLOSED
Seoul Composite - up 0.49%
In Europe markets are mixed this morning:
CAC 40 - up 0.35%
DAX - CLOSED
FTSE 100 - down 0.47%
OSE - CLOSED
Retail
Home improvement retailers such as Lowe's (NYSE:LOW) and Home Depot (NYSE:HD) have been some of the best performers among the retail sector in 2012 and with the housing numbers we have seen throughout 2012, it indicates that the market is indeed turning and investors should be able to bank on these players increasing both the top and bottom lines while also being able to grow into their multiples. One big risk moving forward will be what happens with the fiscal cliff compromise as any move by legislators to limit mortgage deductions on interest expense could be detrimental to the housing recovery.
Also, please see the charts in the article today. If one is to believe that a recovery is going to be strong in 2013, as we do, the charts seem to indicate that we are only halfway there. Yes, the unemployment rate is falling, but this is due to some leaving the market (bad) with others getting hired to work (good), but the hourly earnings growth is falling. Hourly earnings will creep higher when the overall unemployment rate gets back down towards the 6-7% range and at that time the economy will really crank up. People buy houses and do home improvement projects when they get new jobs, raises or have stable situations with steadily rising prospects, so these measurements should be key to watch moving forward.
One retail stock which has been hit hard lately is Herbalife (NYSE:HLF). Although two big names have appeared to be bearish (Einhorn and Ackman), there are now hedge funds taking the opposite side of the trade. This has been part of the reason for the recent bounce, but there should be more good news in the next couple of weeks than bad news as the company will hold their analyst day which could provide some analysts with the needed cover to raise their ratings or at the very least reaffirm the company's shares with a new realistic price target issued. This is one stock which we'd rather not get involved in due to the fact it is susceptible to rumors and large price swings on non-news events.
Biotechnology
Looking into 2013 we feel that Arena Pharmaceuticals (NASDAQ:ARNA) could very well be a big winner for investors. We like to look at internet searches which are trending on a daily basis and far too often we see search terms for diet pills and the like trending. What is more is that the company has a relatively safe drug which will be debuting in the first part of the year, that time when most people make decisions to lose weight and live healthier. Investors holding shares have been stuck in a trading range for the past few months and we think the table has been set for this one to move above $10/share - which we have been discussing for a while now.
Commodities
A lot has been made of the commodity space over the past few months and especially those within the oil and natural gas space. We noticed this past weekend that Devon Energy (NYSE:DVN) hit a new 52-week low which simply highlights the missteps that the company has had over the past year. Yes, the company moved out of the deepwater space to focus onshore, however, it moved out of the oil space and into gassier plays by doing so as well. The company has land in wet plays across the country, but it will take time to change the production mix so this is not a quick fix to be accomplished overnight - rather, a few years will be needed.
Disclosure: I have no positions in any stocks mentioned, and no plans to initiate any positions within the next 72 hours. I wrote this article myself, and it expresses my own opinions. I am not receiving compensation for it (other than from Seeking Alpha). I have no business relationship with any company whose stock is mentioned in this article.