During the past week or so, Netflix (NASDAQ:NFLX), according to Alexa, has been making new highs on its website, crushing last year's holiday visits. This indication of potentially strong subscription growth into 2013 is not paralleled throughout other leading streaming media providers, such as Comcast's Xfinity (NASDAQ:CMCSA) or Hulu (Please note I used xfinitytv.comcast.net/ for the URL evaluating Comcast's traffic). Netflix's successful outreach / traffic generation substantially surpasses both of these providers.
Source: Alexa.com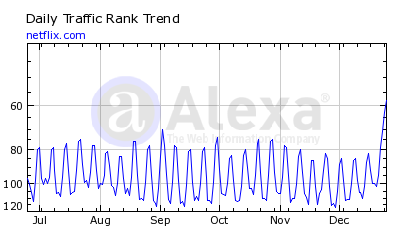 , Source: Alexa.com)


This pumping of holiday subscribers proved to show great earnings for Netflix during Q1 last year. The stock again has a temporary bullish trend to it, with the 20, 50 and soon 100 daily moving averages crossing over the bearish 200.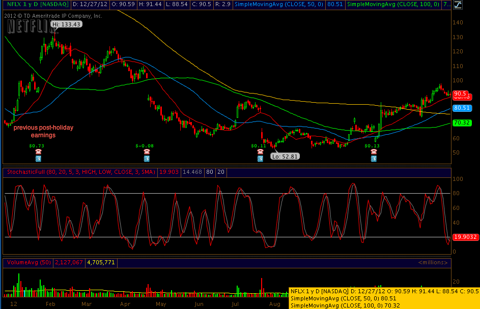 Source: Google.com
Blue represents Google searches for Netflix, Red: Hulu, Tan: Xfinity

Blue represents Google searches for Netflix, Red: Hulu, Tan: Xfinity

Here is a quick spreadsheet showing January earnings compared with April earnings of the same year and the resulting price action.
, Earnings data collected via TDAmeritrade)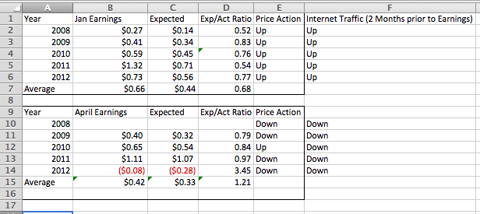 I wrote this article to point out the (possible) correlation between short-term internet traffic and holiday subscription growth to positive earnings. Given the parabolic bandwidth action and interest in Netflix, I expect earnings in January to again far surpass expectations.
Disclosure: I have no positions in any stocks mentioned, but may initiate a long position in NFLX over the next 72 hours. I wrote this article myself, and it expresses my own opinions. I am not receiving compensation for it (other than from Seeking Alpha). I have no business relationship with any company whose stock is mentioned in this article.