Introduction
With the possibility of an upcoming recession, due to the fiscal cliff, it is difficult to identify a company that will truly thrive in a period of economic downturn. If the market were to crash, investors would surely be frightened to invest their money in any company. Enter Warren Buffett. If there's one investor who truly loves recessions, it's Warren Buffett. Buffett treats market downturns just like Black Friday, he sees everything as big-time sales. With the possibility of our economy falling over the fiscal cliff, Buffett is itching to do some shopping.
Understanding Buffett
Berkshire Hathaway (BRK.A,BRK.B) has a record $47.8 billion in cash on its balance sheet, not including another $32 billion in fixed income, some of which is short-term and liquid (Source: MorningStar). This cash shows Buffett is preparing to pounce on a massive acquisition if the market begins to stumble. This wouldn't be the first time Buffett has profited from a recession. In 2008, Buffett invested $15.6 billion in 25 days after the Lehman bankruptcy. Notice Buffett's large cash holding before the recession of 2008. He saw the recession coming many years before. It wouldn't surprise me if Buffett is ready to break that spending record (Source: Berkshire-Hathway 2010 Annual Letter).
| | | | | | | |
| --- | --- | --- | --- | --- | --- | --- |
| Year | 2007 | 2008 | 2009 | 2010 | 2011 | TTM |
| Cash | $44.3 bil | $25.5 bil | $30.5 bil | $38.2 bil | $37.3 bil | $47.8 bil |
Source: MorningStar
Another move that caught my attention was Buffett's $1.2 billion share buyback. I know many people have said Buffett did this for a friend, but if you read his annual letters, Buffett would never consider a share buyback unless he believed Berkshire was severely undervalued. Let's go back in time a bit. In early 2000, Berkshire had dropped nearly 50% because of the tech bubble, from about $68,000 to $40,800. At that time, Buffett was only considering buying back shares, but still didn't make a move (Source: Fortune). Soon enough, Berkshire's stock shot up to $70,000. Even a 50% reduction in share price wasn't enough to convince Buffett that his company was undervalued. Flash forward to 2012 and Buffett just bought $1.2 billion worth of shares back. Could he make it any more obvious that Berkshire is undervalued?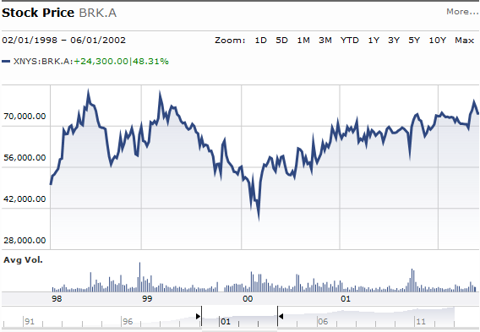 Source: MorningStar
Besides trading at a very low P/E and P/B, Berkshire also owns a collection of excellent businesses that are very discounted due to Berkshire's low price. Here's an example. Buffett's four largest equity holdings, American Express (NYSE:AXP), Coca-Cola (NYSE:KO), IBM, and Wells Fargo (NYSE:WFC), account for 70% of Buffett's equity portfolio. Over the past five years, AXP has gained 18%, KO 20%, IBM 75%, and WFC 22%. During the same time period Berkshire has actually lost 3%. It doesn't make sense why Mr. Market is undervaluing Berkshire so much, even with its equity holdings performing so well. By purchasing Berkshire, you get access to all these excellent companies at a substantial discount since Mr. Market doesn't acknowledge the growth of Berkshire's equity holdings in Berkshire's share price. Now that's how you find a bargain.
The same situation applies for Buffett's private holdings. In five years, Berkshire's insurance holdings have increased their float from $58.69 billion to $70.57 billion. During the same time period, MidAmerican Energy's profit has increased from $1.1 billion to $1.2 billion, and Berkshire's Manufacturing, Service, and Retail Operations have increased profits from $2.35 billion to $3.04 billion. Now remember, there are five years of these excellent profits, so Berkshire actually has grown by billions of dollars. Buffett has also made many acquisitions during this time period, including the creation of the Burlington Northern Sante Fe Railroad, which recently posted a profit of $2.97 billion. How has Mr. Market treated Berkshire during that time? By lowering its stock price 3%. I think it's clearly obvious that Berkshire has massively expanded over five years, not decreased by 3%.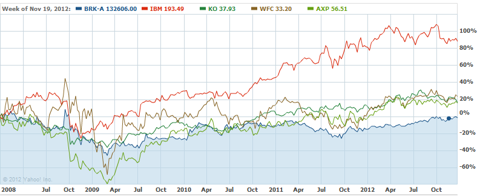 Source: Yahoo Finance
Berkshire's Future
Now the big question surrounding Berkshire these days is what happens when Buffett, or Charlie Munger, dies. I don't believe this will be an issue at all. Buffett has been planning his succession for years and years. He has ingrained his thinking into Berkshire's culture, and into many of the managers who invest portions of Berkshire's funds. The businesses owned by Berkshire will continue to outperform and succeed in the future. Buffett is a long-term investor who is always thinking many years down the road when he makes an investment. I suspect the managers will also be very ready and competent to allocate capital when the time arises.
Conclusion
For now, I'm long Berkshire. Fiscal cliff or not, Berkshire is going to succeed either way. Should the market decide to jump off the cliff, Buffett will be ready to play lifeguard and make some great acquisitions if the price is right.
Disclosure: I am long BRK.A, BRK.B. I wrote this article myself, and it expresses my own opinions. I am not receiving compensation for it (other than from Seeking Alpha). I have no business relationship with any company whose stock is mentioned in this article.