"Great investment opportunities come around when excellent companies are surrounded by unusual circumstances that cause the stock to be misappraised." - Warren Buffett
American International Group (NYSE:AIG) is a prime example of an investment opportunity that Buffett alludes to. Here's why: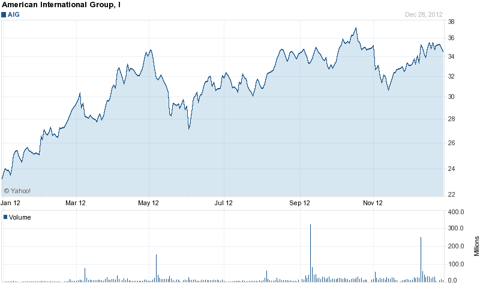 The technicals
Technicals are indicators that are used to quantitatively assess the value of a stock. Please note that the provided technical indicators were calculated on December 28, 2012.
The Price-to-Earnings Ratio
AIG is cheap
The P/E Ratio is the closing price of the stock divided by the earnings per share, in one year. It is a basis used to gauge the relative valuation of a company. A P/E Ratio of 20 or less is considered favorable. AIG has a P/E ratio of 2.38. Typically, the market views companies with low P/E ratios as low-growth entities. However, AIG stock price has grown by 43.66% over the last year. Fundamentally, the growth prospects of AIG appear strong. The U.S. Treasury sold it's stake and the company has sold various divisions such as International Lease Finance Corporation. Such steps have allowed management to streamline operations and concentrate on growing the life and property and casualty divisions. Additionally, continued economic recovery and an expected drop in global catastrophes should boost business and margins. The 2.38 P/E Ratio appears to be low, given the growth potential.
AIG is cheaper than its competitors
Hartford's (NYSE:HIG) P/E is 22.5
Marsh & McLennan's (NYSE:MMC) P/E is 16.5
AON's (NYSE:AON) P/E is 19.7
The Price-to-Book Ratio (P/B Ratio)
The P/B Ratio is the market value of the stock divided by the book value. Intangible assets are excluded so the metric may not be skewed by an overstated goodwill or other components. The P/B of AIG is an impressive 0.51. Essentially, the book value of AIG is twice the market price which indicates an undervalued stock. However, it is important to note that the P/B ratio must be interpreted in conjunction with other metrics since a low P/B may indicate low return on equity or overstated total assets. The Return on Equity (ROE) for AIG is an impressive 27.38% so AIG's low P/B ratio and high ROE indicate undervaluation. Assuming a conservative estimate of total assets by excluding deferred acquisition costs implies a book value of $56 per share or a P/B ratio of approximately 0.6. The conservative estimate still indicates an attractive stock price, given book value.
PEG Ratio
AIG's forecast is strong growth
The PEG Ratio is an indicator that assesses future growth of a company. It is the P/E Ratio divided by Long Term Growth. Anything below 0.8 is favorable.
AIG's PEG is 0.7
That's at a 62% discount compared with the S&P 500
That's at a 39% discount compared with the 5-year AIG PEG of 1.1
Moving Averages
AIG is trending up
The moving average is the average of closing stock prices over a specified time. The current stock price is compared with moving averages to assess the trend of a stock. Generally, if the stock price is greater than the 50-day moving average, which in turn, is greater than the 200-day moving average, the stock is trending up.
The 200-day moving average is $33.20
The 50-day moving average is $33.50
The current stock price is $34.58
AIG recently hit it's 52 week high of $37.67 on October 18, 2012
The stock price has risen 43.66% over the last year
Management Effectiveness
High margins and favorable year over year growth
Profit Margin is 36.89%
Operating Margin is 21.22%
Year-over-year quarterly revenue growth is 38.7%
The fundamentals
Fundamental trading involves qualitatively assessing the value of a company by tracking company actions, strategies etc.
Significant exposure to the mortgage and credit default swap markets contributed to AIG's downfall in 2008. Management has effectively mitigated these risks by reducing

its

portfolio in these markets from $1.6 trillion in 2008 to $176.4 billion
The U.S. Treasury sold it's stake in AIG which has resulted in more management control. Interestingly, the Treasury incurred a $22.7 billion profit through the AIG bailout
AIG sold 90% of

its

stake in ILFC and intends to sell AIA. The AIA transaction could net over $6 billion. Such strategies provide an inflow of capital and also allow management to exercise greater focus on the remaining lines of business
Economic recovery should increase demand for life and retirement products
The risks
AIG's earnings are expected to remain relatively flat over the next couple of years. Currently, Wall Street expects 2013 EPS of $3.50. This is 10% less than the expected 2012 EPS of $3.88. It is important to note that relative valuation should still be favorable as the 2013 forward P/E ratio is projected to be 9.9
The U.S. government may require an increase in reserve levels to account for future liabilities. This would result in a reduction of available capital
Global catastrophes. Hurricane Sandy resulted in a $1.3 billion after-tax loss for AIG
Although AIG has significantly reduced

its

exposure to the mortgage and credit default swap market, it still has an $176.4 billion exposure to derivatives in these markets
Disclosure: I am long AIG. I wrote this article myself, and it expresses my own opinions. I am not receiving compensation for it. I have no business relationship with any company whose stock is mentioned in this article.