Shares of Frontier Communication (NYSE:FTR) have declined by 13.1% over the past 3 months and are currently trading near their 3-month low. At $4.19 per share, the stock offers a lofty dividend yield at 9.5%. Has the recent pullback created a buying opportunity? In this article, I will walk you through my value analysis which may assist in formulating your investment decisions.
From a relative valuation standpoint, Frontier's valuation is not cheap based on the company's financial performance relative to its peers' (see comparable analysis chart below). Analysts on average predict the firm's revenue, EBITDA, and EPS to grow at 2-year CAGRs of -3.7%, -3.9%, and 22.8%, respectively, over the next 2 fiscal years. Those consensus growth estimates are considerably worse than the averages of -0.2%, 0.1%, and 18.7%, respectively, for CenturyLink (NYSE:CTL) and Windstream (NASDAQ:WIN), which are Frontier's closest competitors. Similarly, Frontier's EBITDA margin is forecasted to compress by 0.2% over the same period, compared to an estimated average expansion of 0.2% for the two peers. However, Frontier has demonstrated a generally superior profitability performance as most of the firm's margin and capital return metrics are above the par. Frontier's debt level is fairly in line with the peer average as both its debt to capitalization and debt to EBITDA ratios are basically comparable to the group averages. In terms of liquidity, the firm's trailing free cash flow margin and interest coverage ratio are below the par. But both Frontier's current and quick ratios are markedly above the peer averages, reflecting a fairly liquid corporate balance sheet.

To summarize the financial comparisons, Frontier's significantly weaker growth potential should be the primary drag on the stock's valuation. However, I believe the stock's fair valuation should be at only a slight discount to the peer-average level given Frontier's solid profitability performance and liquid balance sheet. The stock's current forward EV/EBITDA and P/E multiples of 5.2x and 16.2x are fairly in line with the peer-average trading multiples of 5.8x and 15.1x (see chart above), respectively, suggesting that the stock price has likely factored in the company's merits.
I also performed a DCF analysis to support my view (see DCF chart below). My model incorporates the market's consensus revenue and EBITDA estimates from fiscal 2012 to fiscal 2016 as my goal is to gauge the growth assumptions embedded in Frontier's current share price. Other free cash flow related items including depreciation, tax expense, capital expenditure, and net working capital investment are projected based on their historical figures relative to the total revenue as those ratios have been trending quite steadily over time. In the WACC calculation, a normalized 10-year risk-free rate is used instead of the current 10-year Treasury Bond yield in order to be conservative and reasonable. A company-specific risk premium of 3.5% is applied in the calculation to account for the financial projection risk.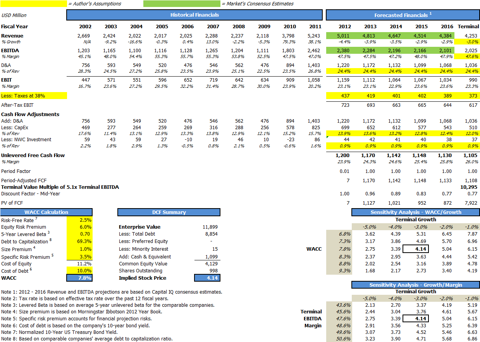 As such, based on a WACC of 7.8% and a terminal revenue growth rate of -3.0%, my DCF model yields a stock value of $4.14, which is very close to Frontier's current share price of $4.19. In my view, the 7.8% WACC is a conservative assumption as I normally use a rate of at least 8.0% to discount equities. The terminal revenue growth at -3.0% appears to be reasonable given that the market's consensus revenue estimates suggest an average revenue growth rate of -3.1% from fiscal 2014 to fiscal 2016. Therefore, the DCF analysis indicates that Frontier's current share price has factored in some slightly aggressive assumptions and thus the current stock valuation provides only a limited margin of safety.
Despite the rich valuation, Frontier's attractive dividend yield at 9.5% cannot be overlooked. Based on the chart shown below, the company's annual free cash flow has been sufficient to cover the annual dividend payment over the past few years, indicating that the company has a sufficient capacity to support the current dividend level.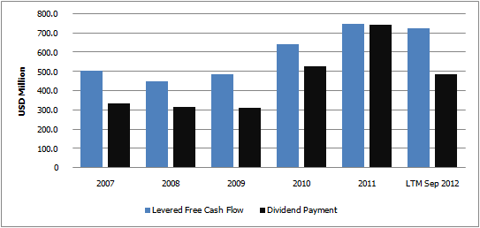 According to Senior Analyst, Jennifer M. Fritzsche, at Wells Fargo Securities (sourced from Thomson One, Equity Research), Frontier's management had the following comment on their fiscal 2013 revenue goal in a recent conference presentation:
"Frontier is pressing to stabilize revenue in '13 or possibly grow it 1%-2%. Continued investment and market share gains in broadband should be the primary growth driver, but Frontier also highlighted a number of new initiatives including the AT&T Mobility partnership, the Hughes partnership where it is sees an untapped opportunity, and a residential VoIP product called Tandem."
Bottom line, despite Frontier's somewhat rich valuation, I still recommend a long position on the stock given the tempting dividend yield and a likely trend of revenue stabilization. To limit the investment risk, I would recommend selling out-of-money put options to either collect upfront premium or take a potential opportunity to acquire the shares at a lower valuation level.
The comparable analysis and DCF charts are created by the author, other charts are sourced from Capital IQ, and all historical and consensus estimated financial data in the article and the charts are sourced from Capital IQ.
Disclosure: I have no positions in any stocks mentioned, and no plans to initiate any positions within the next 72 hours. I wrote this article myself, and it expresses my own opinions. I am not receiving compensation for it (other than from Seeking Alpha). I have no business relationship with any company whose stock is mentioned in this article.