After trending down relative to the Dow Jones Industrial Average since early 2011, the Dow Jones Transportation Average (NYSEARCA:IYT) has strongly outperformed Industrials during the last quarter of 2012 (see chart below).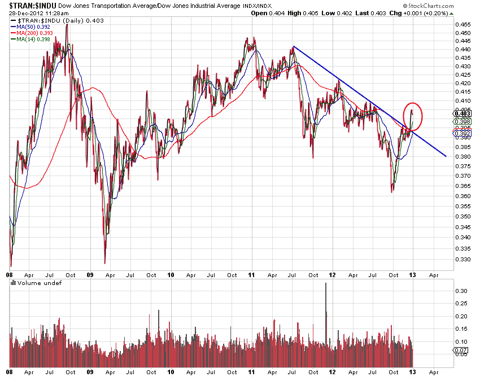 Small cap stocks, represented by the Russell 2000 index (NYSEARCA:IWM), have similarly stabilized relative to large caps (NYSEARCA:SPY) and have been trending up since late summer (see chart below).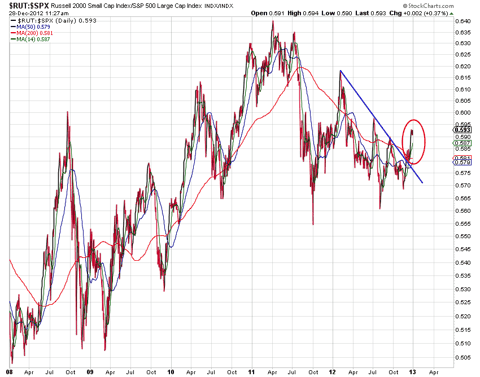 The recent outperformance of transportation and small cap stocks has encouraged those who had seen their relative weakness as a bearish indicator.
Green Lights or Red Lights? However, far from being encouraging, transports and small caps may be flashing a warning sign for the broader markets. Indeed, transportation stocks similarly bottomed and outperformed during the 2000-01 and 2007-08 market tops, throwing off false bullish signals. The green shaded areas below show major bottoms in relative performance of transports versus industrials (gray line) as well as subsequent performance of the broader index.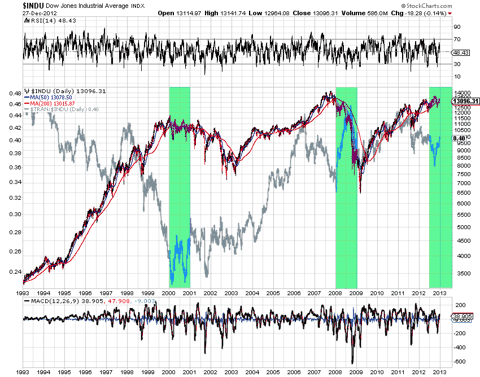 Small caps paint a similar picture in both 1999-2000 and 2008 (see gray line in chart below).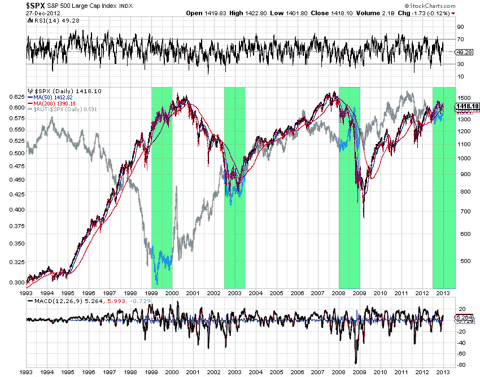 But Don't Small Caps Outperform During Rallies? Small caps did advance in 2003 as the S&P 500 bottomed and rallied, and both transports and small caps saw relative strength in 2009 during a period of strong market gains. But, I believe the current environment has far more parallels to 2000 and 2008.
Economic indicators currently bear more resemblance to the 2000 and 2008 market tops. Corporate profits, as a percentage of GDP, are at their highest levels since World War II and far above trend (see chart).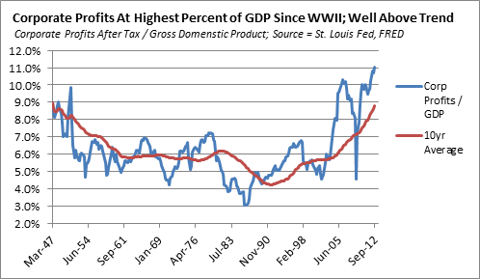 Capacity utilization in the economy is still relatively depressed compared to previous cycles, but actually seems like it may be taking another leg down (see chart).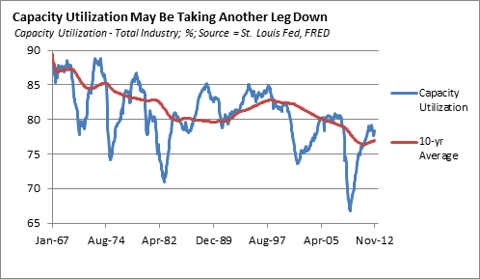 Third, year-over-year growth in new manufacturing orders is lackluster and consistent with levels seen in the run-up to the last two recessions.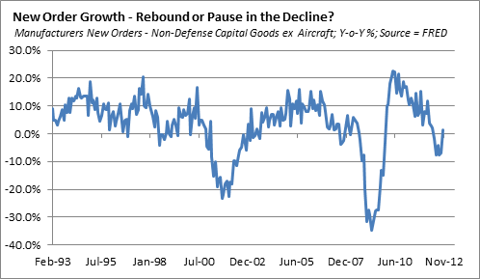 Finally, after near-record budget deficits in recent years, as a percentage of GDP, fiscal accommodation will shrink in the U.S. no matter what the outcome of the fiscal cliff negotiations, pressuring growth.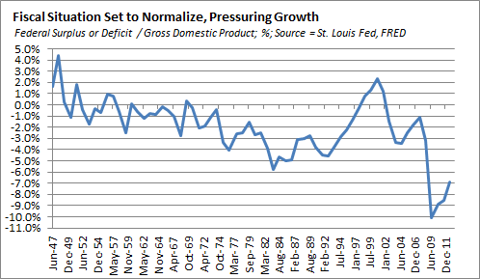 Market indicators paint a similar picture. Indeed, volatility levels, which were elevated in late 2002 and early 2009, are currently just beginning to increase from multi-year lows (see chart below).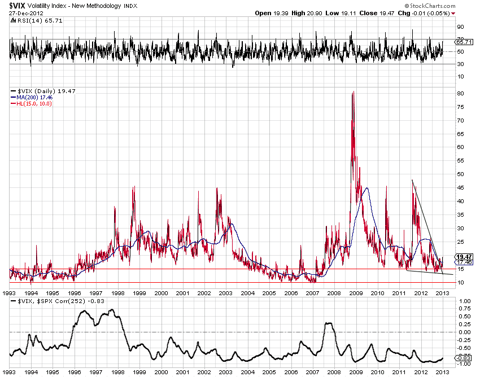 Also, 10-year Treasury rates are currently testing technical levels at which they have failed over the past two years and subsequently suffered steep declines (see chart).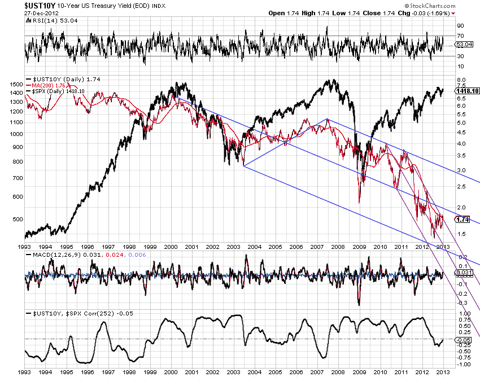 Conclusion
While positive surprises in fiscal cliff and debt ceiling negotiations could certainly combine with further quantitative easing to drive equities higher, I believe that medium term warning signs are building for a market top.
What Would This Look Like? I address this question by examining several scenarios for the S&P 500 through the end of 2013. First, a positive scenario. Trailing-twelve-month earnings per share for the S&P 500 peaked at $88.54 in the quarter ending March 2012, declining to $87.92 in the June 2012 quarter and $86.50 in the most recent quarter. Standard & Poor's expects TTM earnings to rise to $87.10 in the December 2012 quarter and then to "hockey-stick" to $100.71 by December 2013. At the current TTM price-to-earnings ratio of 16.20, this would result in the S&P 500 rising by 16% to 1,632 by December 2013. This type of scenario would be consistent with a reprieve from the fiscal cliff, a sensible, long term budget deal that avoids debt ceiling drama, a victory by anyone but Silvio Berlusconi in the upcoming Italian elections, and continued quantitative easing by Fed, ECB, Bank of Japan and the Bank of England.
However, in a scenario where political dysfunction in the U.S. and Europe effectively counteracts monetary stimulus through continued uncertainty, fiscal austerity causes corporate profit margins to fall in the U.S., and the other economic and market warning signs discussed above to come to fruition, the outcomes could be considerably worse. During the 1988 and 2000 downturns TTM earnings per share decline by an average of 49.7% over 6-to-8 quarters from the peak quarter. If the recent two-quarter decline in TTM earnings turns into a broader top, that could mean a decline to trailing-twelve-month earnings of around $44.27/share for the S&P 500 by December 2013 (see chart below). At a current P/E of 16.2, that would result in the S&P 500 falling to 717, a decline of 49%.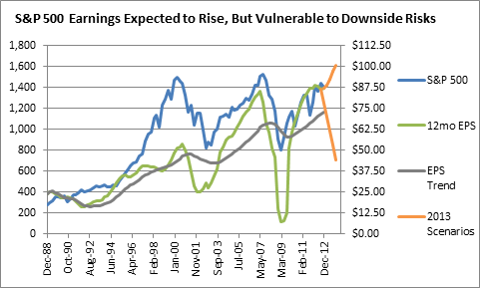 Similarly, the cyclically adjusted price-to-earnings ratio (the "Shiller P/E"), which divides price by a 10-year average of inflation-adjusted earnings-per-share, is currently near the top of previous cycle ranges and remains in a downtrend, denoting a secular bear market (see chart below).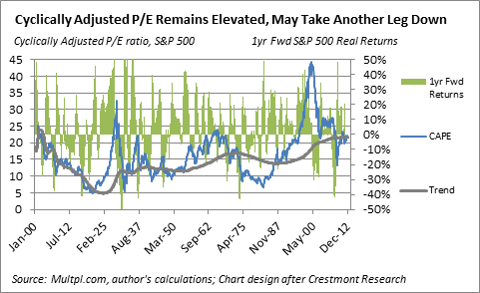 During the 20th century, secular bull markets only began when the Shiller P/E fell below 10. If S&P 500 TTM earnings fall to $44.27/share by December 2013 as described above, the 10-year average of inflation adjusted earnings by December 2013 would be roughly $68.19, resulting in 681.9 on the S&P 500 to get to a Shiller P/E of 10.
A somewhat more benign scenario would see TTM earnings merely falling to the recent long-term trend level of $72.40/share by December 2013, resulting in a decline of 16% to 1,173. This outcome would also be broadly consistent with a scenario where earnings experience a deeper decline but P/E multiples expand somewhat from current levels.
What to Do? The risks are double-sided, though I believe skewed toward the more negative scenarios. As such, I would recommend being overweight sectors and styles that stand to lose less during "bad times" but that still capture the equity risk premium and make sense long-term. One obvious choice is low-volatility stocks, tracked by the Powershares S&P 500 Low Volatility ETF (NYSEARCA:SPLV). Low volatility stocks benefit from the "betting against beta" phenomenon by which stocks with lower volatility and overall market beta - which tend to do better during bad times - also outperform higher volatility/beta stocks over the long term (see Frazzini and Pedersen, 2011, for more information). SPLV has a 0.25% expense ratio and trades at a 2.9% dividend yield - higher than 2.01% for SPY.
Interestingly, small cap stocks and transportation stocks may also fit the bill. During the 1999-2003 cyclical bear market, the Russell 2000 outperformed the S&P 500 by over 30% (non-annualized) and followed with over 20% outperformance during the 2007-09 cyclical bear. Transports were similar, averaging 34% outperformance (non-annualized) during these periods. Even better, during the ensuing rallies in 2003 and 2009, the Russell 2000 and the Dow Transports outperformed by 25% and 36% (non-annualized), respectively. IYT has an expense ratio of 0.47% and currently trades at a prospective P/E of 15.3 and Price-to-Sales of 0.8. IWM has an expense ratio of 0.23% and is currently fairly valued versus the market across several metrics (Prospective P/E of 16 and P/S of 0.9). Investors could also consider a small-cap value fund like Vanguard Small-Cap Value (NYSEARCA:VBR), which has an expense ratio of 0.21% and prospective P/E of 14.
In addition to allocating to styles and sectors that may outperform, implementing mechanical trading strategies that focus on trend and momentum indicators can be excellent diversifiers during "bad times."
In their 2009 paper, "Value and Momentum Everywhere," Cliff Asness, Tobias Moskowitz and Lasse Pedersen show that momentum-based asset selection strategies added considerable value over the period 1975-2009 and acted as an excellent counterweight to a value-equity strategy (see chart below).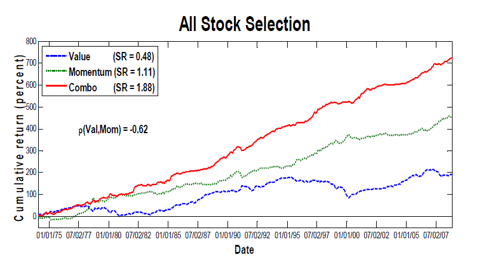 Interestingly, they found that momentum performed best during the least liquid (eg. most stressed) periods, making it a great diversifier during difficult market periods (see chart below).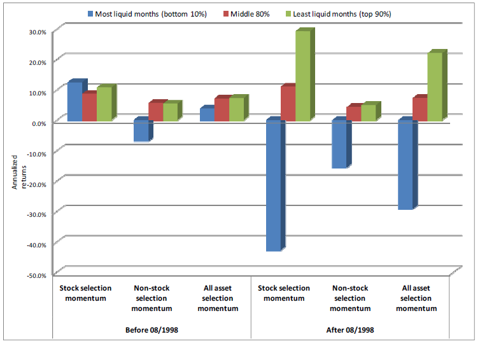 Investors can implement a simple momentum strategy by looking, on the first day of each month, at a group of assets and owning the asset that performed best over the preceding six months. This simple strategy, implemented using a sample of 12 iShares asset-class and style ETFs that can be traded at no cost on Fidelity (and back-tested using a one-day lag to eliminate look-ahead bias), achieved excellent results relative to an equity buy-and-hold strategy since 2000 (see chart below).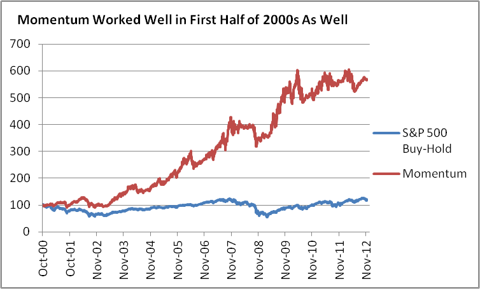 Trend following strategies provide excellent diversification and risk control benefits as well. In his 2009 paper, "A Quantitative Approach to Tactical Asset Allocation," Mebane Faber presents back-test results for the benefit of trend following models using a simple 10-month moving average window across multiple asset classes. A chart of cumulative performance since 1900 for a U.S. equity trend following model is below. As with momentum, the trend following models perform best during "bad times" like the 1930s, 1970s and the current secular bear market.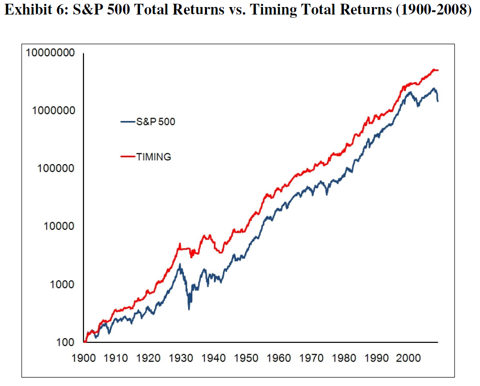 By maintaining market exposure, though diversifying between low volatility stocks, transports and small caps, as well as mechanical trading strategies to capture alternate sources of expected return, investors may be able to outperform no matter what prophesy turns out to be correct.
Disclosure: I am long SDY. I wrote this article myself, and it expresses my own opinions. I am not receiving compensation for it (other than from Seeking Alpha). I have no business relationship with any company whose stock is mentioned in this article.