Shares of Cantel Medical (CMN) soared to a 52-week high of $30.25 on Dec. 12, shortly after the company reported its third straight quarter with a positive earnings surprise. This Zacks No. 1 Rank (Strong Buy) developer of infection prevention and control products has potential for a growth investor, given its long-term expected sales growth rate of 10.9%, its robust portfolio, several strategic initiatives and an uptrend in earnings estimates.
Impressive Q1
Cantel Medical kicked off fiscal 2013 with a strong first-quarter report on Dec. 6. Earnings per share of 35 cents beat the Zacks Consensus Estimate by 25% and jumped year over year by 52.2%.
Total revenues of $99.7 million were almost in line with the Zacks Consensus Estimate and displayed healthy 6.9% year-over-year growth. Despite some sales disruptions due to Hurricane Sandy, the sales growth came from a balanced performance across the three major business segments.
Cantel Medical identified three major profit boosters that should further drive performance in the upcoming quarters. The foremost of its successful strategies was to develop and promote higher-margin products in all of its major businesses. This positive mix shift resulted in a huge 320 basis point (bps) expansion in the company's gross margin to 43.9% during the last reported quarter. The other two profit accelerators were the successful integration of acquired businesses and disciplined expense control.
Earnings Estimates Moving Up
The Zacks Consensus Estimate for fiscal 2013 has increased 15.6% over the past 30 days to $1.48 per share, as both estimates were revised upward. For fiscal 2014, the Zacks Consensus Estimate has gained 10.0% to $1.65 over the same time frame, as both estimates again headed higher. This indicates year-over-year growth of about 11.86%.
Attractive Valuation
Cantel Medical is currently trading at a forward P/E of 20.05x, a 1.6% discount to the peer group average of 22.35x. The price-to-book ratio is 2.82x, a 15.6% discount to the peer group average of 3.26x. Similarly the price-to-free-cash-flow ratio looks attractive at 17.26x, a roughly 14.3% discount to the peer group average of 19.73x.
Chart Shows Strength
A quick look at the chart shows what aggressive investors are really looking for. Cantel Medical's price performance has been reasonably strong with the chart showing a rising trend (except a few minor pullbacks). Particularly, following the release of its fiscal first-quarter results, the stock showed a steep uptrend and is currently trading above both its 50- and 200-day averages.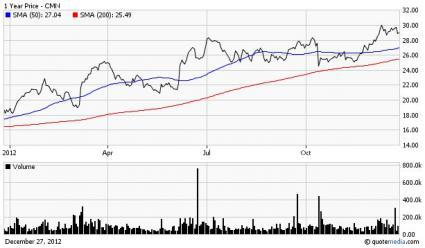 Headquartered in Little Falls, N.J., Cantel Medical engages in the development, manufacture, and distribution of infection prevention and control products and services in the healthcare market. The company's major products include water purification equipment, sterilants, disinfectants and cleaners, specialized medical device reprocessing systems for endoscopy and renal dialysis, and disposable infection control products primarily for dental and GI endoscopy markets. The company has a market capitalization of $777.8 million.
Other Zacks No. 1 Rank (Strong Buy) medical devices stocks include Thoratec (NASDAQ:THOR) and Merit Medical Systems (NASDAQ:MMSI).
Read the full Snapshot Report on CMN (email registration required).