In the exploration and production business, cash is king. In the global integrated gas business, big cash is emperor. The wisdom was well illustrated last week in a series of M&A transactions involving Chevron Corporation (NYSE:CVX) and the Kitimat LNG project in Western Canada. Chevron was able to accomplish what Big Oils have traditionally done best: leverage their immense balance sheet and process management expertise to buy into world class, large scale, challenging to execute projects on highly attractive terms.
Chevron is joining an integrated gas venture that targets the development of some of the world's most prolific dry gas shales in the Horn River and Liard Basins in Northwestern Canada for export, via LNG, to Southeast Asian markets. The project has been nurtured for several years by a consortium of three large E&P companies, Apache (NYSE:APA), Encana (NYSE:ECA) and EOG Resources (NYSE:EOG). In a series of transactions announced on December 24, Chevron agreed to buy a 50% operated interest in the yet-to-be-constructed Kitimat LNG facility and Pacific Trail Pipeline (PTP), and a 50% interest in approximately 644,000 net acres in the Horn River and Liard Basins in British Columbia. Apache will stay on in the Joint Venture as Chevron's 50% partner while EOG and Encana are exiting the consortium. Total purchase consideration agreed to be paid by Chevron was not disclosed but, in my estimate, is likely to be in the $1.2-$1.4 billion range. Chevron Canada will operate the LNG plant and the pipeline; Apache Canada will operate the upstream assets.
Kitimat LNG facility at Bish Cove is sited on the northern British Columbia coast approximately 400 miles north of Vancouver. The project is currently completing front-end engineering and design, and early site work is under way. Current plans call for two liquefaction trains, each with expected capacity of 5 million tons of LNG per annum (about 750 MMcf/d of natural gas). Kitimat has received all significant environmental approvals and a 20-year export license from the Canadian federal government. The 290-mile (463-km) Pacific Trail Pipeline will provide a direct connection between the Spectra Energy (NYSE:SE) Transmission pipeline system and the Kitimat LNG terminal.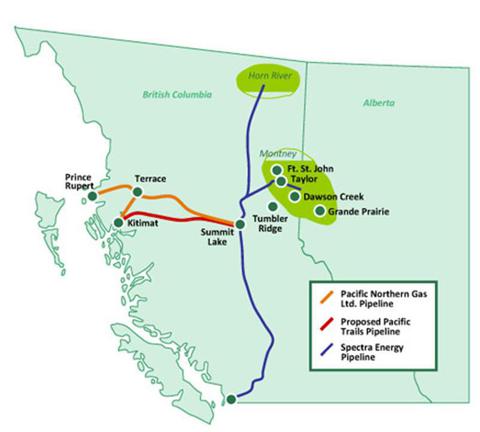 (Source: Kitimat LNG)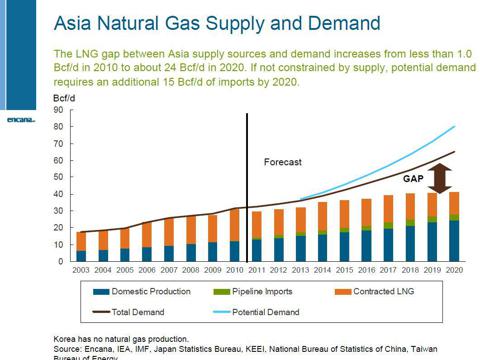 (Source: Encana Corporation October 4, 2011 Presentation)
The acquisition price to be paid by Chevron is just a tip of the capital requirements iceberg. The Kitimat liquefaction facility alone may cost over $10 billion to build. In addition, the joint venture will need to finance the construction of the 290-mile, 42-inch, 1.4 Bcf/d pipeline (cost estimated at $1.3 billion) and fund the delineation and development of immense hydrocarbon resources in the ground estimated at over 50 Tcf of recoverable natural gas. Still, Chevron appears to be making a highly attractive investment. At the core of the project is some of the most productive natural gas acreage in North America, which Chevron is acquiring at what appears to be a $2,000 per acre valuation, a fraction of what has been paid in some other transactions in top quality shales. In addition, Chevron receives operating control over the downstream part of the project, including the marketing of the LNG.
In June, Apache caught investors' attention by announcing that it "has unlocked and secured the highest quality shale reservoir in North America." In its Analyst Day presentation, Apache disclosed long-term test results from three wells it had drilled on its 424,000 net acre leasehold in the Liard Basin. The horizontal appraisal well, the D-34-K, which had been completed with a 2,900' lateral section and 6 frac stages, tested at 21 MMcf/d over a 30-day period and produced 3.1 Bcf in the first 12 months. Apache believes the well "to be the most prolific shale gas resource test in the world" and estimates its EUR at 18 Bcf.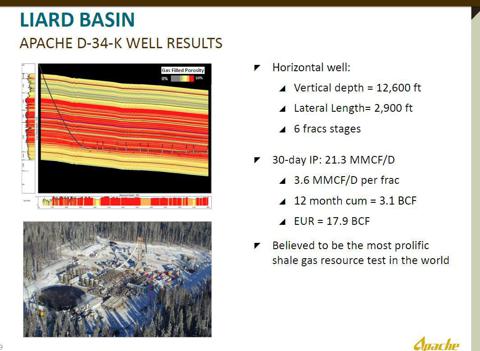 (Source: Apache Corporation June 14, 2012 Presentation)
By extrapolating the results from the first tests and older wells, Apache has projected that in a full development mode a typical Liard well (7,000'-8,000' lateral completed with 18 frac stages and drilled off a pad with 600-meter inter-well spacing) could produce as much as 74 Bcf of raw gas (66 Bcf marketable gas) at a total cost of $35 million per well (the high cost reflects the absence of infrastructure and difficult climatic conditions in this remote area - Apache estimates drill time at 110-120 days). Based on these assumptions, Apache believes total commercial gas resource on its acreage to be 48 Tcf with the wellhead cost of supply as low as $2.57/Mcf (12% IRR).
The outstanding quality of the Liard Basin shale explains the exceptional well productivity estimates by Apache. According to the company, the primary target of the development, the Lower Besa River First Black Shale, is characterized by excellent vertical and lateral reservoir continuity while the high and consistent porosity combined with over-pressuring result in very high gas saturations.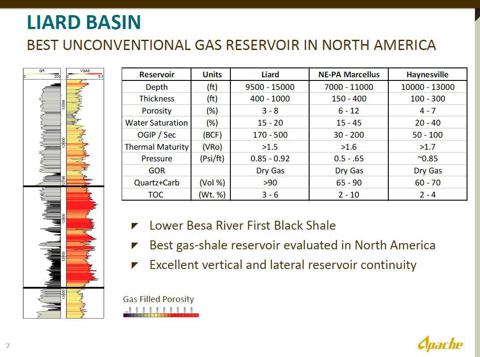 (Source: Apache Corporation June 14, 2012 Presentation)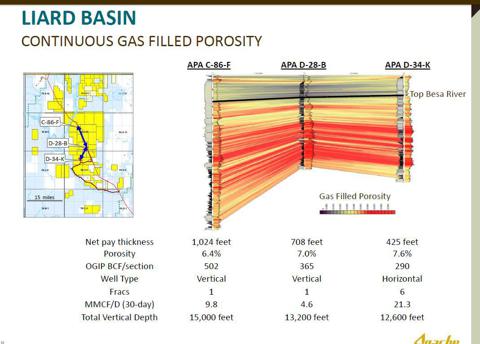 (Source: Apache Corporation June 14, 2012 Presentation)
In addition to the 212,000 net acres to be acquired from Apache, Chevron will purchase approximately 110,000 net acres in the established and also highly prolific Horn River Basin from Encana, EOG and Apache.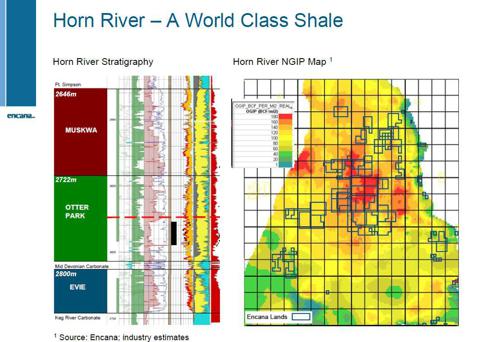 (Source: Encana Corporation October 4, 2011 Presentation)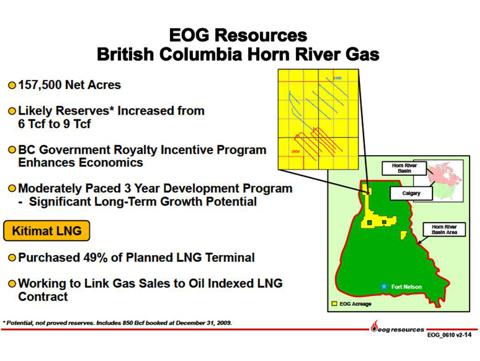 (Source: EOG Resources)
With Chevron throwing its weight behind the Kitimat project and paying a not insubstantial amount of cash for a 50% stake, the development is likely to gain momentum. However, the transaction highlights challenges facing North American LNG exports. While natural gas resources on the continent appear sufficient to support both the domestic consumption and LNG exports, capital requirements for liquefaction, pipeline and processing infrastructure are immense and lead times are extensive. Even assuming a flawless execution, first LNG shipments from Kitimat are probably a 2018-2019 event, while full capacity is unlikely to be reached until next decade. To recover the upfront investment and earn a minimum return required, the project will need to operate seamlessly and profitably for many years thereafter. It is no surprise that even for well established, large-capitalization operators such as EOG and Encana the risk and timing of cash flows of an integrated gas project of this magnitude may be an insurmountable challenge.
Securing long-term off-take agreements - which is pivotal for the majority, typically project-financed, LNG projects - is another challenge for North American gas export. The Apache/EOG/Encana consortium has struggled to secure such commitments despite several years of intense marketing effort. With no long-term contracts in place, the project was a "no go" for both EOG and Encana. With Chevron being the world's premier LNG developer with longstanding relationships in key Asian markets and exceptionally strong balance sheet - which is a pre-condition for many customers to entering into multi-year LNG procurement agreements - the JV's chances of securing contracts increase substantially. Given high competition among the world's LNG contracts, Chevron and Apache still may have to offer concessions to attract "anchor" customers, such as equity interests in the LNG project and upstream assets as part of consideration for long-term off-take commitments.
Chevron's participation in the Kitimat venture is not a complete surprise. Chevron and Apache are already partners in the Wheatstone LNG export project in Australia where Chevron is the operator and led marketing efforts. Similar to the proposed Kitimat project, the Wheatstone is a two-train plant with capacity of 8.9 million tons of LNG per annum that is expected to commence operations in 2016. Chevron also operates other LNG projects worldwide, including the giant Gorgon LNG project in Australia, and LNG Angola. Chevron's expertise in managing large-scale LNG developments is a strong enhancement to the Kitimat JV's capability to complete the development on time and within budget.
The transaction demonstrates that Oil Majors remain largely unchallenged in the Integrated Gas segment and in the long run may end up the greatest beneficiaries of the natural gas revolution in North America through their domination of the downstream segment of the gas value chain (including Petrochemicals, LNG exports, Gas-to-Liquids, and other types of "conversion" capacity).
Disclaimer: This article is not an investment recommendation. Any analysis presented in this article is illustrative in nature, is based on an incomplete set of information and has limitations to its accuracy, and is not meant to be relied upon for investment decisions. Please consult a qualified investment advisor.
Disclosure: I have no positions in any stocks mentioned, and no plans to initiate any positions within the next 72 hours. I wrote this article myself, and it expresses my own opinions. I am not receiving compensation for it (other than from Seeking Alpha). I have no business relationship with any company whose stock is mentioned in this article.