My interest about Montana started when I put Compton Petroleum in my radar about 1.5 years ago. As I pointed out in a recent article, Compton's performance was a real disaster for its shareholders due primarily to the incompetence of its management. The company is not publicly traded currently as it has been sold in a controversial way at a very low price that made some law firms initiate investigations with respect to possible breaches of fiduciary duty by the company's officers and directors.
However what ignited my interest further back in 2011 was the fact that the company could not find any major or even intermediate player willing to drill into its Bakken land in Montana and that was very surprising to me. Finally Compton's acreage was attractive only for the tiny Guardian Exploration (OTC:GUEXF) that went for a farm-out deal in 2011. Compton had 79,000 acres located in Cascade County about 35 miles west of Great Falls. Compton retained a 50% WI in the area without incurring any capital expenditure commitments. Although Guardian was committed to spud a test well before Dec 2012, it never did so.
After this, my Montana Bakken expectations had a hard landing and made me wonder: "Is Montana's Bakken a dud?" Unfortunately the majority of the known results are very disappointing as it will be shown below.
The lack of coverage
All this being said and after reading numerous articles about the Bakken formation in North Dakota, I noticed that there is a significant lack of coverage for the Bakken players in Montana. A primary reason for this must be the fact that most companies are still at the early stages of their exploration efforts.
However the expectations are building up and the market has already given the Montana acreage a lot of the "North Dakota Bakken" credits. Mountrail County in North Dakota has produced by far and away the most Bakken oil of any other county in the state thus far followed by McKenzie, Williams and Dunn Counties. Will the drilling results from Montana be anywhere close?
Both the privately held Helis Oil and Brigham have been known for some of the best wells in the Bakken. The #2-H Sorenson 29-32 well in the Alger field flowed 5,330 boepd. Brigham's Olson 9-16 and Johnson 30-19 wells with initial IPs at 3,378 boepd and 2,962 boepd respectively remind me of the sweet spot of the Beaverhill Lake formation where Second Wave Petroleum (OTC:SCSZF) sits.

Will Helis' success repeat itself in Montana or will it fade the further we go from Helis' core area in North Dakota?
Several companies have a substantial undeveloped acreage position in the emerging western extension of the Bakken and Three Forks trend in Montana. Most of them watch the industry activity closely and they continue to evaluate their acreage position.
I intend to keep a very close eye on all the developments of all the Montana players and my future articles intend to be a reference point of the Montana activity as they will keep track on all the drilling results.
The play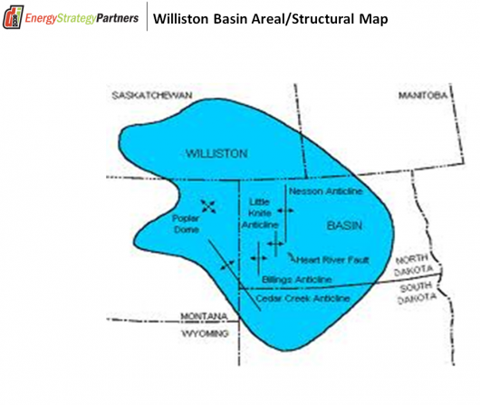 The legendary Bakken formation was discovered in 1950s covering an area of 200K square miles in Saskatchewan, Manitoba, North Dakota and Western Montana. The Three Forks Formation is roughly 250 feet thick and composed of shales, siltstones, dolostones, and sandstones. Although it is estimated that vast amounts of petroleum are contained in these formations, the development was not economically viable with the old conventional techniques as the oil was trapped in shale. The new drilling techniques broke the code and made it economically viable as the hydraulic fracturing (fracking) allowed the oil to flow back up. As a result, millions of dollars are being spent on land sales and leases while the Joint Venture agreements are being announced often.
The little town of Williston has been part of all this oil producing activity and its population has exploded by 15,000. The area residents have profited a lot from the discovery of oil. The property owners saw rents double and triple and all the restaurants offered dishes that were devoured by the hard working oil workers. The oil was a real game changer for the area.
The players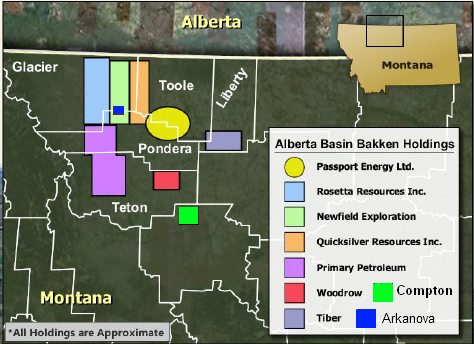 1) Primary Petroleum (PETEF.PK) has been in my watch list for 15 months now due to its Montana Bakken acreage and it was also captured in one of my articles few months ago.
Primary holds 67.5% WI in 304,000 net acres of land in Pondera and Teton Counties which are north from Cascade County. After a sale and JV agreement with an undisclosed US major player (32.5% WI), the company started its 6 wells drilling program in Apr 2012 with an estimated completion date by Jan 2013.
The company claimed that it would be in a position to release the results from its first 3 wells in early November 2012. However there is zero information as of today. Based on the stock performance and the complete lack of information during the last three months, my assumption is that the drilling results are not amazing. If I am right, this will not be good news for Canadian Hillcrest Resources either which also owns 28,000 net acres in Pondera and Teton Counties and its acreage is adjoined to Primary's land.
2) Halcon (NYSE:HK) has invested much in the Bakken. It spent big recently and acquired producing and undeveloped oil and gas assets in the Williston Basin diluting its shareholders and loading more debt which hovers at $2B currently.
According to my database, Halcon is the most richly-priced publicly traded company of the oil industry currently. With an Enterprise Value of $4.7B, a production of 27,000 boepd and 115MBoe (79% oil) proved reserves, it trades for $174,000 per flowing barrel and $41 per boe of proved reserves. Both ratios are sky high and one of the reasons for this valuation is its potential high impact Bakken wells.
Halcon got its first exposure in Montana through the acquisition of GeoResources which had 13,000 net acres in Roosevelt and Richland Counties. There is 1 rig currently running there and the company spud three wells on its operated acreage in Roosevelt County, Montana, during Q3 2012.
According to the Q3 2012 report, Halcon has completed two wells in Roosevelt County in its operated Bakken program since August 1, 2012. The company put all its Bakken wells in North Dakota and Montana in one basket and said that five out of its nine wells had an average IP-30 rate of 347 boepd (91% oil). Unfortunately the company did not separate its Montana wells from its Dakota ones. Either way, the shareholders did not rejoice with such rates.
3) Rosetta Resources (NASDAQ:ROSE) operates primarily in the Eagle Ford Shale but it also holds 300,000 net acres South of the Canadian border in northwest Montana in Glacier County.
After a drilling program that targeted the Banff, Bakken and Three Forks formations, the company encountered oil and natural gas from multiple zones in 2011. However Rosetta's results from its vertical wells were disappointing. The company reported that the test results varied and that "some areas of the play will have a higher chance of commerciality than others." Some of these vertical wells had IP-7 as low as 22 boepd. After this, the company started a horizontal drilling program and completed initially three wells with disappointing results. It reported IP rates of 154 boepd (Tribal Riverbed 07-04H), 104 boepd (Fee Simonson 34-01H) and 403 boepd (Tribal Riverbend 12-13H).
The most recent completions utilized cased holes and averaged 50 to 205 boepd and Rosetta informed us in Aug 2012 that it suspended all capital activity on this exploration project. Rosetta's Southern Alberta Basin position has leases and lease options which begin to expire starting in January 2014.
The cost of $4M per well is about 50% less than in the Bakken of North Dakota but the play needs higher IPs with oilier results to be really economic.
4) Newfield Exploration (NYSE:NFX) holds 320,000 net acres (85% WI) in Glacier County in Montana neighboring Rosetta and Quicksilver. The company also holds 40,000 net acres in the mature Elm Coulee field in Richland County in Montana where the net production is approximately 8,000 boepd. Apart from the producing Elm Coulee field, Newfield has not any significant success with its remaining Montana acreage. It reported that 7 vertical wells drilled and 2 horizontal wells were placed on production.
The company's first horizontal well had initial gross production of approximately 225 boepd with less than one-third of the lateral producing. The second horizontal well was not fracture stimulated. Additionally, three of the vertical wells have been tested and flowed low volumes of oil.
It has to be pointed out that the company has not released any news about its acreage in Glacier County during the last 10 months while it has provided many details about its wells in North Dakota. In my opinion this is an ominous sign that reminds me of Rosetta's case.
5) Quicksilver Resources (NYSE:KWK) has 175,000 net acres in Glacier and Toole Counties of which 119,000 acres are held by production. The company has Proved Reserves 13 Bcfe (100% oil and liquids, as of Dec 2010) but it stated in late Feb 2012 that it had no plans to drill in this area during 2012 but would continue to monitor activity from the nearby operators.
If Quicksilver's acreage in Montana was economical to drill, the company could sell it or make a Joint Venture to pay off part of its growing debt. Quicksilver's production is natural gas weighted (80% natural gas) and unfortunately this entails low annualized Funds from operations that will range from $200M to $220M for 2012. This amount is not enough to lower the whopping debt of $2.2B and eventually the company will have to sell some assets in 2013. However the developments of the neighboring Rosetta and Newfield in Montana have not given a lot of hope for the potential of that land and thus they have not raised the value of Quicksilver's acreage there.
Conclusion
In summary, several companies have a substantial undeveloped acreage position in the emerging western extension of the Bakken and Three Forks trend in Montana. Most of these companies watch the industry activity closely and they continue to evaluate their acreage position. The drilling programs of 2013 will shed more light on the potential of that region and I think that some perceptions will be debunked once the industry gets further insight into that highly prospective area.
Disclosure: I have no positions in any stocks mentioned, but may initiate a long position in PETEF.PK over the next 72 hours. I wrote this article myself, and it expresses my own opinions. I am not receiving compensation for it (other than from Seeking Alpha). I have no business relationship with any company whose stock is mentioned in this article.